4 Minutes Read
The Winnipeg Chamber's Policy & Research Analyst, Jamil Ahmed, highlights latest Inflation updates in Manitoba
---
Canada's consumer prices increased 6.8% year-over-year in April, a modest rise from March (+6.7%). Manitoba has the third largest year-over-year price rise among the provinces, at 7.5%, up 0.1 points from March 2022. Saskatchewan had the lowest year-over-year price rise at 5.9%, while Prince Edward Island had the highest at 8.9% this month. Figure 1 shows inflation among Canadian Provinces.
The war in Ukraine in late February continued to impact oil, commodity, and, most importantly, food prices.
Strong employment data also tends to put upward pressure on pricing, and the unemployment rate dropped to a new low in April. In April, employees' average hourly pay increased 3.3% year over year, indicating that prices climbed faster than wages on average, reducing Canadians' purchasing power.
Energy continues to have a significant impact on CPI indexes across Canada. Nationally, energy costs are up 26.4 percent year over year, which equals Manitoba's 26.4% increase. Gasoline, up 39.1%, and natural gas, up 14.1%, are higher than the previous month, contributing to the substantial Energy price increase. Manitoba's year-over-year price rise, excluding fuel, is 6.1%, while Canada's is 5.8%.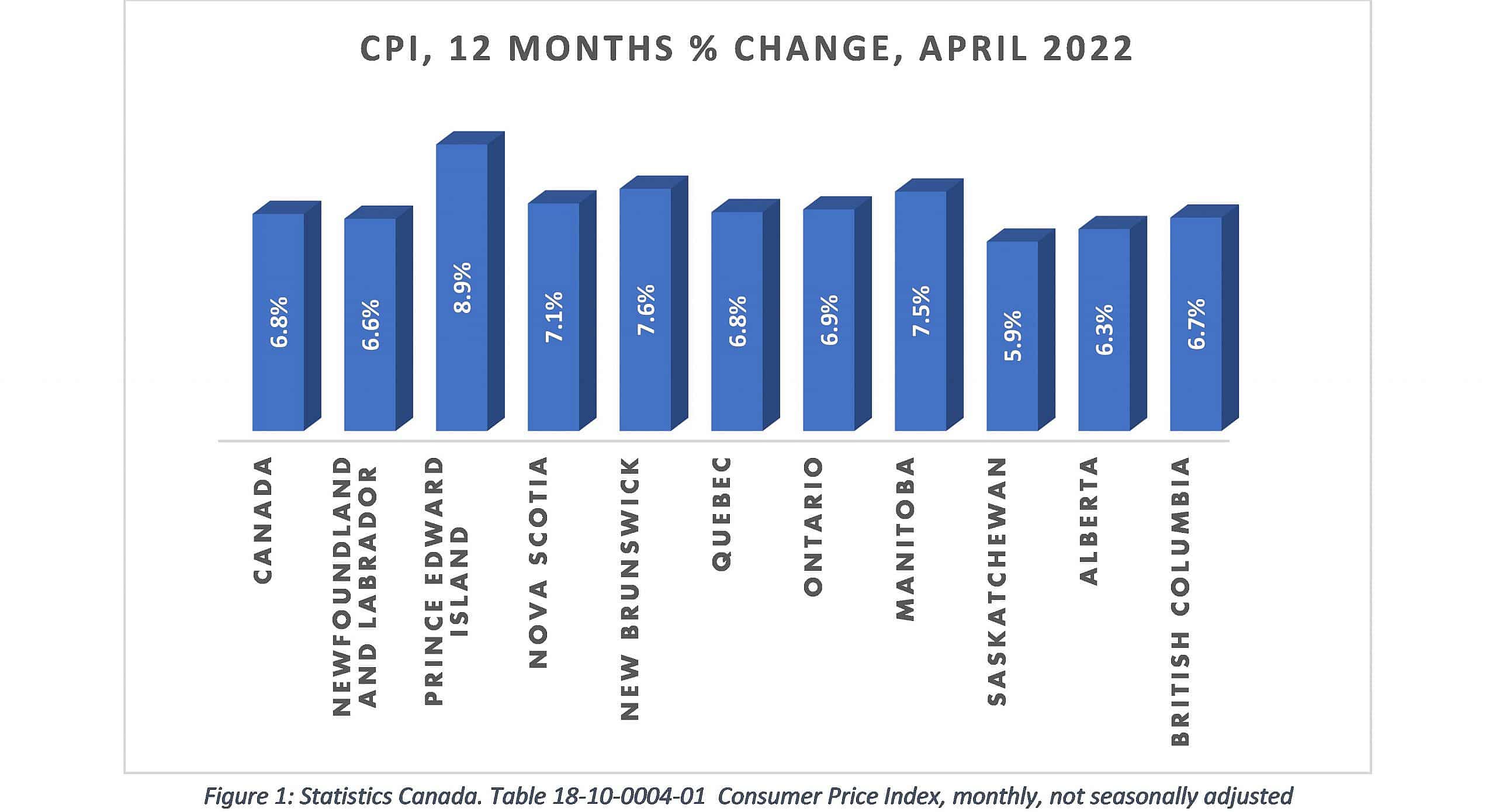 A closer look at the Manitoba numbers
In April 2022, Manitoba's consumer prices increased in seven of the eight key components in April 2021; only clothing (-0.1%) saw a price decrease. When compared to price increases recorded in March, three categories (Food, Shelter, and Alcohol & Tobacco) have higher year-over-year price rises this month, while five have slower price growth (Household needs, Clothing, Transportation, Health, and Recreation). Figure 2 depicts year-over-year increase in prices for March and April this period.
Transportation prices increased by 14.3% in April 2022, compared to April 2021, primarily because of the increased prices of gasoline (39.1%) and natural gas (14.1%). On a year-over-year basis, shelter prices rose to 8.8% in April 2022 in Manitoba, mainly because of increased Home-Owners replacement costs.
Food costs have increased across the board year-over-year in Manitoba, with customers paying more for practically everything at the grocery. Bakery (11.2%), fruits (+8.0%), vegetables (+9.6%), dairy (7.1%) and meat (+11.3%) were all more costly in April than a year earlier.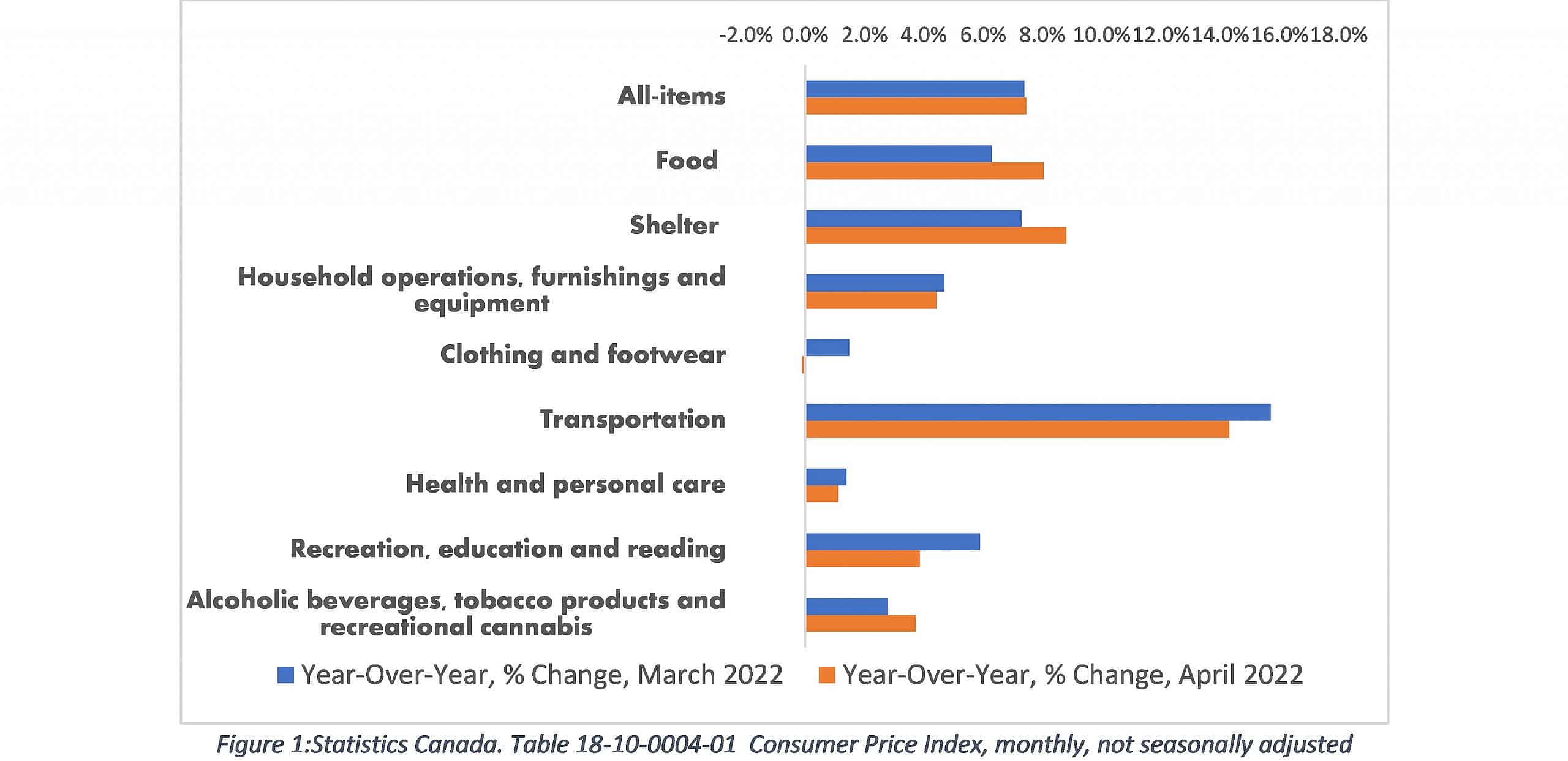 What can businesses do to respond?
Companies all throughout the world, particularly in Canada, are suffering the effects of inflation. According to Forbes, they suggest three business techniques are becoming considerably more crucial with rising inflation. They include making rapid pricing adjustments, prioritizing items with solid profit margins and shifting input when relative prices change is also essential.