4-minute read
Written by Jamil Ahmed, Policy & Research Analyst
---
In August 2022, Manitoba's unemployment rate increased by 1.8 percentage points from the previous month to 5.3%, which was lower than Canada's rate of 5.4%. Quebec has the lowest unemployment rate among the provinces at 4.5%, with the highest unemployment rate was Newfoundland & Labrador, with 10.5%.
In July 2022, compared to July 2021, the Manitoba All-Items Consumer Price Index (CPI) increased by 8.8%. The decrease from the June 2022 rise is 0.6 points. Canada's annual price growth rate in July is 7.6%, a 0.5-point drop from June. Prince Edward Island has the highest year-over-year price growth, at 9.5%, while Newfoundland and Labrador saw the lowest Increase, at 6.9%.
On a yearly basis, energy costs across Canada increased by 28.0%, while they increased by 31.0% in Manitoba. Gasoline and natural gas prices, which have increased 44.1% and 27.8%, respectively, are factors in Manitoba's high energy costs.
The Increase from June to July was in the following categories: food, recreation, education and reading, clothing and footwear, and alcohol and cigarettes. The four areas that slowed the price rise in July are housing, household goods and furnishings, transportation, and health and personal care.
Minimum wage earners
During the last decade, there has been a significant trend toward rising minimum wages across Canada. Table 1 illustrates that provinces have increased their minimum wages over the years. With a 67.2% rise in percentage terms, British Columbia had the highest minimum wage increase between 2009 and 2022, and Manitoba and Saskatchewan had the lowest changes in real  dollars. The minimum wage in Manitoba was scheduled to increase from $11.95 to $12.35 per hour on October 1, 2022, based on the government's regulated approach based on Consumer Price Index for 2021. Through a change to the regulation, the Manitoba government granted itself the power to raise the minimum wage, and the province announced that the minimum wage would increase from $11.95 to $13.50 starting in October of this year. The government also said thar the hourly wage will increase to $15 by the fall of 2023, which coincides with the anticipated timing of a provincial election.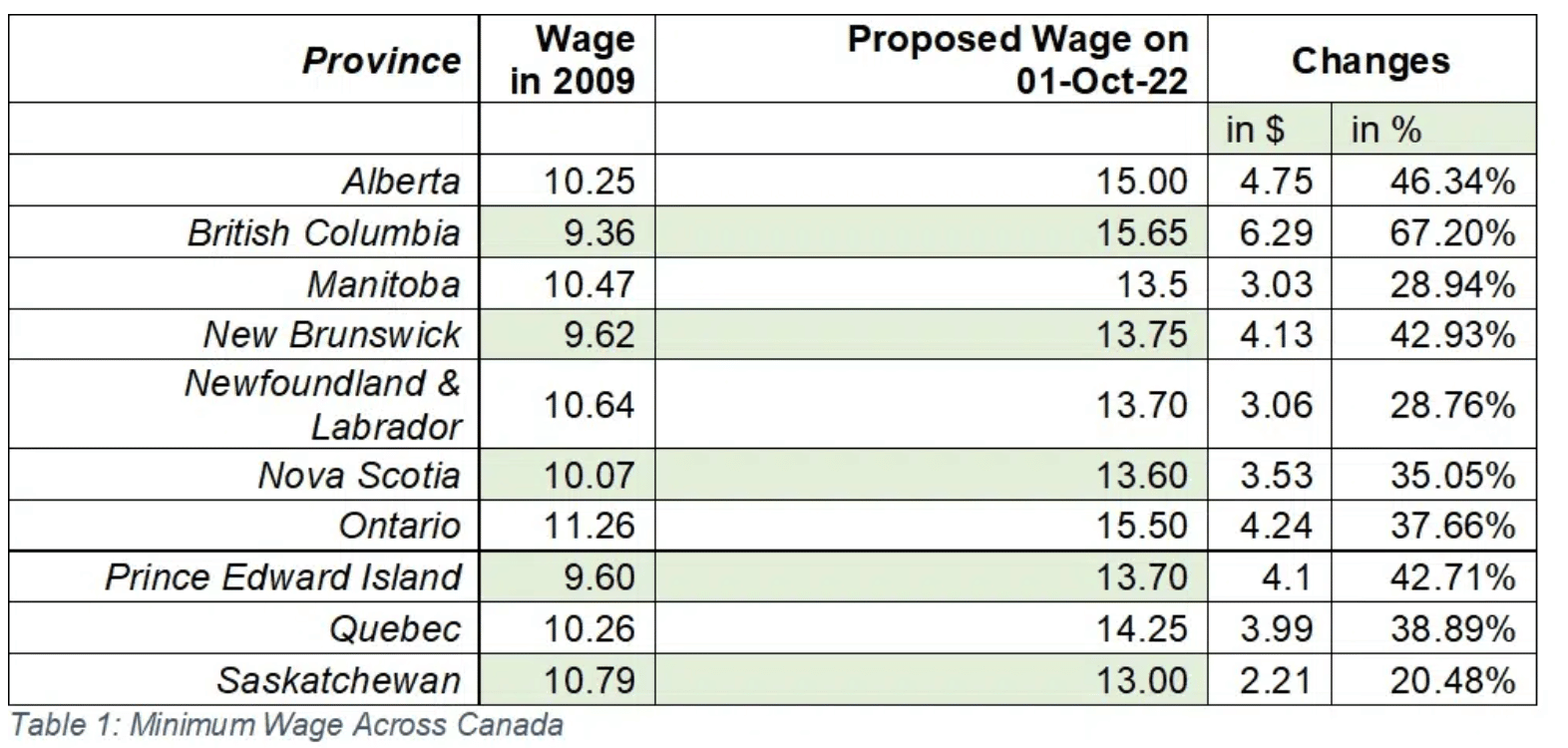 According to Statistics Canada, 53 percent of all minimum wage workers are between the ages of 15 and 24 in Canada. In Manitoba, that percentage is a bit higher. Figure 1 indicates that around 32% of minimum wage employees in Manitoba are between the ages of 15 and 19, and a further 25% is between the ages of 20 and 24. For many teens and young adults, minimum wage jobs provide a stepping-stone to better-paying careers. Given that a major number of minimum wage earners are younger employees, it is likely that many of these individuals are secondary or tertiary wage earners in their families.
Our preferred approach
Reducing poverty should be a central goal of government. Rather than adding to rising business expenses and anxieties, however, governments should search for methods to alleviate them. Reductions of  personal income tax rates for low-income persons, such as what was done in other western Canadian provinces, is a more effective way of ensuring that low-income earners can keep a larger share of their paycheck, without passing those costs on to business and consumers. In the interim, as many small and medium-sized businesses are still struggling to recover from the COVID pandemic, in order to avoid closures and layoffs, the government should consider support programs for small businesses and their employees.
The Winnipeg Chamber of Commerce, along with the Manitoba Hotel Association and the Manitoba Restaurant & Foodservices Association, provided recommendations to the provincial government regarding measures to assist businesses with the changes to the minimum wage announced on August 18, 2022. The following recommendations that are well-researched and based on sound evidence from other jurisdictions.
Permit Manitoba Liquor and Lotteries to sell products to Manitoba establishments at wholesale prices.
A long standing ask of industry, this change would provide immediate benefit in the form of lower cost pressures in the food service and hospitality industries. Recent data shows that in British Columbia and Ontario, similar approaches resulted in additional revenue for the government in the form of increased sales tax revenue.
Implement an income-tested, PST rebate program for business sectors hit hard by the pandemic and who employ minimum wage earners.
This measure would ease some of the immediate pressure and could make a difference for businesses in deciding to maintain or expand operations to pre-COVID levels.
Undertake the Tax Competitiveness Review immediately committed to by the Province in previous Throne and Budget speeches
Since 2015, The Winnipeg Chamber of Commerce has been at the forefront of the call for a tax reform commission to modernize our tax policies and system and enhance its fairness and simplicity. Just as the minimum wage has been increased in order to be competitive with other provinces, so too must we examine Manitoba's taxation system to ensure alignment with and support economic growth and prosperity.
Recommended changes to basic personal exemption limits in Manitoba, personal income tax brackets and thresholds, and other measures represent tangible, meaningful assistance for all Manitobans – employees and employers alike – contending with inflation and various economic challenges.