3-minute read
We are looking forward to having you at our annual Civic Leaders Dinner! We've got a great line-up of attending City officials this year and thought it might be helpful to give a bit of a more specific overview of the areas and issues each employee looks after.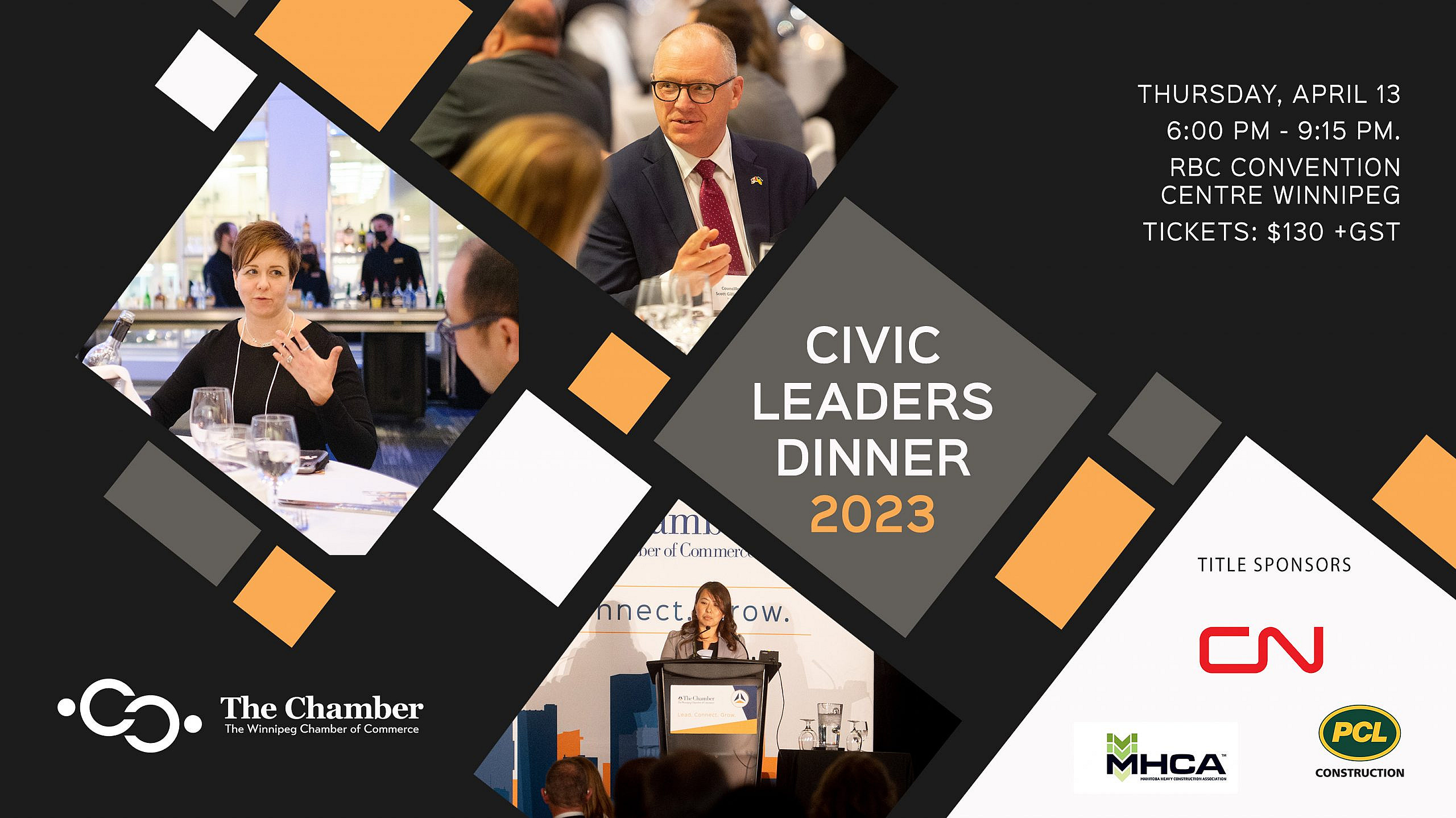 The Civic Leaders Dinner is a Chamber-exclusive opportunity for our members to converse directly with Mayor Scott Gillingham, City of Winnipeg councillors, and much of the City's administrative staff about issues that are important to them and directly affect the success of their business.
Leaders will move around tables, during a three-course meal, for two-way dialogue with you and other Winnipeg businesses.
Have a look at the guest list of confirmed attendees:
City Council
Mayor Scott Gillingham
John Orlikow (Deputy Mayor – River Heights/Fort Garry)
Markus Chambers (Acting Deputy Mayor – St. Norbert/Seine River)
Evan Duncan (Councillor– Charleswood/Tuxedo/Westwood)
Cindy Gilroy (Councillor– Daniel McIntyre)
Sherri Rollins (Councillor– Fort Rouge/East Fort Garry)
Ross Eadie (Councillor– Mynarski)
Jeff Browaty (Councillor– North Kildonan)
Vivian Santos (Councillor– Point Douglas)
Matt Allard (Councillor– St. Boniface)
Shawn Dobson (Councillor– St. James)
Brian Mayes (Councillor– St. Vital)
Russ Wyatt (Councillor– Transcona)
Janice Lukes (Councillor– Waverly West)
City Administration
Michael Jack (Chief Administrative Officer)
Geoffrey Patton (Director, Asset and Project Management)
Tyler Gooch (Director, Innovation & Technology)
Christian Schmidt (Chief, Winnipeg Fire Paramedic Service)
Jim Berezowsky (Director, Public Works)
Marc Pittet (Acting Director, Planning, Property & Development)
Cindy Fernandes (Director, Community Services)
Kelly Lemoine (Deputy Director, Community Services)
Felicia Wiltshire (Director, Customer Service & Communications)
Greg Ewankiw (Director, Transit)
Marc Lemoine (City Clerk)
Doug Brown (Director, Legal Services/City Solicitor)
Angie Cusson (Director, Human Resource Services)
Barb D'Avignon (Manager, Materials Management)
Jonathan Hildebrand (Manager, Strategic Planning)
Matt Dryburgh (Senior Manager, Economic Development)
Jason Egert (City Auditor)
Destiny Watt (Chief of Staff)
Brian Kelcey (Strategic Initiatives)
Luc Lewandoski (Deputy Chief of Staff)
Please note: This list is subject to change.