2-minute read
---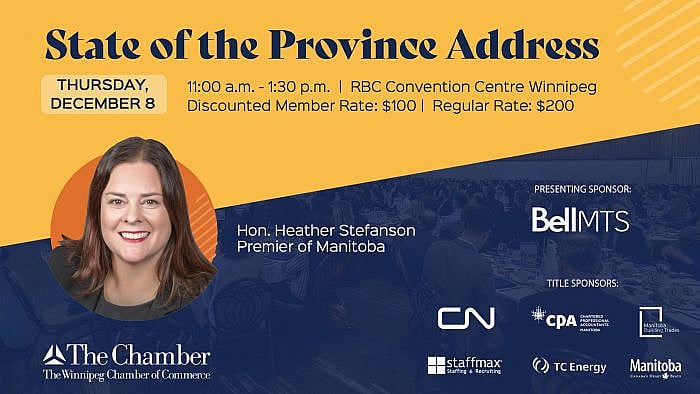 On December 8, Premier Heather Stefanson will deliver her second State of the Province address at our upcoming State of the Province. This must-attend event is one of the largest on the business calendar in any given year and sells out year after year.
The provincial election is less than one year away. The government just tabled the Speech from the Throne, which outlines their plans for the year ahead. Healthcare, economic recovery, and community safety were major themes in the speech. These issues will dominate the discussion and will frame the election.
The past two years have been difficult, to say the least. Changing conditions took a toll on all of us. COVID was especially hard on those families who lost loved ones. The worst of it is behind us, but we are still dealing with the aftermath.
Business has still not fully recovered either. Many closed their doors during the pandemic. For those that pushed through, some have been unable to open fully, due to staffing shortages. Some have less than fully stocked shelves, due to persistent supply chain issues. Some businesses have been forced to raise prices, due to rising costs driven by inflation. Looking forward, major banks are forecasting a recession as the Bank of Canada's interest rates increases are starting to bite into the economy.
If you had to choose one word to describe the outlook of the business community right now, many would say "unclear".
Using a Manitoba metaphor to describe the situation, it's still snowing, and the road ahead has not been plowed. But we are stubbornly optimistic, and we have pushed through before.
Come to the State of the Province on December 8 and hear Premier Stefanson's plan to guide us forward.