This event is no longer active.
VIP Luncheon: State of the Province
Thursday, December 8, 2022  |  11:00 a.m. – 1:30 p.m.
RBC Convention Centre Winnipeg, York Ballroom
Keynote Speaker: Hon. Heather Stefanson, Premier of Manitoba
---
Discounted Member Rate: $100 +GST
Regular Rate: $200 +GST

To learn more about the benefits of a Chamber membership, including discounted ticket rates click here.

The Winnipeg Chamber encourages attendees to wear masks and practice social distancing. Please stay home if you are sick. COVID-19 Screening Tool
Please note, refunds will only be issued with a minimum of 72 hours of notice before the event. Should you require a change of your ticket after that time, we kindly ask that you find a replacement for your ticket. If you have further questions, please direct them to [email protected]
---
ABOUT EVENT:
The Winnipeg Chamber will welcome Manitoba's 24th Premier, the Honourable Heather Stefanson, for her second State of the Province Address. 
With over 1000 business and community leaders in attendance, this signature Chamber event is the business community's opportunity to hear more about the province's approach and priorities for the coming year. This will be an event you won't want to miss.
PROGRAM

11:00 a.m. – Registration, networking and exhibitor booths
11:45 p.m. – Program starts
12:15 p.m. – Lunch service
12:40 p.m. – Keynote Speaker
1:30 p.m. – Program ends

Did you know that the number of Harvest hampers requests has gone up by 42% since 2021?

As cold weather sets in and many people without food for the holidays The Chamber is partnering with Harvest Manitoba to collect hearty food: canned fruit, veggies, soup and meats at the annual State of the Province Address. We ask you to bring unopened and unexpired foods with you to registration.
---
ABOUT OUR KEYNOTE: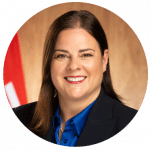 Heather Stefanson was elected as the MLA for Tuxedo in 2000 and re-elected in 2003, 2007, 2011, 2016 and 2019.
An investment advisor, Stefanson earned her bachelor of arts from the University of Western Ontario before completing her financial education at the Canadian Securities Institute. She also worked as an advisor in the offices of the prime minister, the federal minister of agriculture and the provincial minister of education. She and her husband Jason have two children.
---
Presenting Sponsor

Title Sponsors
375 York Ave.
York Ballroom
Winnipeg, MB