Written by Casey Clair, Energy & Climate Advocate
6-minute read
---
Are you remodelling your commercial building, multi-unit residential building or home?
 Because we have two new programs that take a look at your entire building's energy consumption and targets areas where energy loss is occurring. 
Introducing Efficiency Manitoba's new Commercial Deep Energy Retrofit Program and Home Energy Retrofit Program! 
Commercial Deep Energy Retrofit Program
Through this initiative, you can receive up to $12,000 for building energy modelling services and a performance incentive factor ranging from $2.25 to $6.00 per square foot for achieved energy savings of at least 20% compared to pre-renovation baseline energy use.
The Commercial Deep Energy Retrofit Program has two phases: Energy Modelling and Performance.
In Phase 1 Energy Modelling, the project team has an opportunity to use energy modelling to review and optimize energy efficiency enhancements for the building. The building owner can collect up to $12,000 in financial incentives for energy modelling costs separated in two separate payments. Up to $6,000 is paid after Efficiency Manitoba receives and verifies the Phase 1 deliverables, and the remaining balance of up to $6,000 is added to the Phase 2 incentive upon successful completion of Phase 2 Performance. Once Efficiency Manitoba has reviewed and approved the project's deliverables, if the project meets the minimum 20% energy reduction threshold from the pre-renovation baseline energy use, continued technical support and a performance-based incentive would be available for the building owner (discussed below).

Phase 2 Performance offers financial incentives as well as continued technical support and guidance for projects that proceed with their major retrofits. As previously mentioned, the financial incentives range from $2.25 to $6.00 per square foot for achieving at least 20% energy savings. The deliverables required for the final phase would include the final energy model submission and the Systems Manual. Once these are reviewed and approved the rest of the incentive will be paid out according to the performance incentive factor.
If your business hasn't started a deep retrofit project yet, consider the Commercial Deep Energy Retrofit Program to help reduce your energy needs by 20% or more. If you feel that your business is using more energy than it needs to – and is being heated by natural gas or electricity –  this is the perfect program to receive large-scale financial incentives, while reducing your associated energy costs. 
So, be sure to fill out an application to kickstart your deep energy retrofit today!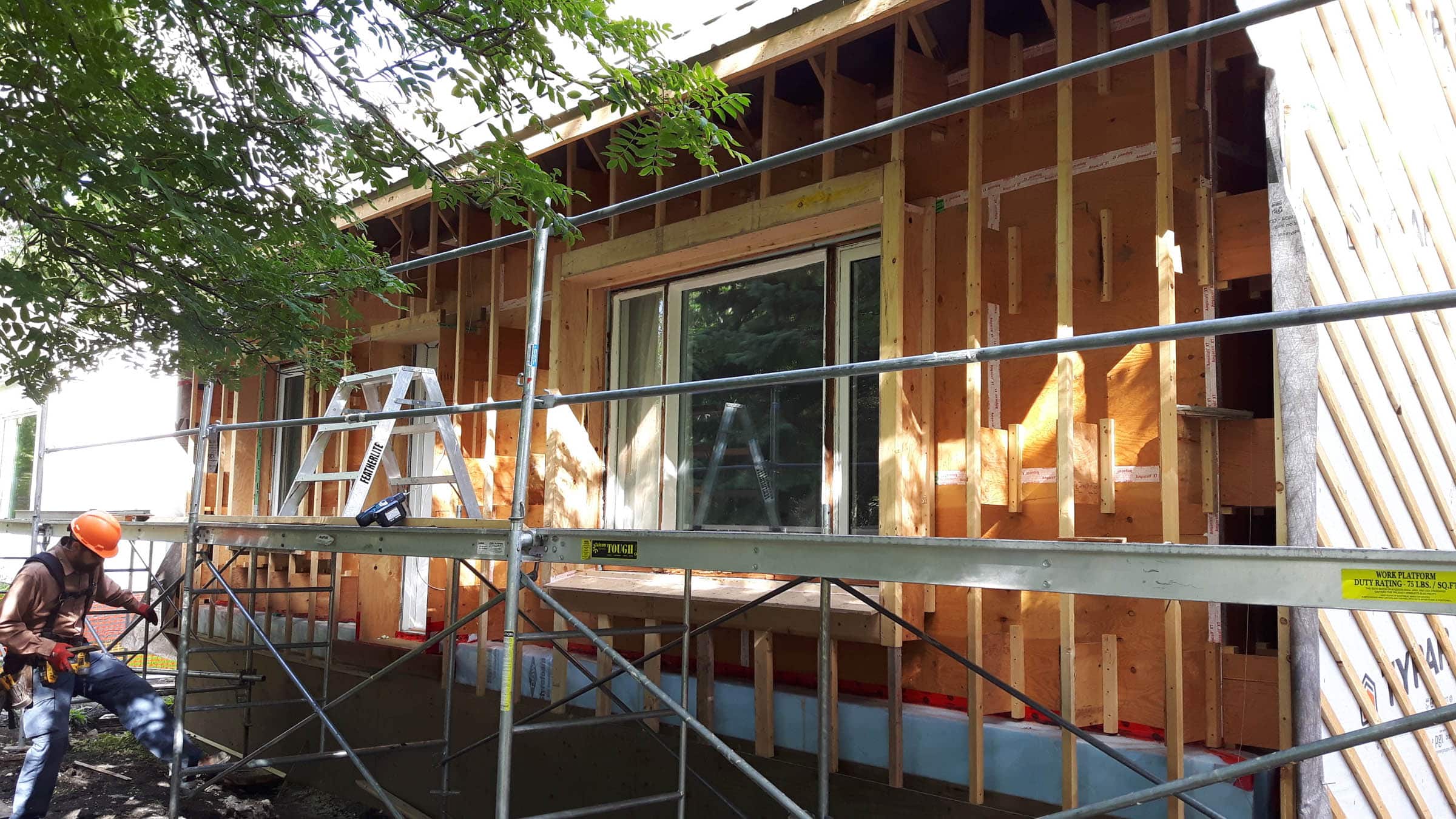 Photo provided by Efficiency Manitoba
Home Energy Retrofit Program
If you're planning your own home renovation and looking to significantly reduce energy consumption while you're at it, we would love to help. 
Efficiency Manitoba is offering a Home Energy Retrofit Program to members who want to increase their property and resale value and reduce their environmental impacts, monthly energy bills and maintenance costs while improving the comfort of their home! This program is similar to the Commercial Deep Energy Retrofit – but specifically for residential houses. Homeowners can apply – including landlords. So get in touch with Efficiency Manitoba to talk with an energy advisor for your EnerGuide evaluation, rating and label.
Your home's energy consumption is measured in gigajoules (GJ) by your EnerGuide advisor and rebates will be calculated by the reduction in your electricity/natural gas usage compared to a typical new house. To learn more about rebate calculations, click here.
The more energy efficient your home is after your renovation project, the more you receive in rebates! 
Did you know?
The Home Energy Retrofit Program is stackable with the Canada Greener Homes Grant and Manitoba Hydro's Home Energy Efficiency Loan (HEEL). Additionally, Efficiency Manitoba provides a $250 rebate for those that stack the Home Energy Retrofit Program with the Canada Greener Homes Grant! If you're hoping to target multiple areas of your home for energy savings, consider a Deep Energy Retrofit and apply for rebates before you start work on your project. 
So check us out!
I'm Casey Clair – The Chamber's Energy & Climate Advocate – and I can help you achieve your building's sustainability goals. Consider joining us at our Membership Luncheon: Taking Pride in Our Own Backyard on December 15, 2022 to check out our Efficiency Manitoba booth and talk about sustainability! Additionally, you can contact me by cell phone: (204) 688-1304 or email: [email protected].