December Luncheon: Taking Pride in our Own Backyard
Thursday, December 15, 2022  |  11:00 a.m. – 1:30 p.m.
Delta Hotel Winnipeg, 350 St. Mary Ave.
Keynote Speaker: Margaret Redmond, President & CEO of Assiniboine Park Conservancy
---
Discounted Member Rate: $65 +GST
Regular Rate: $130 +GST

To learn more about the benefits of a Chamber membership, including discounted ticket rates click here.

The Winnipeg Chamber encourages attendees to wear masks and practice social distancing. Please stay home if you are sick. COVID-19 Screening Tool
Please note, refunds will only be issued with a minimum of 72 hours of notice before the event. Should you require a change of your ticket after that time, we kindly ask that you find a replacement for your ticket. If you have further questions, please direct them to [email protected]
---
ABOUT EVENT:
In 2009, the Assiniboine Park Conservancy unveiled a bold redevelopment plan for Assiniboine Park that has breathed new life into this cherished and historic community asset. The opening of The Leaf – Canada's Diversity Gardens will mark the end of this incredible journey and the beginning of an exciting new chapter for the Park and the City of Winnipeg.
Assiniboine Park Conservancy President and CEO, Margaret Redmond, will share lessons learned over more than a decade of development and reflect on the future of Assiniboine Park, how The Leaf – Canada's Diversity Gardens is a project of its time, and why Winnipeg is the perfect place to bring it to life.
PROGRAM
11:00 a.m. – Registration, networking and exhibitor booths
12:00 p.m. – Program starts
12:15 p.m. – Lunch service
12:40 p.m. – Keynote Speaker
1:30 p.m. – Program ends
---
ABOUT OUR KEYNOTE: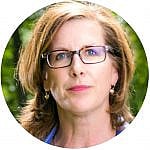 350 St. Mary Ave.
Winnipeg, MB