Register for January's Virtual Membership Luncheon – The Power of Leadership with Jay Grewal, President & CEO of Manitoba Hydro on January 28th  for a conversation on being a leader in 2021.

Originally published in March 2020. 
---
Jay Grewal has certainly had an interesting first year as CEO of Manitoba Hydro. As if taking charge of one of the province's highest-profile corporations and kicking off a new strategic plan weren't enough, in October 2019, Manitoba was hit with a massive storm that took down power lines, over 4,000 poles, and a number of transmission towers.
"Manitoba Hydro has never experienced anything like that before, but we are trained to be calm in challenging situations," said Grewal, adding that more than one thousand employees were directly involved in the restoration effort.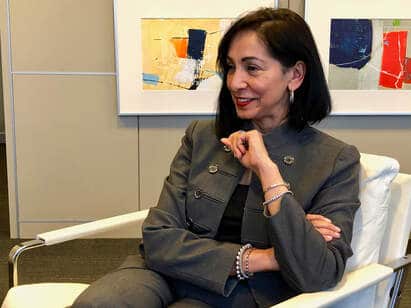 As soon as the storm ended, Grewal knew she had to get out into the affected areas and see the damage first-hand to understand what Manitoba Hydro's staff and customers were dealing with and what the company could do to help.
In some ways, it was a continuation of the work she started when she first came to Manitoba Hydro, which saw her criss-cross the province as she held 22 town halls with staff. As she started the long-term strategic visioning process, she — along with her staff — also held a series of meetings with customers and critical stakeholders.
Grewal said those consultations were critical to understanding Manitoba Hydro's current operations and discovering the opportunities the company has to better serve its customers within a rapidly changing energy industry.
"This is an incredible period of change for all utilities," she explained. "It's similar to what we've seen in the telecom sector over the past two decades, but the pace of change will be much faster.
To respond to that change, Manitoba Hydro is not only developing a 20-year strategic plan but it also recently restructured its business model to support that plan — and put a clear focus on the customer.
"We will not think like a monopoly," Grewal said. "Everyone will understand how they serve the customer. And through this, we'll be able to fix processes to make them more seamless. It will also allow us to understand our assets better and how we should optimize the capital we spend."
Grewal said the changes are already yielding positive results, with employees more willing to look at new ways of doing things, and adopting more customer-centric processes and approaches.
She said fostering a new culture at Manitoba Hydro, combined with the company's existing infrastructure, will position it well to help the province achieve its long-term economic development goals.
"This is a wholesale change, that is shaking our industry to its core," Grewal said. "But those who plan and get ahead of it, and have the advantage of the assets we have, will actually end up in a much better place.
"We are so fortunate compared to our neighbours," she added. "We have green, dependable electricity in an environment where so much is being driven by climate change. Our energy can be leveraged to attract industry and jobs."
While many people might find the process of modernizing a traditional monopoly utility to be a daunting task, Grewal speaks about it with a smile on her face.
"I'm a change agent, and I don't do status quo well," she explained. "I like dealing with problems and complexities because it's challenging and fun.
"This is the most interesting time to be in this business. It's also going to be one of the most challenging but I think if we play it right we will leverage the benefits of that green, dependable energy Manitobans have invested in."
Grewal will share a few more details on Manitoba Hydro's new strategic plan, new business model and their COVID-19 response as the featured speaker on January 28th at "The Power of Leadership" virtual luncheon presented by The Winnipeg Chamber of Commerce.