This event is no longer active.
The Power of Leadership
Membership Luncheon
11:30 a.m. – 1:00 p.m. | Thursday, January 28
Hosted on Hopin
ABOUT EVENT:
"Leadership is not about titles, positions, or flowcharts. It's about one life influencing another." – John C. Maxwell
As the first female CEO in Manitoba Hydro's history, Jay Grewal knows the opportunity she has to inspire through leadership, and thrives under the pressure. Don't miss this opportunity to learn from her nearly 30 years of leadership experience.

PROGRAM 
11:30 a.m. – Webinar Opens / Exhibitors
12:00 p.m. – Program Starts
12:10 p.m. – Keynote Address
12:40 p.m. – Virtual Networking Roundtable
Participate in virtual networking roundtables
(max. 10 members)
Debrief what you learned and share your thoughts with other local business and community leaders
Connect with a purpose and build meaningful relationships (maybe even schedule a coffee date in the future!)
​1:00 p.m. – Program Ends
Instructions to access Hopin will be emailed to members prior to the scheduled event.
Sponsored By:
---
About Our Keynote: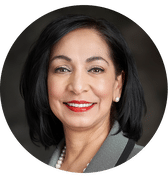 Jay Grewal
President & Chief Executive Officer, Manitoba Hydro
Jay joined Manitoba Hydro as President & Chief Executive Officer (CEO) in February 2019.
Jay is a proven leader with over 26 years of leadership and corporate management experience including at Executive levels in the utility, resource and consulting sectors. She has joined Manitoba Hydro from the Northwest Territories Power Corporation where she held the position of President & CEO. Before then Jay held senior executive roles with Capstone Mining Corp, Accenture, Inc., BC Hydro and CIBC World Markets.
Jay holds both a Bachelor of Arts (honours) from the University of British Columbia as well as a master's degree in business administration, finance from the Richard Ivey School of Business, University of Western Ontario.