3-minute read
Ahead of our Mayoral Debate– The Future of Our City– on October 21, we will be sharing our conversations with mayoral candidates in the order of which we met with those who accepted our meeting request to help you make the most informed decision on voting day. Read our full statement. 
---
Winnipeg Chamber President and CEO Loren Remillard met with Shaun Loney in September at the Forks.
Shaun's platform is one of the most comprehensive and detailed in this campaign.
Shaun's priorities are:
A City to be Proud of – Using a systemic approach to addressing homelessness by working with non-profits, addictions treatment and housing first providers to move people towards meaningful employment. Shaun asserts this approach will help will address pressure on emergency services, prevent crime and help the homeless at the same time. Establish a "Nightlife Mayor," like how other destination cities champion businesses, the arts, and cultural groups that operate at night. Create a Reconciliation action plan that includes employment training opportunities, violence prevention, community-led redevelopment of Portage Place, and addressing systemic racism in the Police service. Accelerate the Transit Master Plan from 25 years to 10 towards creating fast, frequent, and convenient transit.
A Safer Winnipeg – tackle the root causes of crime by supporting people in need with mental health, addictions treatment, housing, and jobs. Reduce police dispatches by 10% by allowing police to engage non-profits in preventing crime. Hire 30 "Transit Peace Officers" who can enforce appropriate conduct. Connect unemployed people with police records with work opportunities by creating 1,000 social enterprise jobs. Combat bike theft by creating a bike registry that works. Invest $30 million in active transportation.
A More Affordable Place to Live – Prioritize the repair and maintenance of roads before expanding or building new ones. Reduce traffic by creating an app that allows people to book shuttles to the nearest transit stop. Expand the mandate of Winnipeg Waste, Water and Heat utility to install heat pumps – reducing carbon footprint and lowering energy bills for homes and businesses. Create a Community Housing Land Trust to spur development of affordable housing. Establish a Community Solar Action Plan to take advantage of subsidies and incentives. Establish a Research Chair in municipal infrastructure to improve road building standards.
A Greener Winnipeg – Establish a "tree trust" that recognizes the real value of trees and a implements a feasible plan to take care of them. 500 new EV charging stations. Reduce issues with infill housing by updating the rules and support for infill housing projects. Significantly increase park space. Ensure wastewater is treated appropriately and in compliance with scientific evidence. Create a new levy on commercial parking spaces to fund road repair, transit, and active transportation. Revise ranking system for infrastructure projects to prioritize the environment. Establish city-wide compost to divert food waste from the landfill. Expand the number of sustainability staff.
A City that Works – Establish a "Smart Business Tax Task Force" to overhaul taxation and eliminate the business tax. Ensure that "growth pays for growth," such that new development fees recover the full cost of providing service. Relieving congestion by targeting major thoroughfares for repair, such as Kenaston Boulevard. Implement a fiscally responsible tax plan, including a 3.7% property tax increase.
Vision for Winnipeg
When asked about his vision for Winnipeg, Shaun said that we seem to be absolutely stuck when it comes to dealing with the big issues, but that we absolutely can develop solutions by working together and thinking differently about how to turn challenges into opportunities. Shaun spoke about his experience as a businessperson and said that business solves problems all the time, which results in innovation. As a recognized international expert in developing and launching successful social enterprise businesses, Shaun wants to ensure that we tap into the pools of people who are unemployed and, in some cases, homeless to create opportunities for meaningful employment. In Shaun's view, this approach will have other benefits, such as reduced crime, reduced need for emergency response and other benefits. Shaun sees a future where we regularly solve problems with innovative thinking.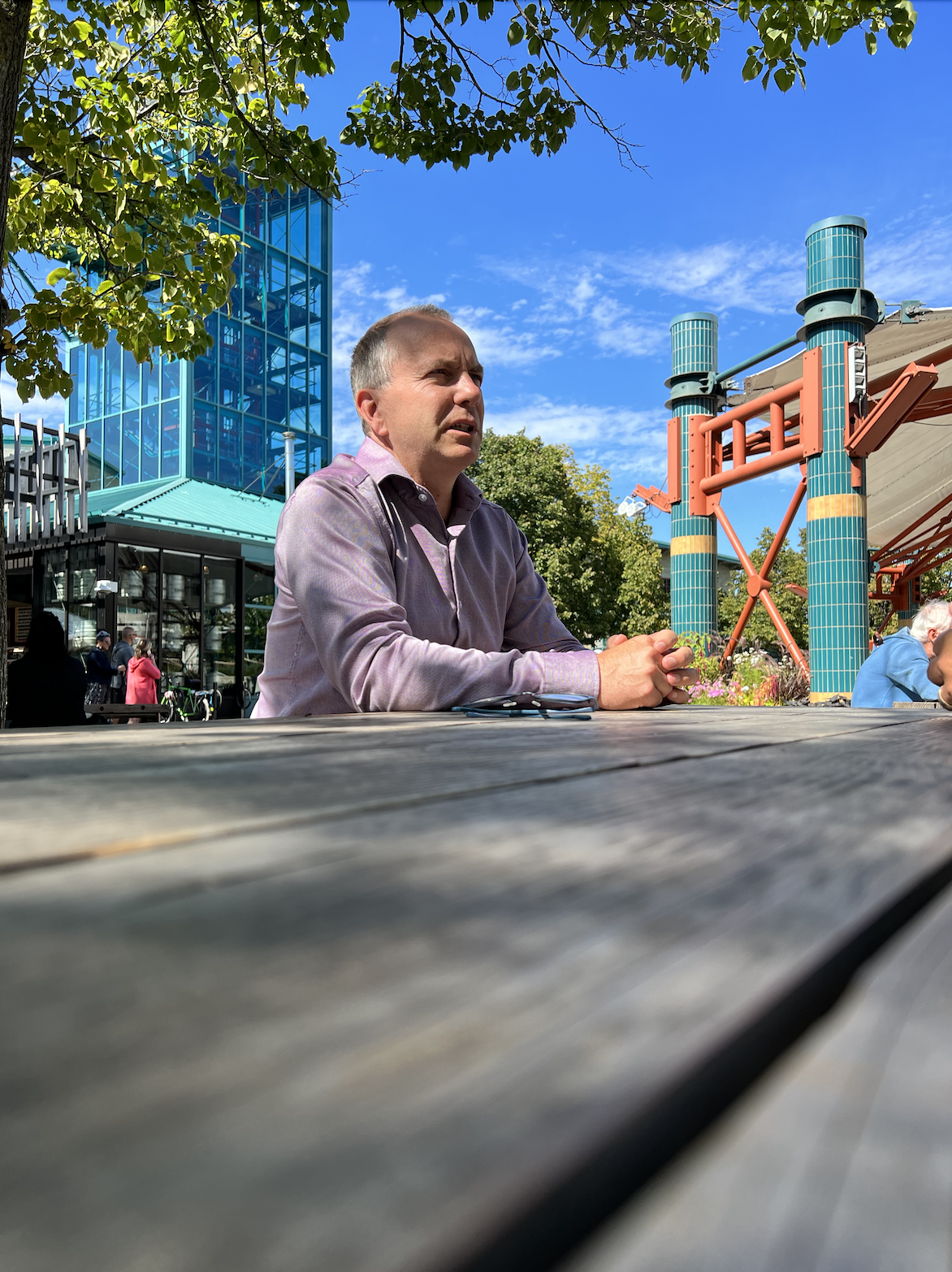 Responding to the Playbook
When asked about the Winnipeg Chamber's Playbook and what stood out to him, Shaun said that he is in complete agreement with the ideas and recommendations. If elected Mayor, Shaun would pursue a positive relationship with business leaders and tap into the strength of the business community to solve our most difficult challenges. As a businessperson, Shaun referenced his track record of establishing successful enterprises that use market forces to solve problems. Shaun agreed with the idea that we need to think differently about taxation and revenue. Shaun spoke about his plan to establish a task force of business leaders to look at how businesses are taxed, with an eye towards eliminating the business tax completely. Shaun was especially enthusiastic about the idea of performance-based budgeting and said that we need to focus much less on how we do things and much more on rewarding outcomes and performance.
Downtown
When asked what he would do as Mayor to reignite downtown, Shaun referenced the importance of moving people into meaningful employment. Shaun's view is that some folks are suffering from addictions and mental health, which affects the perception of safety and crime. What they need is treatment and a safe place to call home. The next step is to connect them with appropriate employment and ensure they are supported as they move to independence. Addressing these root causes will create the necessary conditions for business investment.
Building relationships
When asked about relationships with Council and other levels of government, Shaun said that as Mayor, he will convene people to solve problems, not argue over solutions. Shaun said as a city, we tend to see things as a simple choice or a zero-sum game; open vs. closed, more funding or less, private vs. public. Shaun's approach is to bring people together to solve the problem, not argue over the solution. Better working relationships with other levels of government will come when they see the progress that Winnipeg is making.
Revenue and competitiveness
Regarding taxation and revenue, Shaun has a number of ideas to shift the way we pay taxes, which he will explore as part of his "Smart Tax Task Force." Shaun spoke about the need to "tax the bad and reward the good." In other words, Shaun believes that we should tax the things we don't want (pollution, traffic congestion, surface parking lots) and invest in the things we do want (active transportation routes, electrification of vehicles, faster permitting for projects that reduce carbon, composting). Shaun committed that, if elected Mayor, he would work with business leaders to design a new tax system.
Conclusion
Taken together, Shaun's ideas are ambitious and represent a new approach for Winnipeg. He has distinguished himself in this campaign as being unafraid to challenge the status quo and introduce new ideas. Shaun's vision for Winnipeg and stated priorities align with the ideas in our playbook, although he said that his goal will be to take them further, expand and build on them. Shaun's views on taxation, performance-based budgeting and working with the business community to solve long-standing issues are especially interesting. Shaun's ideas on connecting people to employment, especially given the labour shortages that Winnipeg is experiencing, are welcome.