3-minute read
Ahead of our Mayoral Debate– The Future of Our City– on October 21, we will be sharing our conversations with mayoral candidates in the order of which we met with those who accepted our meeting request to help you make the most informed decision on voting day. Read our full statement. 
---
Winnipeg Chamber President and CEO Loren Remillard met with Scott Gillingham at Canada Life Centre, overlooking Portage Avenue.
Scott's platform "Building a Stronger Winnipeg" is one of the most detailed, transparent and comprehensive plans in this election. It is fully costed and includes a section on how Scott's plan will be implemented.
Scott's priorities are:
The Big Move: Investing in Transportation and our Economy – More road repair; more frequent buses and better transit service; better, smarter construction policies; more active transportation upgrades; and expand critical trade and commuter routes, such as Kenaston and Chief Peguis.
Safer Streets for All: Focusing on Crime Prevention and Housing for the Homeless – Mayor to sit on the Police Board and emphasize crime prevention by creating Winnipeg-wide crime prevention plan. Shift non-criminal calls away from police response. Permanent funding for the downtown safety partnership and better utilization of Peace Officers / First Nations Safety Officers. Appoint Senior Advisor on Homelessness and Street Safety. Expand shelter options and supportive housing through things like rapid development of modular housing. Improved extreme weather policies – like freezing cold – to ensure homeless folks have a place to go.
A City Hall Built for Better Customer Service – Neighborhood action teams for better street service . . . "to plow, plant, patch, repair, replace, rehab, move, mend or mow whatever is necessary." Investing in 311 to improve service. Reorganize City Hall to provide single-window service and faster permits. Implement best management practices and key performance indicators.
Building a Stronger Local Economy – Work with the provincial government to develop a change the City's revenue from property tax base to one that aligns with economic growth. Focus economic development planning on our strengths. Target underused commercial sites for new housing. Change bylaws to promote patios(!). Review and strengthen the Newcomer Welcome and Inclusion policy. Review by-laws to ensure fairness for local business. Transforming rivers and alleys into signature assets.
Building a Stronger Downtown – Permanent funding for the downtown safety partnership. Promote affordable housing development / commercial building conversion. Implement "Patio City" initiative. Restore funding for Winnipeg Arts Council to pre-pandemic levels.
Building a Greener Winnipeg – Change mandate of the Municipal Accommodations Utility into a green energy agency to seed development partnerships and green energy retrofits. Ensure all Winnipeg City vehicles are electric. Implement urban forest strategy, move to industry-recommended seven-year pruning cycle, promote volunteer tree-planting.
More Flexible Support for Recreation – Dedicated revenue for community recreation through a dedicated 0.25% property tax increase. Faster delivery on recreation priorities (Transcona, River Heights and South Winnipeg). Work with CUPE and Immigration Partnership Winnipeg to create more lifeguard positions.
Governance: Uniting to Build a Stronger Winnipeg – Limit Executive policy Committee size and authority. Enhance transparency in City reports by explaining changes requested by political leaders or staff. Involve all councilors in strategic planning. Create by-law to ensure access to information. Delete two staff positions in the Mayor's Office and create two staff positions for research and policy work to report to councilors.
Vision for Winnipeg
When asked about his vision for Winnipeg, Scott spoke about creating a City where our children and grandchildren see a future and choose to plant roots. Scott emphasized the importance of balancing long-term vision with short-term priorities and noted that we often pay too much attention to the issues that are affecting us right now, without thinking about long-term consequences. Scott envisions a City that is entrepreneurial and service-focused, where it is easy to obtain permits to grow business, but also one that cares for our most vulnerable populations and is innovative in creating housing options for folks who are experiencing homelessness.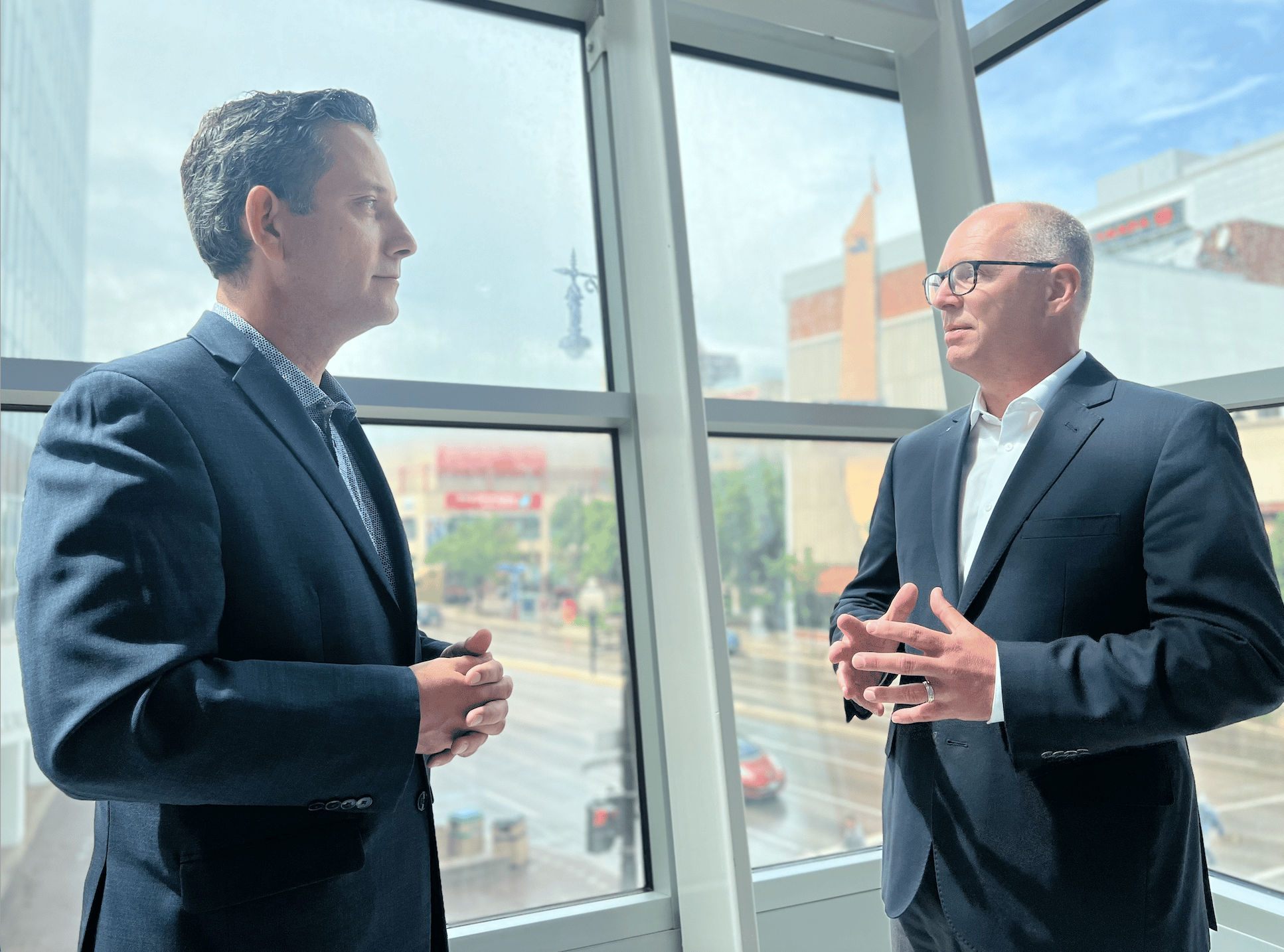 Responding to the Playbook
When asked about the Winnipeg Chamber's Playbook and what stood out to him, Scott said that the idea of being the "easiest city in Canada" to do business in resonated with him. One of Scott's top priorities is economic growth and development and he pointed specifically to the barriers that prevent investment. As Mayor, Scott's approach would be to open a dialogue with business so that he and other City officials can hear firsthand about the issues and ideas about how to address them, especially concerning processes and policies that are out of date.
Downtown
When asked what he would do as Mayor to reignite downtown, Scott said that we need to focus on addressing social issues – such as mental health and addictions, homelessness and affordable housing – and encourage more coordination and partnership with social service agencies and the provincial government. Scott said that the City's job is to create an investment-friendly environment and focus on designing public spaces for people to enjoy. A comprehensive downtown plan is needed and we need to be thoughtful about finding the right mix of affordable housing, business development incentives, public spaces and services.
Building relationships
When asked about relationships with Council and other levels of government, Scott said that productive working relationship are essential to getting things done for Winnipeg. If elected Mayor, Scott's approach would be to develop a strategic plan based on common priorities, which may include things like roads, community safety and facilities, beautiful neighbourhoods, active transportation and transit. Once the plan is set and the priorities are established, they would be funded through the budget process. Progress would be tracked and publicly reported. Scott's belief is that when councilors and citizens are involved in a transparent process, they will be much more likely to work as a team. Relationships with other levels of government will be based on being clear about Winnipeg's priorities and demonstrating why Winnipeg is important for Manitoba's and Canada's future.
Revenue and competitiveness
On the subject of taxation and revenue, Scott would pursue the phased elimination of the business tax (Winnipeg is the only major municipality in Canada that charges a business tax), but said also that this couldn't be done "overnight" as it is a big source of revenue that funds City services. Scott noted that Winnipeg must look closely at what it needs to do to become the easiest place in Canada to do business and that includes growing the economy, reducing red tape, such as shortening the permitting and approvals process and improving how the city delivers services. If elected Mayor, Scott would pursue discussion with the provincial government to align Winnipeg's revenue system with economic growth, such that the City's revenue will grow as the economy grows.
Conclusion
Scott's vision for Winnipeg and stated priorities align with the ideas in our playbook, such as making Winnipeg the easiest city in Canada to do business, working towards eliminating the business tax and focus on growing the economy. Scott's intention to develop a City strategic plan, engage Winnipeggers in planning and budgeting, make the process more transparent and report on progress is welcome.  Scott's views on the downtown and neighbourhood safety are also aligned with the Chamber's ideas, where policing should focus more on crime prevention and the City should seek better coordination with the province and social service agencies to address root causes.