3-minute read
Ahead of our Mayoral Debate– The Future of Our City– on October 21, we will be sharing our conversations with mayoral candidates in the order of which we met with those who accepted our meeting request to help you make the most informed decision on voting day. Read our full statement. 
---
Winnipeg Chamber President and CEO Loren Remillard met with Robert-Falcon Ouelette in September in the Winnipeg Chamber offices, overlooking Portage Avenue.
At the time of writing, Robert's platform (the "purple book") identifies three major priorities:
Safe

Place the well-being of children and youth at the centre of City decision-making process. Based on United Nation's child-friendly city framework.
Redefine our relationship with Winnipeg Police: freeze police funding at $310 million for four years and create an $21 million "Community Safety and Innovation Fund" to support community programs that reduce crime; changing the focus of police training to include teachings on racism and the imopact of colonization; conduct a "community-based" review of the Police Board to strengthen civilian oversight.
Prioritizing paramedic hiring and new ambulances: negotiate a new funding agreement with the province, review how paramedics are organized, establish the "Community Paramedic" program to connect with people who frequently use paramedic / emergency services
Thriving

Encourage redevelopment of surface parking lots by changing the tax rate on them as if a four-story commercial building stood there. Would raise approximately $65 million, which would then be earmarked for green development, affordable housing, safety initiatives and public and active transportation.
Livable

Building a "child friendly" city: which means placing the interests of children at the heart of decision-making. Specific ideas include expanding library hours, growing the block parent program, free transit for children and youth (17 and under), building two new aquatic cenrtes, charitable status for community centres and expanding available activities, such as dance.
Vision for Winnipeg
When asked about his vision for Winnipeg, Robert spoke about the need for long-term thinking and a vision of a city that deals with its most difficult problems head on. In Robert's view, the biggest set of issues facing Winnipeg right now are homelessness, mental health and addictions. In Robert's view, these issues are contributing to the perception that some areas of Winnipeg are not safe. Robert believes that we should be thinking far into the future and making decisions that benefit our children. Robert's vision is for Winnipeg to be an open and welcoming City and one where people take care of each other.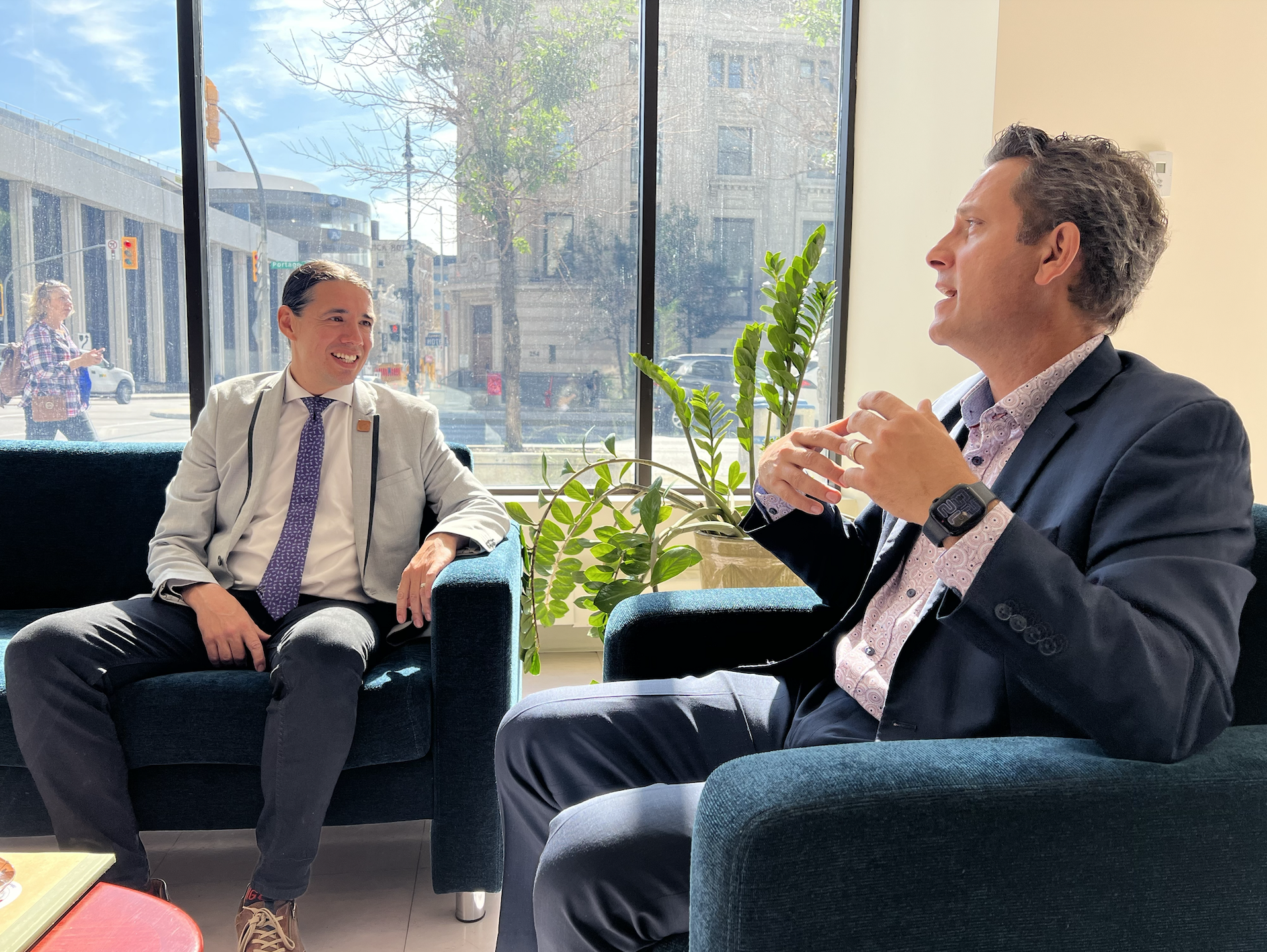 Responding to the Playbook
When asked about the Winnipeg Chamber's Playbook and what stood out to him, Robert highlighted the need to improve Winnipeg's permitting process and that the City should be providing decisions and services in a timely manner. Robert said that he would establish performance benchmarks and then hold City staff accountable for results. Robert spoke about Quebec City's goal to be the most entrepreneurial city in North America and said that the Chamber's goal of making Winnipeg the easiest city in Canada to do business is a similar call to action. Behind that though, is a commitment by the City to deliver fast services and supports that enable the business community to grow their enterprise.
Downtown
When asked about Winnipeg's core and what he would do, as Mayor, to reignite downtown, Robert spoke about the need to address mental health, homelessness and addictions. Robert said that addressing the issues would not require heavy involvement by the province, or new sources of revenue, but rather that we need to better coordinate what we are currently doing. On moving downtown forward, Robert referenced downtown's anchor institutions, such as The University of Winnipeg, and how we could leverage their strength. For example, UWinnipeg is already a destination for international thousands of students, many of whom live in the downtown. Robert also referenced the development of the Bay building by the Southern Chiefs Organization and the development of the former Bank of Montreal building at Portage and Main by the Manitoba Metis Federation as being transformative and something the City can build on.
Building relationships
When asked about relationships with Council and other levels of government, Robert spoke about the Mayor as being one voice among many; however, he noted the Mayor has significant power to bring people together, to set the agenda and focus discussion on the things that matter. Robert firmly believes that one of the major reasons why we continue to experience the same problems is because leaders are not working together on shared solutions. As Mayor, Robert would seek to bring Indigenous, local, provincial and national leaders together to bring about needed change.
Revenue and competitiveness
On the subject of taxation and revenue, Robert stated that he was opposed to the idea of selling City assets to pay for current operational needs. To improve Winnipeg's revenue situation, by changing the assessment on surface parking lots. Robert noted that surface parking lots need to be taxed as if there is already a four-story building currently there. This would create an incentive to develop the parking lots and also raise significant revenue for the City, which Robert estimated at $65 million annually once fully implemented. After that, if elected Mayor, Robert would seek to generate ideas by engaging citizens, business, and other levels of government. Robert said that addressing the revenue situation would be a priority down the road, after he had successfully addressed his first priority, which is mental health, homelessness and addictions.
Conclusion
Roberts's vision and priorities for Winnipeg somewhat align with the ideas in our playbook. Robert's focus on improving permitting and service response times are aligned. Robert's views on the need for a long-term perspective and how he would place the needs of children at the centre of decision-making are unique and forward-thinking, but we would like to see equal emphasis on solving business issues, such as working towards eliminating the business tax and growing the economy. Robert's ideas on the downtown are aligned with our Playbook and his thinking on how to coordinate planning and development with major players in the downtown is welcome.