3-minute read
Ahead of our Mayoral Debate– The Future of Our City– on October 21, we will be sharing our conversations with mayoral candidates in the order of which we met with those who accepted our meeting request to help you make the most informed decision on voting day. Read our full statement. 
---
Winnipeg Chamber President and CEO, Loren Remillard, met with Jenny Motkaluk in August at Stephen Juba Park on Waterfront Drive.
Jenny's platform identifies her three key actions, which include:
Becoming a leader in growth and investment – attracting new business and supporting business development
Getting the job done – well – delivering reliable services
Celebrating our amazing city – being a champion for our city
When asked about her vision for Winnipeg, Jenny said that people are looking for a leader who will get the job done. As Mayor, Jenny will make sure that we are competitive with other jurisdictions, which means reviewing our revenue system and focusing on the effective and efficient delivery of services, which should be the primary focus of City Council and the Mayor.
Responding to the Playbook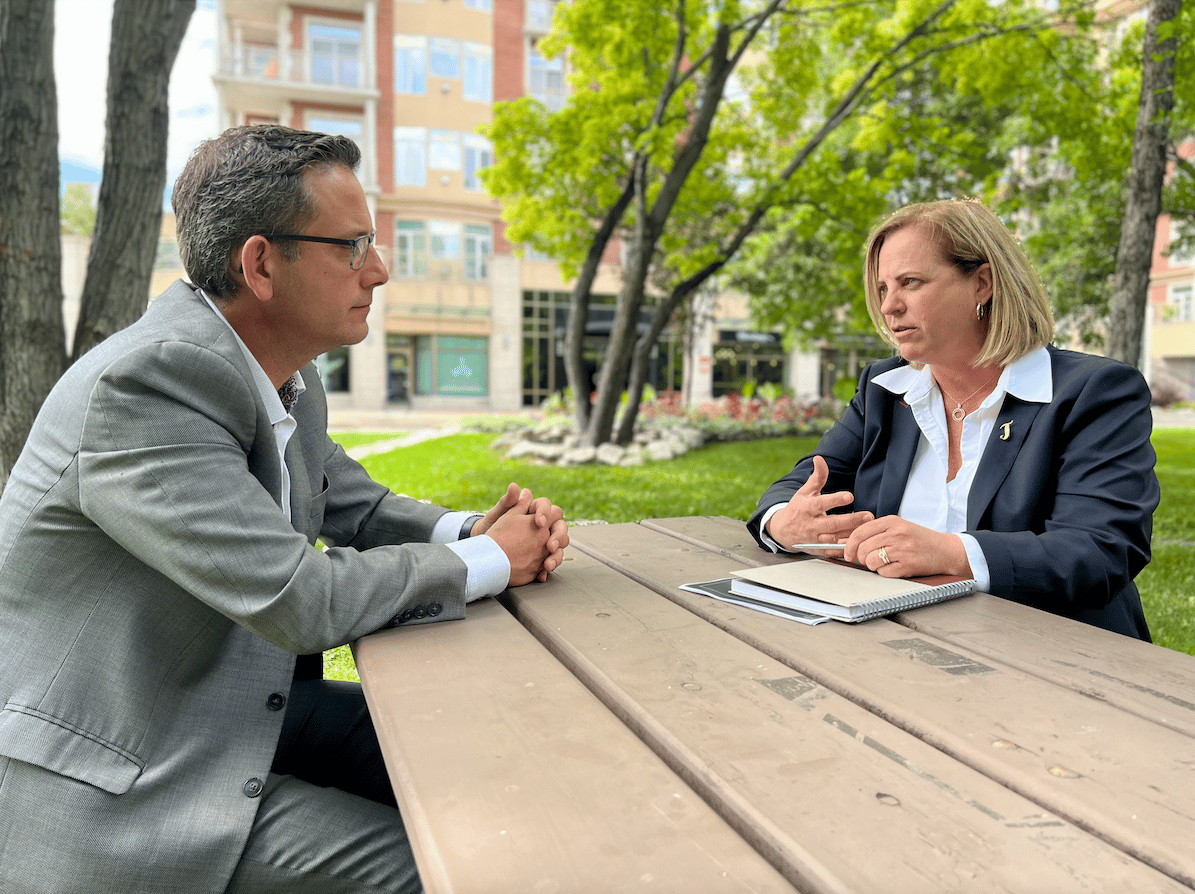 When asked about the Winnipeg Chamber's Playbook and what stood out to her, Jenny pointed to making Winnipeg the easiest City in Canada to do business. In Jenny's view, this is about simplifying the permitting process, focusing on essential service delivery, and ensuring that we are creating an environment that supports economic development, especially for things like Centreport, that produce a significant return on investment and drive our economy forward.
Jenny also spoke about permitting fees and the business tax, which creates barriers to economic growth and disincentivize investment. Jenny's strategy would be to align our taxation system with our strategic plan for growth, so we are not creating barriers.
Downtown
When asked what she would do as Mayor to reignite downtown, Jenny said that the City should focus on what it does best – delivering City services. In her view, the City has taken on too much responsibility outside its core mandate. When asked about addressing homelessness, Jenny spoke about the dire need for more housing and that the City should eliminate barriers that prevent the development of new housing options. She also referenced her plan to incentivize the conversion of vacant buildings into affordable rentals.
Building relationships
When asked about relationships with Council and other levels of government, Jenny said that Winnipeggers likely don't care about personal relationships between politicians and that her focus will be on getting things done for Winnipeg, in line with her platform and promises. In her opinion, over the past several years, there has been an increase in divisive rhetoric, in Winnipeg and elsewhere. Jenny believes that we need to respect all opinions. Jenny added that she will not be bullied and that her approach will be to build consensus and identify common interests. She referenced her background as coming from a large family, where she learned how to navigate many opinions.
Revenue and competitiveness
On the subject of Winnipeg's current approach to taxation, Jenny embraces the idea of results-based budgeting, consistent with our Playbook. Results-based budgeting is about consistently assessing value against performance. Jenny spoke of the need to engage front-line staff and get their ideas about how to do things more efficiently and effectively. Jenny would focus on implementing her "tax fairness" plan, where if a homeowner makes improvements that result in an increase in the value of the home, they will not face a property tax increase.
Conclusion
Jenny is very clear about her priorities and why they are important. If elected Mayor, Jenny will focus mainly on the delivery of essential City services – police, roads and city infrastructure, parks and community services, transit, waste and permits – and will seek to reduce or get out of areas that are beyond this scope. Jenny's vision is one where if the City does its job well, the private sector will be able to thrive. Overall, Jenny's ideas on how to support business development and economic growth are in line with the ideas in our Playbook, although her platform does not prioritize some of the larger initiatives, such as investing in downtown, moving the rail yards, or promoting density.