3-minute read
Ahead of our Mayoral Debate– The Future of Our City– on October 21, we will be sharing our conversations with mayoral candidates in the order of which we met with those who accepted our meeting request to help you make the most informed decision on voting day. Read our full statement. 
---
Winnipeg Chamber President and CEO, Loren Remillard, met with Glen Murray in early September at the Millennium Library courtyard.
At the time of writing this article, Glen has identified five campaign priorities, which include:
A beautiful city in a state of good repair – all infrastructure projects must contribute to the net tax base and neighborhood infrastructure will meet performance and green materials standards, urban forest is protected, and Winnipeg is known for its architecture
Canada's leading green, innovation economy – Winnipeg is a North American leader in green buildings, zero-carbon technology, heating technology, and electrified transportation. Winnipeg is home to Canada's largest cluster of "circular economy" buildings.
A leader in healthy communities and crime reduction – neighborhood-based strategies, community health and safety outreach programs, local planning initiatives and community input on recreation, health, education and community development.
Restoration of comprehensive, funded neighborhood housing plans and community development partnerships – housing partnerships approved by council resulting in a safe place to call home for everyone
A bold new partnership in shared governance with Indigenous people – new partnerships and with Indigenous governments and people, based on constitutional rights
Vision for Winnipeg
When asked about his vision for Winnipeg, Glen spoke about Winnipeg becoming the most prosperous city in Canada. Glen said that Winnipeg has a tremendous number of assets, but that we need a strategy to accelerate and expand upon the things that we already do well; clean energy, technology and manufacturing, and the Indigenous resurgence. Glen's perspective is that the future will be about access to technology, so smart investments in city infrastructure and amenities (such as libraries and community centres) that provide that access are important. Glen also spoke about the importance of being a just city, and he pointed out that too many Winnipeggers do not have a safe place to call home.
Responding to the Playbook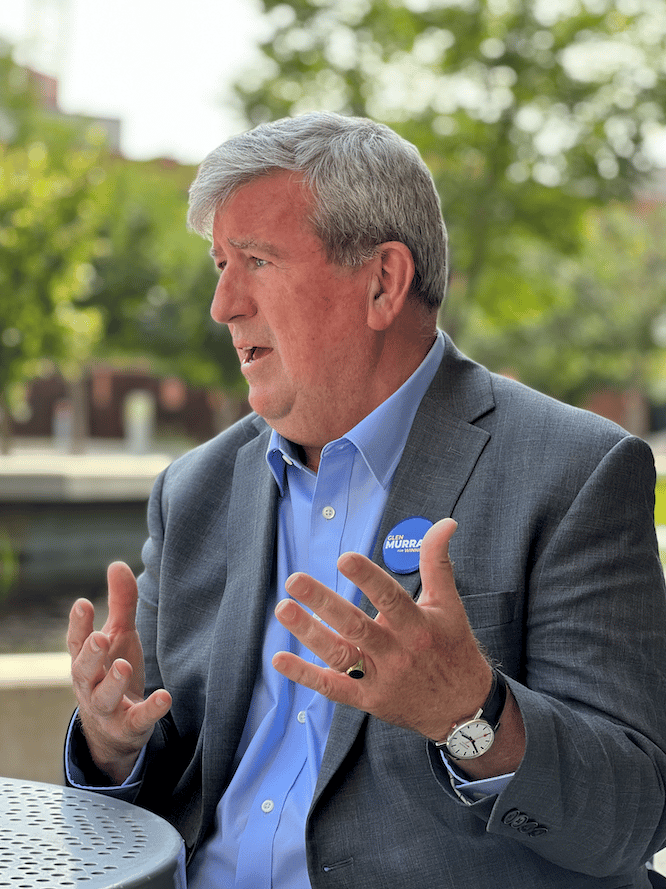 When asked about the Winnipeg Chamber's Playbook and what stood out to him, Glen said that he is generally supportive of the ideas and that if he were elected Mayor that he would seek to partner with the Chamber to implement many of them. Glen pointed to his previous experience as Mayor where he felt he had a respectful, productive working relationships with a broad base of groups and interests and that Winnipeg Chamber of Commerce policy ideas were almost always incorporated in some way into City policy and planning.
Downtown
When asked what he would do as Mayor to reignite downtown, Glen noted that, apart from the police station, that public investments in the downtown have slowed. In Glen's view, a vibrant downtown, which is good for the whole of Winnipeg, will require public and private working together to create residential development and density, beautiful public spaces, a priority focus on safety and walkability, and accessible transit. Business development should be encouraged and should be part of the City's infrastructure planning. On the subject of safety, Glen notes that there are things the City can and should do to provide alternatives, especially for young people, such as opening community centres later and working with communities to identify trouble spots.
Building relationships
When asked about relationships with Council and other levels of government, Glen pointed to his previous experience as Mayor and that he recognized the Mayor's voice is only one among many. Glen referenced his approach of working with Councilors to identify three major priorities for their ward and three major priorities for the whole City. In practice, the basis of these discussions are integrated and form the basis of the four-year budgetary planning cycle, so that all councilors can see the priorities of their ward residents reflected in the overall plan. Glen favours "team Winnipeg" when dealing with other levels of government. This demonstrates a united approach where multiple groups are aligned and go together to ask for consideration on important changes that will benefit Winnipeg.
Revenue and competitiveness
On the subject of taxation and revenue, Glen is an advocate for "smart taxation and smart investment." For example, Glen spoke about the creation of specific districts in and around the downtown when he was mayor from 1998 – 2004. In Glen's view, investments in key projects, such as the Millennium Library were catalysts that led to other investments and the creation of the SHED – Sports, hospitality and entertainment district – which generates economic activity and revenue for the City to deliver service. Glen believes that the City should develop return-on-investment models to inform decision-making.
Conclusion
On the whole, Glen's priorities mostly align with the ideas in our playbook. Glen's perspective on evaluating return-on-investment for infrastructure and other public projects is welcome and, should he be elected Mayor, will be a valuable tool in assessing the merits of proposals. We would like to see additional emphasis on making Winnipeg the easiest city to do business and a commitment to tackle issues with permitting and regulation. Glen's vision for Winnipeg, which includes promoting the circular economy and neighborhood safety is welcome.