3-minute read
Ahead of our Mayoral Debate– The Future of Our City– on October 21, we will be sharing our conversations with mayoral candidates in the order of which we met with those who accepted our meeting request to help you make the most informed decision on voting day. Read our full statement. 
---
Winnipeg Chamber Vice President, Policy and Engagement Chris Minaker met with Chris Clacio outside The University of Winnipeg.
Chris is a futurist. One of the main points he has made repeatedly in this campaign is that we should be thinking far into the future. He is the youngest candidate in the race to become the mayor, but he says that is an asset as he is focused on solving the problems of today and tomorrow.
Chris's platform poses the question, "What could be possible?" Chris's priorities are:
Regional coordination: Chris pledges to work with the province and the federal government to create a new regional governance structure for Manitoba's metropolitan regions that includes First Nations and Métis governments by creating a new "provincial constitution." The new Winnipeg metro region government would have responsibility for finance, housing, transportation (focusing on light rail), policing, restorative justice, health, environment, art and archives. This is like the historical concept of a city state.
Systems change: Chris believes there is a knowledge gap that prevents people from engaging with government. According to Chris, government often pre-determines the policy path it wants to follow, and subsequent consultation is for show. Chris's solution is to re-profile the office of "public" engagement to the office of "civic" engagement and give it responsibility for educating citizens on how government works especially budgeting. Chris has also pledged to move forward with a "mincome" pilot, where low-income Winnipeggers would receive a basic monthly income.
Civic innovation: Chris is pledging to change the structure of council governance by reallocating resources and staff away from the mayor's office and instead establish citizen "ward councils" to guide budgetary decision-making, expand research capacity and data governance in a re-focused office of civic engagement, and create a formal elders council and youth council, among other citizen council.
Vision for Winnipeg
When asked about his vision for Winnipeg, Chris talked about the need for fundamental change. In Chris's view, our governance systems are broken, and we need new ones to ensure that citizens are informed and engaged in making decisions about our community. Chris points to the gap between citizens and those who work for and are elected to government positions and believes that gap is one of the most significant reasons why we seem to have long-standing challenges, such as homelessness. Chris also believes that Winnipeg should look at co-governance with First Nations and Métis governments.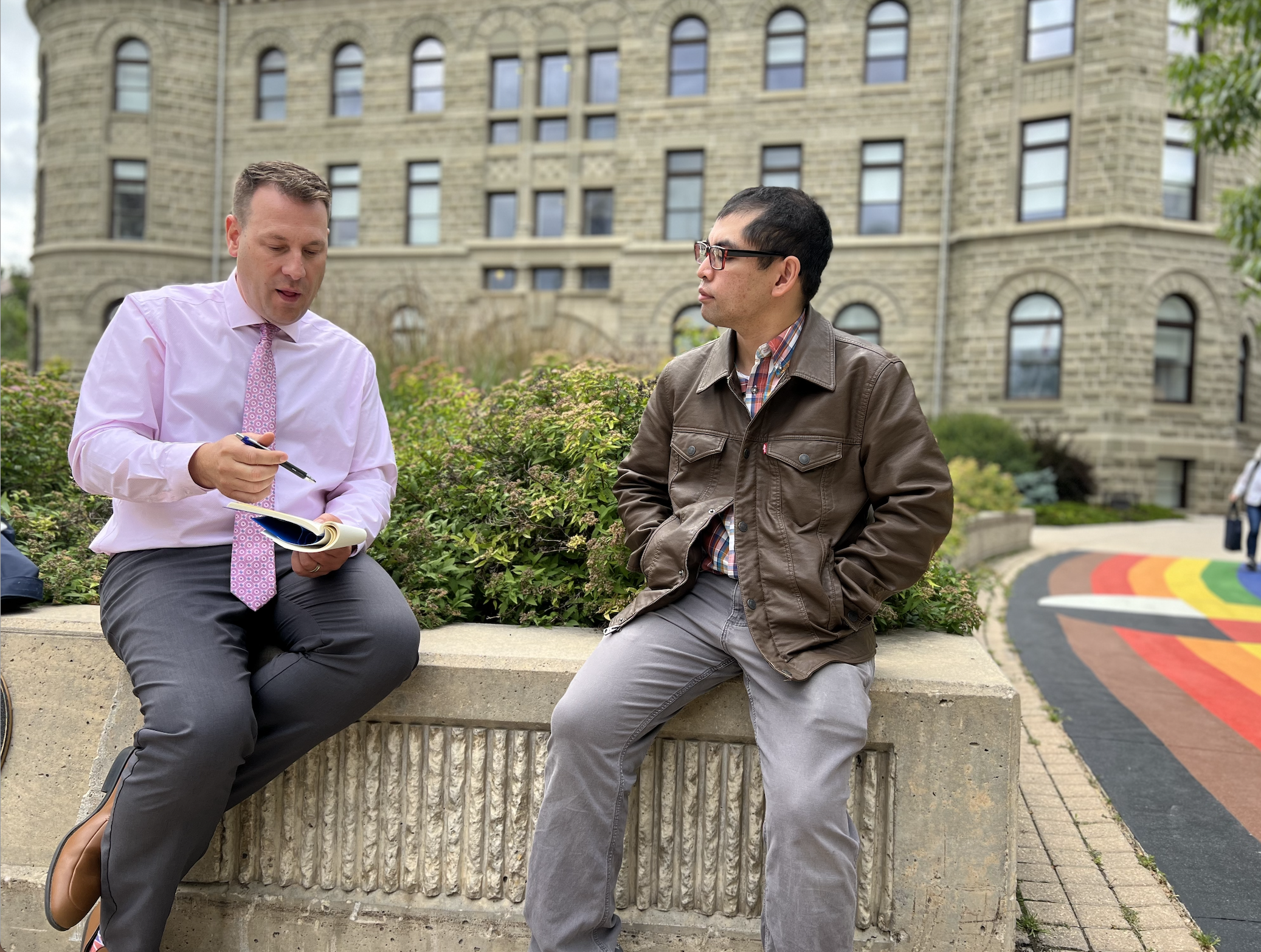 Responding to the Playbook
When asked to respond to the Winnipeg Chamber's Performance Playbook, Chris said that he was generally supportive of the ideas, but that he would work towards a much broader, structural set of goals, such as establishing a "mincome" pilot and re-envisioning citizen engagement and budgeting.
Downtown
When asked about downtown, Chris said that as a central hub, the downtown is for everyone. In Chris's view, some of the concern around safety should be addressed in the short term through outreach and engagement, and increased use of analytic data by police to focus on "hot spots." Chris would also focus resources to incentivize the development of affordable housing in the downtown.
Building relationships
When asked about the importance of relationships, Chris was emphatic that the most important relationship is with the citizens. According to Chris, engaging them and educating them about how government works is the key to solving our challenges.
Revenue and competitiveness
When asked about what Winnipeg needs to do to modernize its revenue and budgeting systems, Chris said that he would proceed with the plan to raise property taxes by 2.3% but would evaluate that in partnership with City Councilors for the 2024 budget year.
Conclusion
Chris positions himself as a regular citizen who loves Winnipeg but believes that fundamental restructuring is needed to move forward. In Chris's view, citizen education and engagement are the key. While we agree that citizen engagement is critically important, Chris's ambitious plans are not aligned with those in our Playbook.