In January 2020, Ash Modha, CEO of Mondetta– a Winnipeg-based global leader in sustainable, technical, lifestyle and active wear– was in Korea visiting one of their distributors for MPG. He was on his way from Korea to China when rumblings of a deadly "flu" began to hit the news– unknown to Ash at the time, he had found himself in the beginning of the COVID-19 pandemic. 
"When our flight from Korea got cancelled and we knew there was something going on here," said Ash. "I knew something serious was happening when the Chinese government began cancelling flights and shutting down borders during Chinese New Year."
"When we returned back home, I sat down with our team and said if this is going to hit North America, we need to be prepared. Everyone laughed and called me out for doomsday thinking. People really didn't take it seriously at the beginning."
Shortly after that, the pandemic started to hit closer to home. Observing what they were seeing in their offices overseas, Ash and his team were able to create plans and prepare. In early February, Mondetta began to formulate a work from home policy and prepared their staff for this shift. However, people still didn't believe that it could make its way to Winnipeg. 
Then March hit. 
"Within two hours, all of our Winnipeg staff were working from home," said Ash, "In fact, we started to work from home a week prior to the full shutdown. We had the opportunity to continue to work in the office, but we made the decision to have everyone working from home."
Back in February, Ash was hearing from their Asia offices that there was a significant need for personal protective equipment (PPE). Then once it began to take over North America, the need for protective equipment was even more. 
Within 27 days, the Mondetta team was able to retool three factories with the help of their Asia teams to start producing PPE. To date, Mondetta has provided 13 million units of Health Canada compliant PPE nationally including gowns, scrubs, gloves etc.
---
---
In June 2020, Ash and the team began to see the opportunity to have people come back into the offices. As a global company, they are able to see what was happening overseas and be proactive rather than reactive in their measures. 
"We implemented new front door protocols similar to our China office. When you enter the front door you go through a retinal scan which checks your temperature and only opens the door if you are wearing a mask," said Ash. "As a result of these protocols we have been very fortunate to have been able to continue work without any issues or concerns." 
In the summer of 2020, Mondetta also provided their staff with a COVID bonus for all their hard work and to show their belief in them. Then in January 2021 they became BCorp certified– businesses that meet the highest standards of verified social and environmental performance, public transparency, and legal accountability to balance profit and purpose.
Attend our next Local Lunch Break with ACU titled: Strengthening Business Through B Corp Certification
Fast forward to present day. Vaccines are rolling out and other countries are beginning to open up. There is a light at the end of this dark tunnel.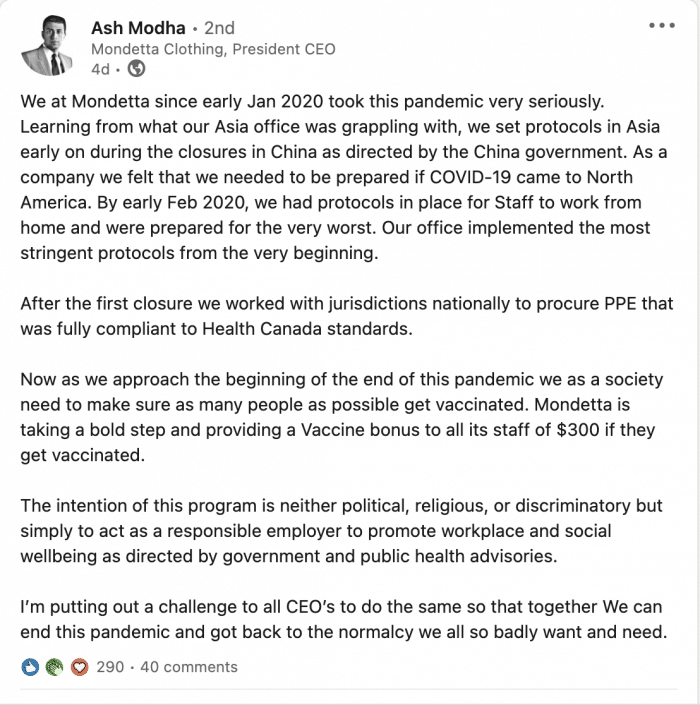 Ash knew the next step was to get everyone vaccinated. 
In addition to the Covid bonus provided last summer to all Canadian and International staff, Ash and his team wanted to find a way to provide incentive for their staff to get vaccinated so Mondetta is providing their 100 staff in Canada a $300 vaccine bonus for any staff who get vaccinated. 
"We knew we wanted to make a bold statement, but we were concerned it might be too bold, but in the end this is about trying to do good," said Ash.
"I challenge other CEOs to do the same. There are a lot of companies that can actually do something like this and make a significant impact. It has been extremely well received and everyone is really excited about it."
Now as we continue to navigate our way through a third wave of restrictions and lockdowns, we as a business community and our teams need to continue to do our part.
---
If you haven't already, we encourage you to book your vaccine appointment to help stop the spread of COVID-19 and to safely reopen our community. 
All Manitobans 12 and over are now eligible for a vaccine. Book your appointment today.
Read our past Q&A with Prashant Modha, Co-Founder and CFO of Mondetta and MPG Sport HERE.