We sat down with our February Luncheon keynote, Tim Daniels, Chief Operating Officer of Treaty One Development Corporation, to talk about the Kapyong Barracks, some of the projects he is most proud of and what members can look forward to learning about.
---
Winnipeg Chamber (WCC): Tell us a little bit about yourself and the Treaty One Development Corporation.
Tim Daniels (TD):Before joining the Treaty One team I served 16 years with Long Plain First Nation as their Economic Development Officer and Chief Executive Officer of the Arrowhead Development Corporation. I wore two hats for Long Plain. I was involved from concept to opening the business, which included financing, design and construction as well as managing the business, employees and revenues. Long Plain is very fortunate to have developed two Urban Reserves, so I've had some experience with that. The Long Plain Urban Reserve in Portage went from a blank 45-acre slate to now a  mixed-use reserve with commercial and residential, home to 60 families.   I am proud to have been a part of that and still live there today. 
I was also involved in the creation of the first Urban Reserve in the City of Winnipeg, known to us as the Madison Reserve, nearly 3 acres located on the 400 block of Madison Street, one block west from the Polo Park Mall.  Both these projects are a great feather in my cap, if you will.
WCC: Over the span of your career, what would you say are the projects you are most proud of?
TD: What's always true to my heart is where I live– the Portage Urban Reserve; Keeshkeemaquah. It's in my blood. It runs in my family lines. My dad was the chief in the late 70s and 80s. He was a young and very progressive chief. He worked on our TLE (Treaty Land Entitlement) with Canada. So to kickstart the negotiations of the TLE, Long Plain asked for this 45 acres of land here in Portage La Prairie which is on the land of a former residential school, federal surplus land, where both my grandmother and great-grandfather attended. When Long Plain acquired the land in the 80s it became a reserve, but we weren't there yet economically, our capacity wasn't there, looking back. The first step was to decide what to do with the residential school. It wasn't torn down, but instead it was turned into a college. That building used to be such a negative place, so they wanted to turn it around. I have deep roots to this land.  During this time, as teenager I worked on a 5-person summer student crew landscaping the property before the college set up in former residential school. 
After my father acquired the land it laid dormant for 15, almost 20 years other than the college. Then in 1998 Chief Dennis Meeches was elected who I had worked with previously in lands and trusts. The Arrowhead Development Corporation began establishing band owned businesses on the main reserve by 1999.  In 2003 plans to start  establishing  band  owned businesses on  the Portage Urban  Reserve began with a job posting for a General Manager to  oversee the development. I applied and I got the job. It was pretty amazing to have the opportunity to develop the land that my dad had acquired 20 year before.
This community is my crown jewel. I was actually the first one to officially move here. The land has commercial sites, but also a residential subdivision. So 39 lots were created and I was the first one to move here with my family. To walk and live on the same grounds my grandma and great grandfather walked on when they were 13 or 15 years old is pretty incredible. 
There is a photo of my grandma sitting on the grass 60 years ago and being the one who developed the reserve, I know the lay of the land and the image was of her sitting on my now front yard. 
Today, this land has created so many opportunities for jobs, businesses, but also a springboard for people to start their career. The opportunities are multigenerational too, you know I've seen a young man start out pumping gas for us and now he's managing one of Winnipeg's most successful gas stations. That's pretty cool.
WCC: Why is the Kapyong Barracks project important?
TD: It's about reconciliation. But, moreover, it's part of us writing our own history. This is a milestone project. 
It's about creating the opportunities for employment. We have mapped out 15 years of opportunities for this land. Employment, entrepreneurship, development etc. 
We are so excited to get into the high schools and get our kids excited about this project. There are going to be so many opportunities for them. They have a bright future to prepare for, not only for employment, but even their own entrepreneurship dreams. It can all start here.
---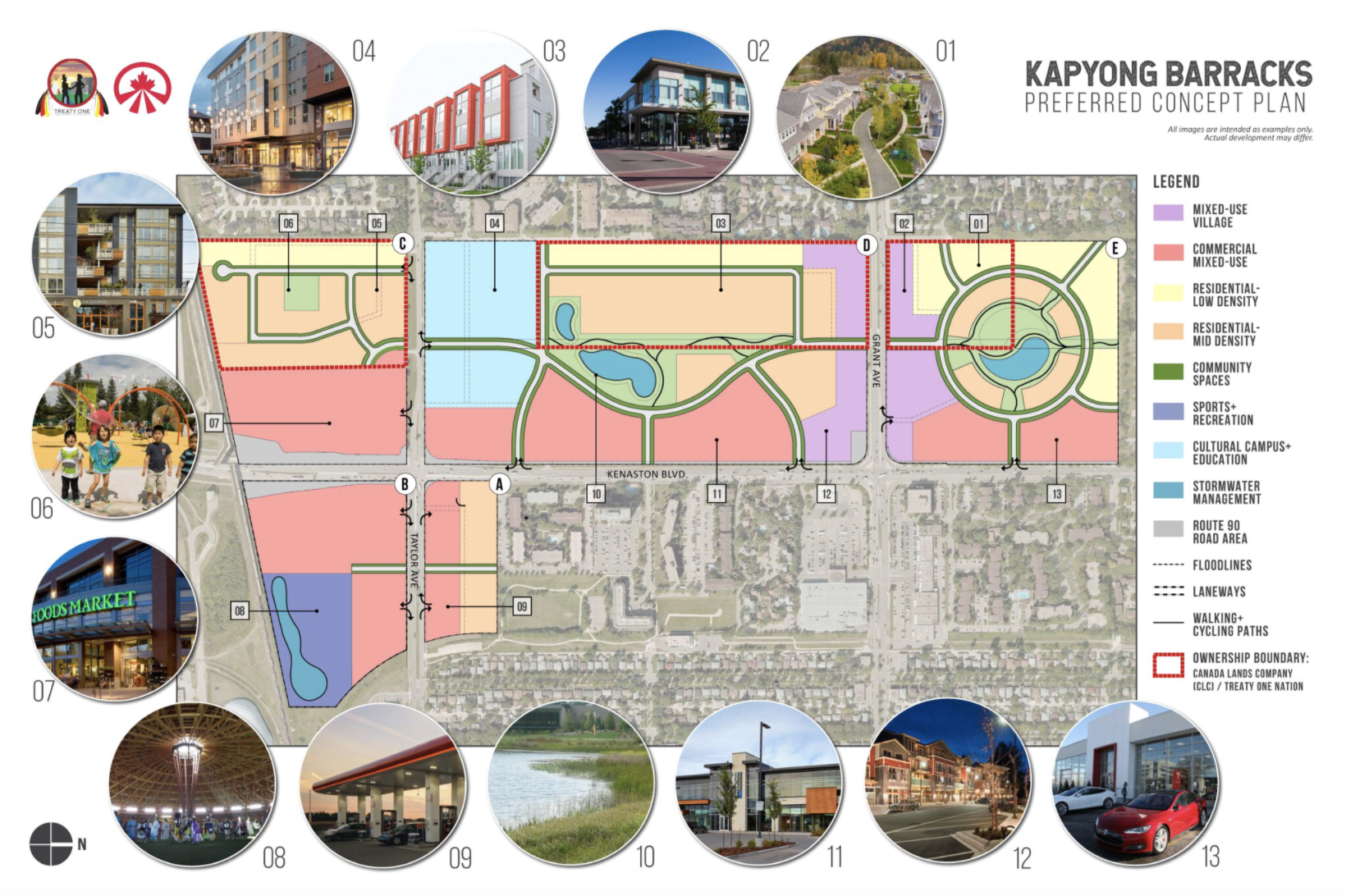 ---
WCC: What other opportunities do you see arising from the Barracks?
TD: Specifically for the Indigenous community it's about the revenues that our communities need. There are the social problems that we need to fix, but we need money. Whether that be preventative things like investing into culture and recreation etc. We also need to address the overcrowding in our home communities. We are struggling with COVID due to this overcrowding.
These revenues will provide much-needed opportunities for instance to build homes in our communities and to address the social needs. 
There are also spinoff benefits. It's not only our Indigenous community who will benefit, it's the entire city. You know, we have relationships with vendors to help stock the shelves in our businesses. The reserve will also be driving traffic to the area and in turn will help bring more people into the surrounding businesses. So it needs to be mentioned that it's not just First Nations that are going to benefit from this– it's everyone.
---
Kapyong Virtual Presentation from Scatliff+Miller+Murray on Vimeo.
---
WCC: What can our members look forward to learning about at the luncheon?
TD: They'll look forward to hearing that we want to work with you, and thanks to extensive input from Treaty One First Nations members and Winnipeg neighbours, you will learn more on the preferred concept plan for the redevelopment of the former Kapyong Barracks.
There are opportunities for all of us. That's what I want people to hear. Not just the Indigenous community. I mean, that's my mandate and focus. But the work we do for Treaty One is going to benefit Winnipeg, Manitoba and even Canada.
---
Join us for our Membership Luncheon on February 18 to get a progress report from Tim Daniels on the 160 acre Kapyong Barracks that includes results of a best-use study for commercial, educational, mixed-use, residential and recreational initiatives.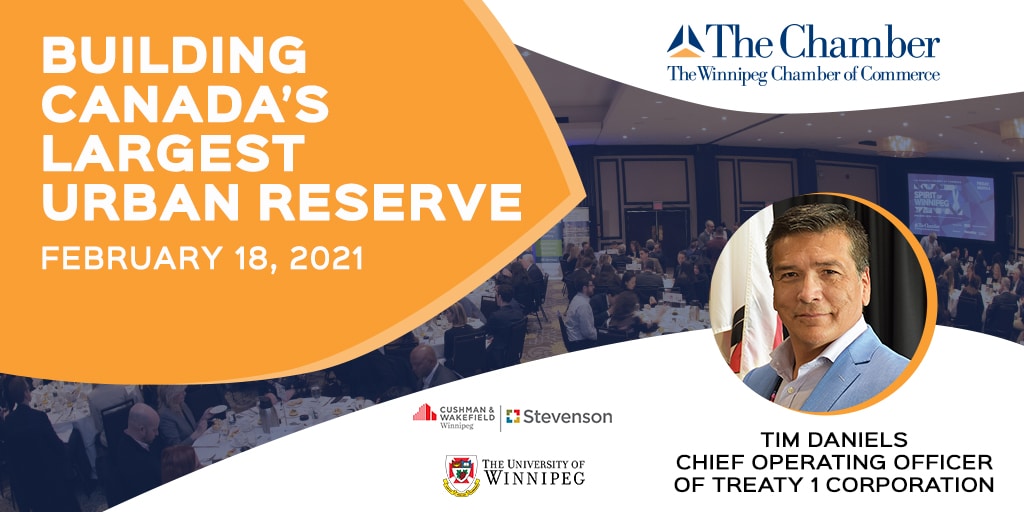 ---
Want to learn more about the Kapyong Barracks project? CLICK HERE to read the full master plan. 
Looking for more events on reconciliation? Check out our other two events coming up in February below: