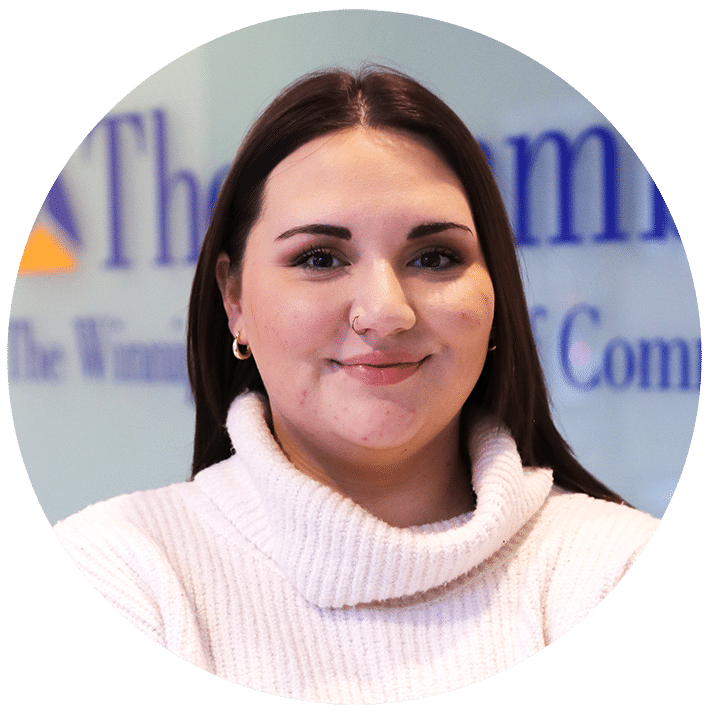 8-minute read
CODE Newsletter | Issue #2
These CODE newsletters are meant to inspire you to reflect on your commitment to diversity, equity, and inclusion, find valuable resources to further action and develop skills needed to facilitate bold change. 
Written by Kyra De La Ronde, Diversity and Inclusion Intern at The Winnipeg Chamber of Commerce
---
Let Me Introduce Myself
My name is Kyra De La Ronde, I'm a Metis woman from Selkirk, Manitoba. Since 2016, I have held the position of Infinity Women's Secretariat youth of the Interlake Regional Youth Advisory Committee, and in August of 2021 I was selected to be the Chairperson of the Provincial Youth Advisory Committee at the Manitoba Metis Federation.
I am a second-year student graduating in 2022 from Red River College Polytechnic (RRC Polytech for short.) I am taking the community development program within the Indigenous School of Education. My three key areas of interest in my studies are Indigenous youth empowerment, Indigenous economic Reconciliation, and promoting and ensuring the business sector is a diverse space. Which has led me here, to my practicum with The Winnipeg Chamber of Commerce. I am very excited to bring my knowledge and experience to The Chamber and CODE. For my time at The Chamber, I will be working on creating Diversity, Equity and Inclusion (DEI) content and finding resources for our
CODE Resource Hub
.
The Chamber recently launched their CODE Newsletter which is meant to inspire you to reflect on your commitment to diversity, equity, and inclusion, find valuable resources to further action and develop skills needed to facilitate bold change.
This week, I was asked to choose a topic for the December issue of the CODE newsletter. Below you can find more about inclusive workplaces for Indigenous people, what I'm currently reading and more CODE resources.
Let's Talk – Inclusive Workplaces for Indigenous People
From our focus group with Indigenous peoples, three key themes were evident. This included:
If you were to ask an Indigenous person to recount a time they experienced racism in their workplace, sadly, they would be able to. Overt racism is easier to identify and address. However, microaggressions are not and are often never addressed. Experiencing racism and having it go unaddressed can leave employees feeling excluded, undervalued, and uncomfortable.
Cultural understanding is essential during the hiring process. Cultural awareness and competency can include knowledge that many cultures value humility and may not show their achievements or successes without prompting as other cultures do. Barriers in the hiring process can leave Indigenous job seekers conflicted on if their identity will interfere with their ability to seek employment. Ensure that you are not only hiring Indigenous talent to entry level positions, but to leadership roles and ensuring hired employees have equitable access to professional development opportunities and promotions.
Lack of cultural knowledge can lead to unintentionally exclusionary policies that are in dire need of change to ensure inclusive workplaces for Indigenous people.  An example of such a policy is an organizational definition of "family" that does not include and encompass what "family" means to Indigenous communities. For some, a family can consist of people outside their immediate family. This narrow definition of family leads to restrictive bereavement policies, which allow people to take time off only for immediate family. Another example is the lack of accommodations for people to take time off for cultural holidays and traditional ceremonies.
The first step you can take to creating a more inclusive workplace for Indigenous people is to improve cultural awareness.
The Importance of Creating An Inclusive Workspace
Something for the business community to understand is Indigenous young people are the fastest growing demographic in Canada. Between 2006 and 2016, this population grew by 42.5% with the numbers only on the rise. This is a large upcoming talent pool that we should be supporting now, to ensure a sustainable and rich workforce of the future. Supporting youth can be done through mentorship, engagement, and work-experience opportunities.
As an Indigenous young person myself, I chose to align with organizations that are taking the initiative to support youth, and share a commitment to advancing reconciliation in the workplace.
A survey by Glassdoor
shows that 76% of job seekers share this sentiment and consider this an important factor when evaluating companies to engage with.
The National Centre for Truth and Reconciliation, located at the University of Manitoba, is a place that focuses on the learnings and hosts conversations surrounding the truth of residential schools and the path towards reconciliation. Their
website
is accessible and has educational resources for your organization to use.
One item to consider purchasing for yourself or your organization is the Truth and Reconciliation – Calls to Action pocketbook.
Calls to Action Booklet – NCTR