Leading up to our May luncheon with Kara MacKillop, Chief of Staff and EVP of People & Culture at Canada Goose, we thought we would share some of what Canada Goose has been up to. We have put together 5 quick facts for you to take in before our luncheon on May 20th.
---
1. They recently released their 2020 Sustainability Report
In April 2020, Canada Goose released its inaugural Sustainability Report and Sustainable Impact Strategy, outlining its commitments and vision for the future. Its Impact Strategy built on the long-standing initiatives the brand had already been doing and identified fundamental goals to keep the planet cold and the people on it warm.
Those goals are:
Carbon Neutrality: Committed to net-zero direct and indirect (Scope 1 and 2) greenhouse gas emissions by 2025, maintaining carbon neutrality annually – which the brand achieved in 2019 – by investing in projects that reduce, avoid or sequester the equivalent of 200% of each year's emissions
Reclaimed Fur: Introduce reclaimed fur into its supply chain by 2022, manufacturing parkas using reclaimed fur and ending the purchasing of new fur
Responsible Down Standard: Committed to being 100 per cent RDS-certified by the end of 2021
Bluesign: Committed to reaching 90 per cent of Canada Goose fabrics as bluesign® approved for responsible and sustainable practices by 2025
Single-Use Plastics: Committed to eliminating single-use plastics in all of its owned or controlled facilities.
2. They hired Bill Nye The Science Guy as a sustainability advisor
 Along with the 2020 sustainability report, CG announced their new partnership with engineer and science educator, Bill Nye – also known as Bill Nye The Science Guy – who now serves as a sustainability advisor.
CG – Social Good Blog- Bill Nye finds magic in nature

3. They launched the Canada Goose Response Program
Early in the pandemic – as the personal protective equipment (PPE) supply shortage became dire – CG found itself in a unique position to help. After closing down its facilities to help spread down the spread of COVID-19, CG quickly retrofitted its factories to produce medical supplies.
In tandem with reaching out to the necessary levels of government to express a desire to help, without contracts in place, CG began manufacturing PPE equipment, producing 14,000 units of gowns and scrubs, which the company donated, followed by an additional 2.5 million units under contracts to both the federal and provincial governments.
The initiative allowed CG to bring back around 900 employees (more than 300 in Winnipeg alone), who helped manufacture approximately 100,000 units per week across the country.

4. Last summer, CG launched their Inclusion Advisory Council
During the summer of 2020, CG launched its Inclusion Advisory Council (IAC), an Employee Advisory Group made up of employees from across the company who have an interest and passion in creating inclusive spaces for people. A unified body, the IAC acts as thought leaders and advisors on matters of inclusion within its community. The council also hosts meaningful, thought-provoking discussions and events around inclusion and representation. The IAC's vision is to advocate for individuals across the spectrum of diversity; facilitate meaningful dialogue around inclusion across the company; identify areas for improvement within the company and set short-term and long-term goals to address them; and promote behaviors aligned with Canada Goose's Inclusion Statement.
CG Inclusion Statement: We believe in the power of inclusion and that our best work happens when people bring their authentic selves to work and are welcomed for exactly who they are. We embrace diversity in all its forms and definition and strive to remove barriers to create an inclusive culture and equitable workplace where everyone can live authentically, every day and in every situation.

5. They have launched one-of-a-kind parka collections made by Inuit designers
As a company born in the North, the brand has been inspired by its people, communities and landscapes for generations. When translated into English, the Inuktitut word "atigi" means "parka." In the literal sense, that's the story behind this initiative: Canada Goose partnered with Inuit designers to make one-of-a-kind parka collections.
In 2019, CG began commissioning seamstresses across the four Inuit regions to make a one-of-a-kind parka collection. Then in 2020, commissioned 18 artists from 11 Inuit communities for Project Atigi– One-of-a-kind parkas made by Inuit designers from the North.
Proceeds from the collection go to Inuit communities through the Inuit Tapiriit Kanatami (ITK), the national representational organization that works with the four regions of Inuit Nunangat. CG has donated over $100,000. This project also gained 2.5 billion media impressions, which put Inuit artist's one-of-a-kind designs in front of the world for people to see. Shop the Collection HERE.
Read the full 2020 sustainability report HERE.
---
The pandemic brought about many unforeseen challenges for business and sparked an increased focus on maintaining strong culture and engagement at Canada Goose.
Join us on May 20 for our luncheon with our keynote, Kara MacKillop, Chief of Staff and EVP of People & Culture at Canada Goose, where she will speak to the brand's approach to navigating new obstacles without a playbook.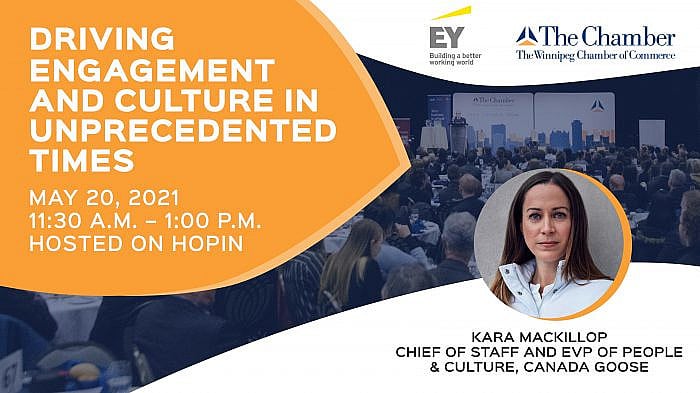 Kara will discuss the role foundational values play in sustaining authentic culture and connection, as well as, the importance of businesses holding a positive space in the world, empowering positive change and recognizing the value of collaboration with the shared goal of positively impacting communities.