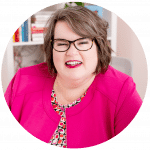 Meet Kelly Thibodeau, Principal at Squarely Accessible, a seasoned consultant, trainer, and speaker with over 25 years of experience in making online marketing meaningful for organizations. Kelly's journey has been marked by a dedication to accessibility, engagement, and the belief that all digital experiences are inherently social. Through her work, she guides organizations in crafting creative, inclusive and accessible messaging strategies and building sustainable teams, policies, and practices. 
At Squarely Accessible, the belief is simple: when your organization embraces digital equity, accessibility becomes an investment that safeguards your brand and grows with your business. It sends a powerful message that inclusion matters, capable of transforming how people feel, think, and act.  
This blog post and interview with Kelly Thibodeau is a part of CODE (Commitment to Opportunity, Diversity, and Equity), a movement initiated by The Winnipeg Chamber of Commerce. CODE provides organizations with essential tools, resources, and pathways to build capacity for diverse teams and create inclusive and equitable workplaces.
 
Thank you for joining us for this conversation Kelly. To start, can you tell us about what motivated you to pursue this line of work? 
In 2005, Ontario introduced the Accessibility for Ontarians with Disabilities Act. In 2007, while working at a prominent insurance organization, I was working as a website editor and joined an internal working group to start becoming familiar with the requirements for web content. My career path began in technical writing but evolved to encompass content strategy and user experience in the field of marketing communications. In 2013, my role shifted to social media, and at the time accessibility was practically non-existent on the social media platforms. Since then, I've been a champion for digital accessibility, plus I have a deeply personal connection to the work, which is what makes me incredibly passionate about it to this day. 
What does the term 'invisible disabilities' mean? 
As a society, we've been conditioned to associate disabilities as something we can see, for example signs for accessible parking or accessible bathrooms show someone who uses a wheelchair. However, around 80% of disabilities are invisible1, meaning they aren't apparent externally but can significantly impact an individual's daily life. Invisible disabilities can be neurological, cognitive, respiratory, digestive, vestibular, rare diseases, chronic conditions or other health conditions.  
One of the reasons we wanted to do this blog was to raise awareness about Invisible Disabilities Week. When is it and what is its significance?  
Invisible Disabilities Week falls between October 15th and 21st. It's an opportunity to bring awareness, education and support for people and their families, friends, co-workers and communities. 
What are some common misconceptions about invisible disabilities you have noticed that persist, and how can we dispel them? 
One common misconception is that accommodations for invisible disabilities must be complex and burdensome. However, sometimes, a simple adjustment, such as modifying a workstation or providing a different chair, can make a substantial difference in an employee's performance and well-being. To dispel this misconception, organizations should foster curiosity and proactively engage with employees to identify their needs. Embracing creativity and a willingness to explore simple solutions can create a more inclusive work environment. 
For instance, someone could have arthritis and need adjustments to their workspace. Neurodiverse individuals may benefit from adaptations to their workday routine or different ways to interact with colleagues. It's essential to challenge conventional assumptions about productivity and focus on helping people do their best at work, especially in light of the evolving workplace dynamics post-COVID. 
In line with that, what steps can employers take to promote awareness of invisible disabilities among their staff and clients? 
First and foremost, employers should initiate open conversations about invisible disabilities both within their organization and externally with customers or clients. Accessibility is a core component of any diversity, equity, and inclusion (DEI) initiatives. Engage with internal employee resource groups to gain insights into the lived experiences of employees with disabilities, and if you don't have any employee resource groups, reach out to people and have an open mind. Train and empower champions within the organization to advocate for inclusive practices. Review your internal policies and practices. Externally, showcase your commitment through accessible content and imagery on websites and social media platforms. 
Are there tangible resources available to employers who want to support employees with invisible disabilities? 
Numerous organizations are dedicated to supporting individuals with disabilities, including invisible disabilities, in the workplace. Employers can reach out to these organizations for guidance and resources. Local chambers of commerce may also provide valuable connections. Additionally, consider exploring what other organizations are doing to support their employees with disabilities. Initiatives like the Manitoba Supported Employment Network and local groups such as Level It Up, Ready Willing and Able or SCE Lifeworks offer valuable resources. 
Are there any initiatives or events during Invisible Disabilities Week that employers can participate in to show their support and raise awareness? 
Social media is an excellent starting point to engage with initiatives and events during Invisible Disabilities Week. Begin by listening to ongoing conversations within relevant advocacy groups. Join these conversations, even if you're new to discussing disability-related issues. Recognize that fostering inclusivity requires internal and external efforts. Ensure that your actions align with your organization's values and prioritize inclusivity. For a more in-depth conversation about your organization, consider working with a consultant or enrolling your staff in training. 
What call to action do you have for employers during National Disability Employment Awareness Month in October? 
During National Disability Employment Awareness Month and beyond, it's crucial for employers to acknowledge the prevalence of disabilities in their workforce and customer base. Recognize that disabilities, including invisible ones, affect one in five Canadians2. Embrace a proactive approach to supporting employees and customers with disabilities by prioritizing accessibility as part of your organizational goals. Focus on creating a culture of accessibility within your organization, driven by leadership accountability, rather than treating accessibility as a checklist. Building this culture takes time, effort, and a commitment to intentional inclusion.  
Connect with Kelly
At the CODE Conference 
The annual CODE Conference is your gateway to essential insights for thriving in today's diverse business landscape. Join Kelly Thibodeau, the expert behind Workshop "Demystifying Digital Accessibility," presented by Squarely Accessible. 
In this workshop, you'll discover the transformative potential of accessible social media and marketing strategies. Learn how to create inclusive content that resonates with diverse audiences and foster an equitable online presence. Kelly will provide practical tips and insights to make your digital platforms genuinely accessible. 
Social Media and Website Content Accessibility Class
Training dates: October 18 and 19, 2023 
Whether it's writing website copy, a blog post, a LinkedIn article, an Instagram caption or a thread, your audience includes disabled people. In fact, disabled people make up at least one-fifth of your audience – likely more. 
Get the knowledge, skills and practice to learn how to create accessible social media and website content in this class designed to teach participants how to create online content that reaches their whole audience.