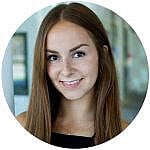 Post Contributed By: Allison Slonosky, Marketing Strategist at Number TEN Architectural Group,
Leadership Winnipeg Class of 2020-2022

When I think of a leader, I often think of specific people; certain researchers, public figures, authors, my parents, my math teacher from high school. And despite these leaders coming from all different industries, they all have things in common: Empathy.
On April 22, our Leadership Winnipeg group met in-person for the first time in over six months. The topic of this long-awaited session was arts and culture. It was a day of conversation with leaders in Winnipeg's vibrant arts sector. We discussed the many notions of art that exist in the city and its impact in creating and strengthening our community.
Art and culture play an important role in our community. It has always been something I look to for inspiration both personally and professionally. When I consider art — whether that be theatre, fine arts, film, or music — I recognize and appreciate its ability to impact our understanding of our relationships with ourselves, others, and the world.
Leadership is not unfamiliar with the arts. Consider how television, movies, literature, music, art, theatre, and architecture have shaped our society and culture. Art is abstract in definition, but we can learn from its need for fluid change and evolution.
We opened the day at the Royal Manitoba Theatre Centre where we talked about the relevance of theatre in society. We began with its history. Classical theatre started as a place to discuss social issues, and of course to tell stories. It remains the same today. It is one of few places where people come to sit, enjoy, listen, learn, laugh, and perhaps cry together. Disconnected from our phones, we sit in a dark room and collectively confront ourselves through storytelling. In that way, I think theatre, and art in general, is a vulnerable medium. It is put into the world and free to be judged. On the contrary, it presents an opportunity to practice empathy. To me, that is an important reason why it is necessary and relevant today.
Empathy reminds us that we are all human and that we share experiences and feelings. It is key to connection and understanding, and in my opinion, is one of the most important qualities of a good leader.
Another thing I found particularly interesting was our conversations about which stories we tell and how we tell them. Our visit to the museum was all about this. Museums house objects that bear witness to our stories and that can tell them in our absence. This is extremely powerful. We select from limitless options, objects that are meant to document a period or a story. The act of curation is an act of privilege, and selection is important – it can narrow a story and change dialogue. All in all, museums are spaces of anchorage. They reflect identity, and are venues for community cohesion, inspiration, intercultural dialogue, and psychological safety.
On this day we saw first-hand how art and culture organizations play a leading role in fostering equity, diversity, inclusion, and belonging in our world. Putting diversity on stage is one thing but ensuring everyone feels like they belong and are a valued member of the audience is another. This session was a fantastic reminder that as the show goes on, we all must play our part, and if we want to play a leading role, we must lead with empathy.
Other take aways? Confront yourself. Challenge your beliefs. Practice self-reflection. Express yourself. Stay open to new perspectives. Pay attention. Collect with care. Sharpen your empathy skills. Put them into practice.
A good leader is an empathic leader.
A big thank you (and standing ovation) to Camilla Holland (Executive Director, RMTC),  Kelly Thornton (Artistic Director, RMTC), Angela Birdsell (Executive Director, WSO), Jean-Francois Phaneuf (Director of Artistic Planning, WSO), Larry Desrochers (CEO, Manitoba Opera), Rod Bruinooge (Interim CEO, Manitoba Film and Music), Dorota Blumczynska (CEO/Executive Director, Manitoba Museum), Adam Smoluk (Managing Director, Film Training Manitoba), as well as everyone from the Leadership Winnipeg program.