On our 150th birthday and International Women's Day on March 8th, 2023, the Manitoba Historical Society (MHS) presented our organization the Centennial Organization Award. Dan Furlan, President of MHS, visited our office to hand-deliver the award to our President and CEO, Loren Remillard.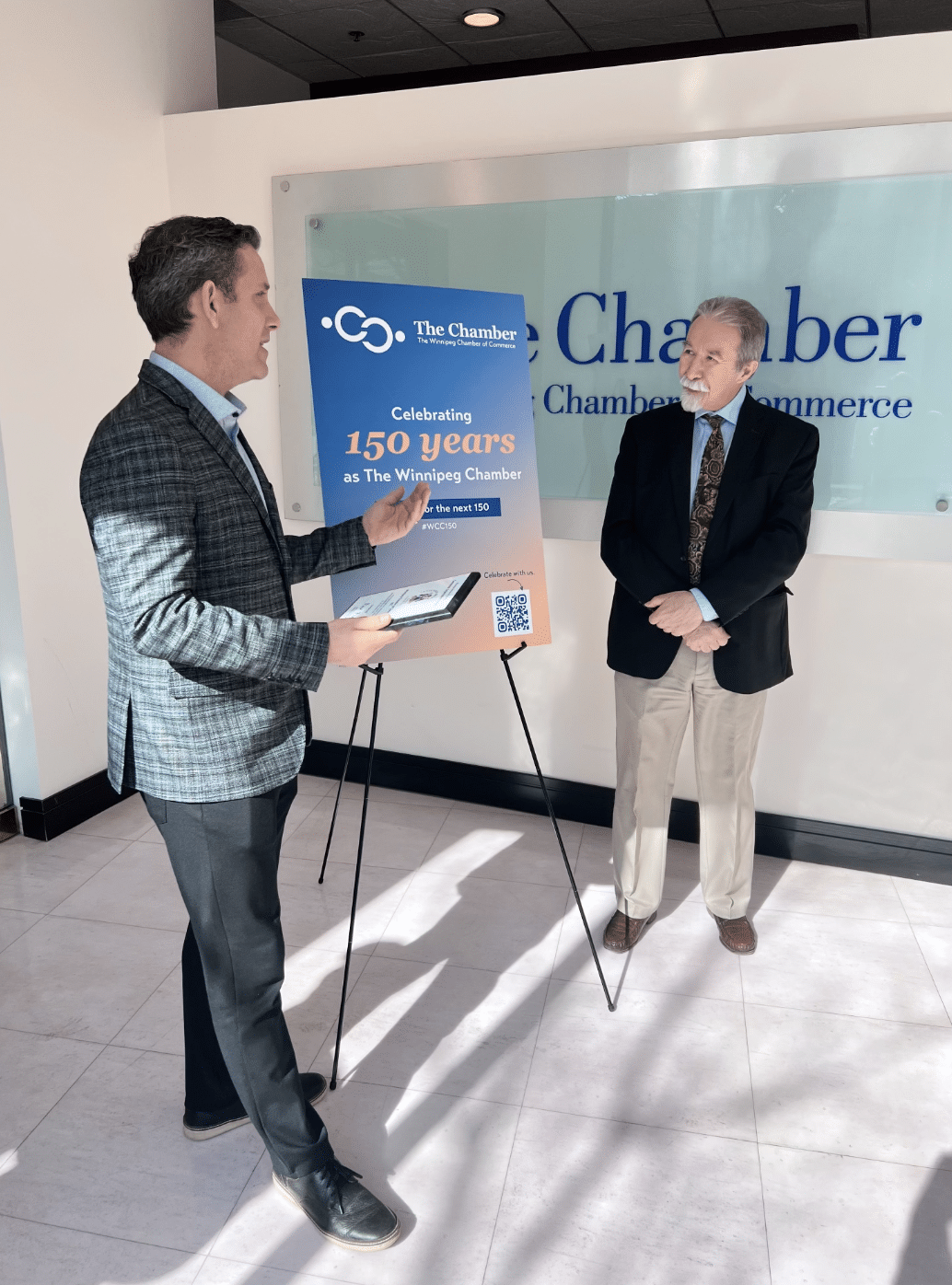 The Centennial Organization Award is awarded to non-profit and not-for-profit organizations and groups that have continuously operated in Manitoba for 100 years or more.
The award recognized The Chamber as an organization that has and continues to enhance Manitoba's social, cultural, and economic life for over one hundred years. In addition, MHS recognized The Chamber's efforts to diversify and include everyone in our organization, community, and city. 
"The narrative for the next 150 years is to facilitate change. We don't want our successors sitting here in another 150 years saying nothing has changed," said Loren Remillard, President and CEO of The Winnipeg Chamber of Commerce.
Read the personal congratulations from Dan Furlan to The Winnipeg Chamber of Commerce below! 
Manitoba Historical Society (MHS) Centennial Organization Award
Presentation to the Winnipeg Chamber of Commerce, March 8, 2023
As a Chamber Member for many years, I am both pleased and honoured to be here today.
We acknowledge that the Manitoba Historical Society office is located on original lands of Anishinaabeg, Cree, Oji-Cree, Dakota, and Dene peoples, and on the homeland of the Métis Nation. We also respect the Treaties that were made on these territories, we acknowledge the harms and mistakes of the past, and we dedicate ourselves to move forward in partnership with Indigenous communities in a spirit of reconciliation and collaboration
Congratulations on over 150 years of remarkable service to our community and our heritage. We wish to recognize the efforts and contributions of all who have contributed their time and effort to both the business community and the wider community which I personally have always appreciated about the Chamber.
In previous years,  have looked over the historic portraits of Chamber leaders on second floor. It is fitting that; on International Women's Day the newer portraits reflect notable change from those early years.
Who are we? The Manitoba Historical Society (MHS), founded in 1879, is the oldest organization in Western Canada dedicated to preserving our past for future generations.
We are a public organization, and anyone can become an MHS member, and like the Chamber, we also contribute to the community. Key points in our new strategic plan are
Member service-Continuing to serve our growing membership.
Public education-Which links to inclusiveness and reconciliation, themes we share with the Chamber.
Preservation-Of our built heritage, archives and other heritage resources.
Governance-As we have a new business plan in process to be self-sustaining over time
We have a massive website of resources, a new one in process and also invite you to a growing list of events open to all.
The Centennial Organization Award we present you with, recognizes the Chamber as an organization which has enhanced Manitoba's social, cultural, and economic life for over one hundred years.  Chamber initiatives extend far beyond business as you are a meeting place for all, including non-profits, cultural and social organizations contributing to our community.
Since 1873. Just imagine the hundreds of thousands of hours of staff and volunteer efforts that have gone into such an active and vital enterprise during that time.
In addition to the mounted certificate with the Centennial Organization Award you receive:
International recognition of your contributions and longevity in our Society publications and web site.
A one-year MHS membership, and,
The right to ongoing use of the Centennial Organization crest.
For all you have done, and for all you are doing, thank you and congratulations.
Dan Furlan, President of the Manitoba Historical Society