5 minute read
Our Small Business Advisory Council is a group of small business members from a variety of sectors. They work alongside our team at The Winnipeg Chamber to help shape our small business programming and events, based on current issues that are important to Winnipeg's small business community.
We thought we would introduce you to the 2021-22 council members with a little bit of fun this year! We asked each council member some questions to help you get to know the human behind the small biz.
Meet the Council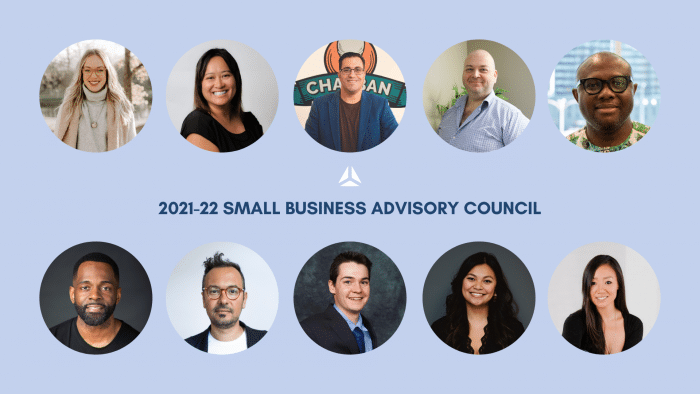 Larissa Peck | Co-Chair, Co-Owner– Tandem Collaborative
Kristine Tubiera | Co-Chair, CEO– LMVA Consulting 
Joseph Chaeban- President– Chaeban Ice Cream
Nicholas Douklias- Kitchen Wizard/ Owner– Helios Restaurant & Catering
Joseph Edogbeni- CEO & Director– HEYRU CANADA INC.
Ogo Okwumabua- Owner/ CEO– Zueike
Arturo Orellana- Chief Strategy Officer– GFIT Wellness
Lucas Robinson- Partner– R&B Wild Caught Fisheries Canada
Lynn Tran- Director of Operations– GoodLocal 
Amy Tung- Founder, I AM LOVE PROJECT INC.
---
What is one interesting fact about yourself people wouldn't know?
Amy- I hate using chopsticks to eat. I'd prefer a fork!
Arturo- I am a Spanish Lawyer.
Joseph C-I was born in Germany.
Joseph E- One of my favourite things to do is dancing salsa.
Kristine- I remember dates and faces, but I am not great with names.  I will remember something about you, but maybe not your name.
Larissa- I run an undergroud perogy side hustle!
Lucas- I was homeschooled for 7 years.
Lynn- I love putting together bouquets of flowers, or decorating with flowers and greenery for events. My dream was always to own a floral shop or to own a wedding venue!
Nicholas- I'm a polyglot!
Ogo- I love great television shows.
---
When you are not working on your small biz, what are you doing?
Amy- Scheduling some ME time, that relaxing on the couch.
Arturo- Reading, hiking, playing Tennis and just enjoying life!
Joseph C- Running after the kids!
Joseph E- Spending time with my 7-month old and dancing salsa by myself!
Kristine- Spending time with my family and friends that are like family.
Larissa- Some volunteering in the arts and non-profit sectors, some gardening, reading, enjoying time with friends and family and making perogies!
Lucas- Working at my part-time job or spending time with family and friends.
Lynn- I am playing on my rec league sports! I am certainly not the best player on the team but definitely the best organizer!
Nicholas- Spending time hanging out with friends at other great local independent restaurants!
Ogo- Playing or coaching sports!
---
If you had a movie about your life, what celebrity would play you?
Amy- Mulan – a good balance of the yin and yang.
Arturo- Javier Bardem
Joseph C- Keanu Reeves
Joseph E- Idris Elba
Kristine- Sandra Bullock
Larissa- Meryl Streep- I hope to live and age well and graciously.
Lucas- Robert Downey Jr.
Lynn- Mila Kunis or Tom Holland
Nicholas- The Rock
Ogo- Micheal B Jordan or Denzel Washington
---
What smartphone feature would you actually be excited for a company to implement?
Amy-Implementing a robust virtual service. ASK, instead of relying on keyword search
Joseph E- Email analytics
Kristine- An app to sort all my photos and distribute to all my guests based on facial recognition or a calendar event.
Larissa- A poll feature for group chats!
Lucas- Bring back the headphone jack!
Lynn- A holographic image to come out of the phone lens when you are face timing with someone so it makes it feel like they're in the room with you.
Nicholas-CN to have an app let me know when they'll be blocking a major thoroughfare whilst I'm out on a catering delivery!