We connected with Louise May, Founder of Aurora Farm, to discuss how she embraced change this past year. On a mission to help each other live more gently on planet earth, Louise expanded her online store and revamped her business plan to sell her products in stores and fulfill her life-long dream of an urban farm.
---
Louise has always been a dreamer. Her love for animals, the outdoors and gardening was at the forefront of everything she did. 
"Aurora Farm was my inspiration 16 years ago," smiled Louise May, owner of Aurora Farm. "I had known for some time that I wanted to be more directly involved with creating solutions to the environmental crisis at hand and felt that agriculture and land management in general was the way to go." 
Now, 16 years later Aurora Farm is more than she could have ever dreamed. Aurora Farm is an earth-friendly, animal-loving, solar-powered farm located in St. Norbert, Manitoba. They make and sell a number of natural products like goat milk soap, offer a multitude of workshops, goat yoga and more. 
Louise was prepped for a 2020 filled with workshops, farmers markets, a new gift shop, you name it, she was ready. 
"I was in a nice groove and my plan was just to truck on ahead with that groove," said Louise.
"Then
when the pandemic really hit in March, we knew we had to change the course of our business quickly."
"We thought about what we had to offer to help out our family, friends and the community of people who count on Aurora Farm for one thing or another."
---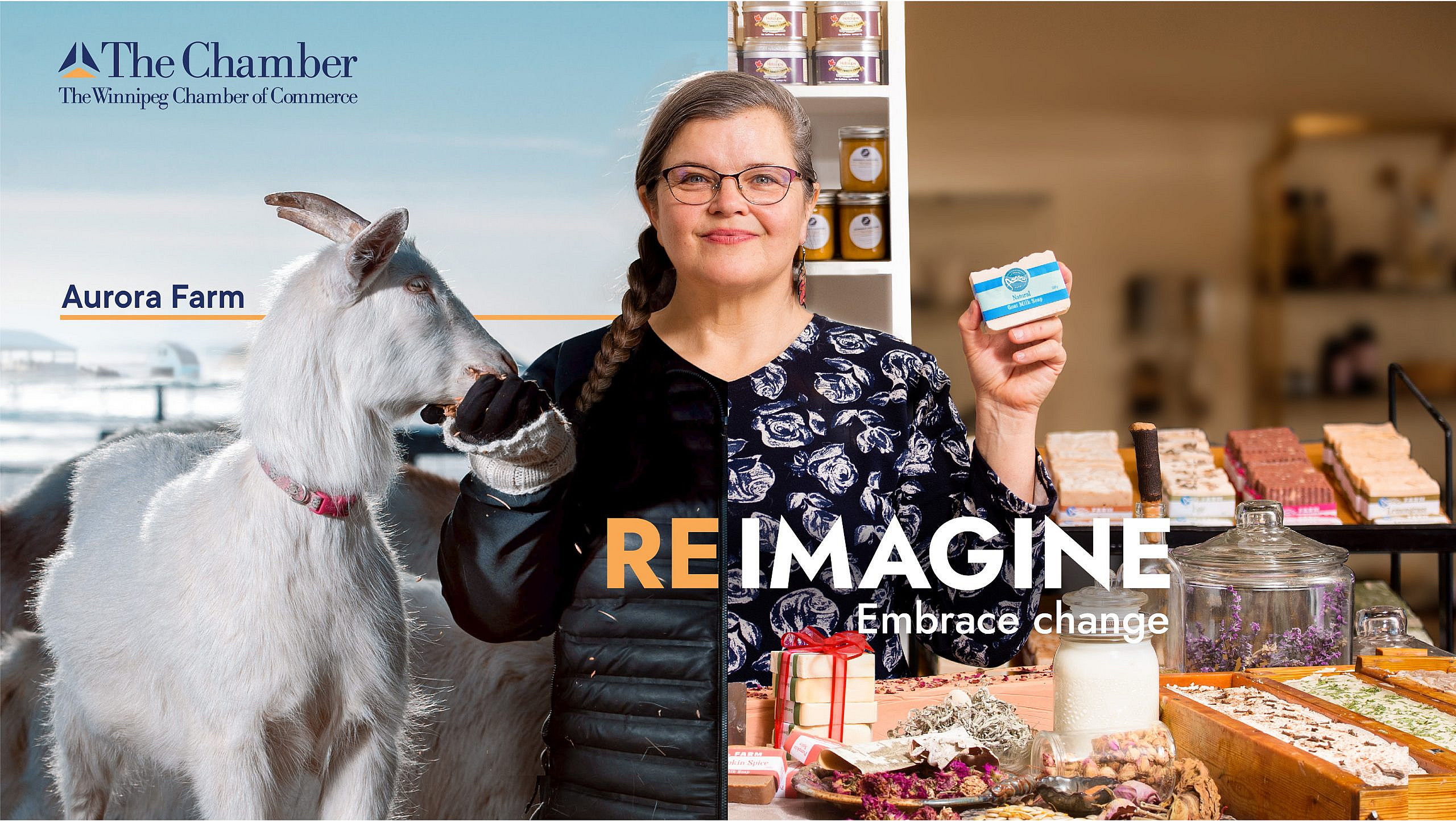 ---
With farmers markets, workshops, and anything in-person for that matter, shutting down in a matter of days was a major shock to the system for Louise.
"There was the possibility that we could lose 100% of our revenue," said Louise. "We had an online store, but it wasn't very well developed. We had to pivot very quickly."
And pivot she did. Within a few days, Louise and her team switched from an in-person model to online and shifted their focus to the one thing everyone was looking for– hand soap. 
"Our main product is soap – so in a global pandemic where washing hands is a top priority, that became more important than ever," said Louise. "It felt good to be offering people an excellent product, especially as our goat milk has a creamy moisturizing and soothing quality for hands as many people were quickly starting to suffer from the drying effect of hand sanitizer and washing so often."
Louise's team also began producing a health-canada approved hand sanitizer. They focused on providing sanitizer to their own customer base as well as community organizations that serve people at risk. They have donated countless bottles to multiple organizations over the past year. 
Fast forward to the summer and things were back to an almost-normal pace.
They were able to have some in-person workshops and camps all while following the provincial health guidelines. Their online store, now selling all kinds of other products from local farmers and artisans had picked up nicely. Things were going well for Louise and her team. 
As the fall rolled around and cases began to rise again, Louise knew they would make it through another lockdown thanks to the Buy-Local movement. She began to think about how she could expand her business, help others in the community and begin to chase some of her biggest dreams. 
"I began to ask myself, what more could we do? How can we reach more people and have more of a positive impact?" said Louise.
"This past year made me think about my bigger visions. I was especially thinking of the pandemic affecting certain people much harder than others based on race and social inequality."
"I revisited a long-standing dream I have held in parallel to developing this farm– to develop an urban farm in a food desert area of high social need," smiled Louise. "I began spending my evenings researching and thinking about our strengths in community engagement and environmental ethics. I knew that to build a second farm, I would require increased revenue from my current operation. It seemed that the time had come for our soap production to increase significantly. So we began the process of getting our soaps into grocery store chains."
In the coming months, Aurora Farm soaps will be found on the shelves of Sobeys and Safeways across Manitoba, Saskatchewan and North West Ontario. Being able to sell her soaps in retail stores has allowed Louise to expand her revenue, something she knew she had to do if she wanted to achieve her goal of building an urban farm.
Simply put, an urban farm is a food production farm located in a densely populated area often using derelict buildings or empty lands. Louise has found an ideal site to begin designing this farm in the Main and Higgins area. She hopes this farm will help with food security for the surrounding communities and bring a little farm-vibe to the downtown core.
"Wouldn't it be wonderful to have a farm to bring a guaranteed food supply to that area?" said Louise. "It will also serve as a link to my St. Norbert farm. Hopefully we can excite more people to take up farming. I'm working with the Clan Mothers Healing Village to create a training program and other advisors to ensure we are going about this in the right way."
Without having the extra time to dream big and fuel her passions, she never would have achieved some of these goals. Louise has embraced the change and is continuing to build her business plan for the better. Not only to help her business, but also the community around her.
---
Aurora Farm has just announced their Farm Camp 2021 Dates!
Looking for an opportunity to learn all about farm animals and environmental sustainability in a friendly, safe environment? During this camp, youth between the ages of 8 and 15 will learn the basics of horseback riding, and caring for all the other animals of the farm with lots of hands-on crafts and learning about all the sustainable practices in action at Aurora Farm.  
Learn more and register HERE.
With Covid restriction loosening, one-hour Experience Aurora Tours can be booked HERE.
For those who want a bigger garden, Aurora Farm is renting out large Community Garden Plots.  Sign up for one HERE.
Their General Store located at Aurora Farm, 4265 Waverley Street is open by appointment by calling 204-261-6279 or emailing [email protected] 
---
#ReimagineWPG recognizes Winnipeg business owners who have embraced the change forced upon them by today's global pandemic to ultimately spark innovative business plans and achieve unexpected success.
It's time to reimagine what change can do. Visit our 
REIMAGINE
RESOURCE HUB
 where you'll find resources, real-life stories, and virtual events to help you embrace change and reimagine the future of your business.