Embrace change. Discover resources, real-life stories, virtual events, and more to help you reimagine the future of your business.
We are so grateful to have been able to speak with Joseph Chaeban about how he's embraced change this year. By launching an ice cream subscription service, his fan-favourite ice creamery earned exceptional success—even through their slow season!
---
One of Joseph Chaeban's earliest memories from growing up in Northern Africa was sneaking into his father's cheese shop, Fromagerie Chaeban, and eating camembert for breakfast every morning. 
Joseph is known in Winnipeg for his delicious made-from-scratch gourmet ice cream, but what you may not know is he is also a trained cheesemaker and dairy scientist. His passion for dairy took him to Vermont University where he studied it. 
"I used to own a trucking company, but I always knew dairy and cheesemaking from my father," smiled Joseph. "Dairy and business have always been my passion. I always had a dream to open my own business. And ice cream, I know the science behind it, so I thought a gourmet ice cream shop was a perfect idea."
But the ice cream shop idea didn't just happen. 
Joseph met his Chaeban partner, Darryl Stewart, at a South Osborne Syrian Refugee Initiative meeting in 2015. Joseph and Darryl hit it off from the beginning. Darryl, his wife, and the South Osborne Syrian Refugee Initiative ended up sponsoring Joseph's wife's family as refugees. Darryl was so impressed by Joseph's entrepreneurial spirit that he began to invite him to Chamber events. 
In 2016, Darryl was walking to work one day and walked past a local ice cream shop called Banana Boat with a for lease sign up in the window. He called the selling agent and found out they were selling the location and the ice cream equipment. Darryl was hoping to open it up with a few other partners but things just fell through. Until one day he was talking to Joseph about his failed business attempt and Joseph replied, "you know I'm a dairy scientist, right?".
The rest was history. 
Read more on their founding story.
Fast forward to 2017 when Chaeban Ice Cream was born. 
"I said to my wife, let's start our own business, a Lebanese restaurant, so when your family comes they can have employment," said Joseph. 
Joseph and his wife knew they wanted to plant their roots in Winnipeg and knew this was where they wanted to call home. That's when they found their current Chaeban location in South Osborne– the former Banana Boat location Darryl had come across.
"I said forget the Lebanese restaurant, let's make an ice cream shop."
As you can see, 2020 isn't the first time Joseph had to reimagine his business, or anything in his life for that matter– but that doesn't make it any easier. 
The summer of 2019 was electric. They were at events like Folk Fest, Food Truck Wars, their store always had a line up on a hot day, everything was as it should be. Then the winter came. As an ice cream shop, winter tends to be a slower time and unfortunately, they would run at a loss. 
To make matters worse, COVID hit. 
"I honestly thought we were going to go bankrupt," said Joseph. "My business partner Daryl, Zainab and I had to strategize what we were going to do next. My background is as a dairy scientist so I thought let's make some cheeses and we can sell that, but what else can we do?"
Joseph's partner, Daryl said that his partner at his other business had mentioned subscription services do really well, if done properly. 
That's when the Chaeban Ice Cream Club subscription service began. Once they had the website and delivery service set up the next step was selling the subscriptions. 
"We got the subscription service all set up. We were able to do it really professionally," said Joseph. "We have a really good marketing integrator and she helped set this up. I'm really happy we took the month to launch." 
 "I was hoping we would get 80 customers. On the first day we had 200 customers join and then on the second day: 300, 400, 500. Our peak was 1600. I didn't think this would happen," smiled Joseph.  
---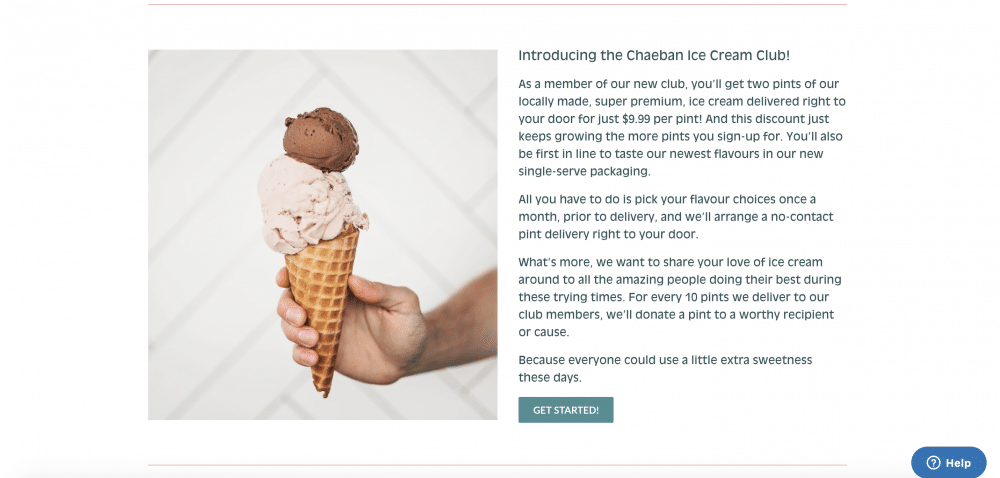 ---
 Reimagining is something Joseph and his team just do. Now that the colder months have arrived and COVID is still here, they have begun to pivot again. Continually finding new ways to bring in revenue as well as provide quality products for their customers. 
"Now that it's winter, we have introduced Chaeban Artisan– a gourmet cheese shop. This will help our company as a whole. We will probably have another shift, but it's okay. As long as we're not going bankrupt, that's the main thing, and we're building a future to get bigger."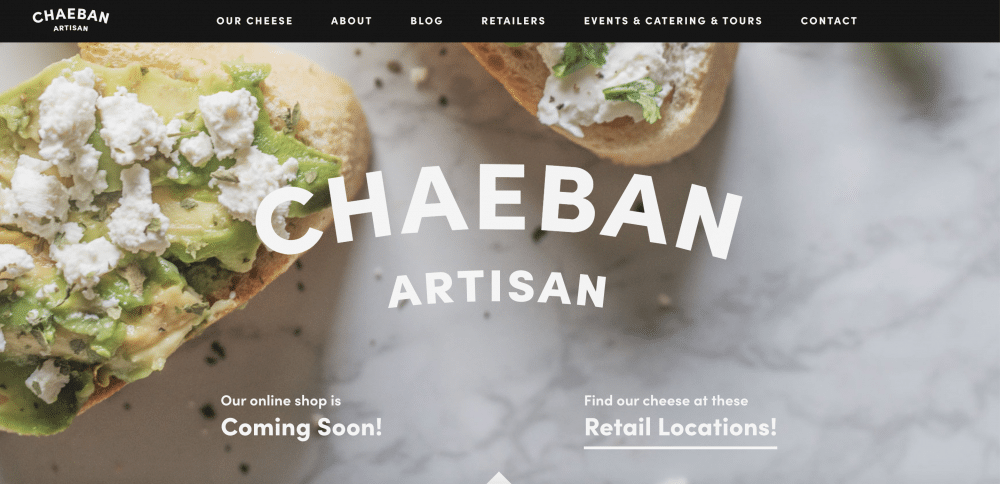 Joseph and his team, they can't wait to see their customers smiling faces at their ice cream shop once restrictions are lifted and they can provide a safe takeout and dining experience. 
"We have a lot of great supporters in Winnipeg who come to our store. If you've been here in the summertime, there were lineups like crazy and every chair was filled, I miss that. I miss talking to people. But now it's different, we're talking on the phone and six feet apart."
Until then, Joseph continues to reimagine how he can continue to bring happiness and delicious products to the community of Winnipeg.
---
#ReimagineWPG recognizes Winnipeg business owners who have embraced the change forced upon them by today's global pandemic to ultimately spark innovative business plans and achieve unexpected success.
It's time to reimagine what change can do. Visit our
REIMAGINE
RESOURCE HUB
where you'll find resources, real-life stories, and virtual events to help you embrace change and reimagine the future of your business.