We connected with Teresa Cotroneo, Executive Director of Folklorama, to discuss how they took their two-week cultural festival and reimagined it to become Folklorama at Home. On a mission to celebrate diversity and promote cultural understanding, they found a way to 

bri

ng world-class entertainment, delicious authentic cuisine and the beautiful cultures that make up the fabric of our city right to our own backyards.
---
In 2019 Folklorama celebrated its 50 year anniversary. Teresa Cotroneo and the team at Folklorama were excited for future festivals. It felt like a new beginning until it all came to a halt. 
"The last festival that we were able to celebrate was our 50th in 2019, and after that I thought to myself, what are we going to do next?", said Teresa, Executive Director of Folklorama. "You work up to that crescendo and then ask yourself what can we do differently to keep people engaged?"
On April 24, 2020, Folklorama 2020 was officially cancelled. Teresa and the team now had to shift their focus from their flagship two-week festival to Folklorama as a whole. 
Prior to 2020, Folklorama was looking to begin focusing on its other programming and events they offer all year round. In addition to the two-week festival and other year-round offerings, Folklorama also serves as an agency to over 100 performers who entertain and teach throughout the year.  
"Ironically, we really wanted to focus on all the programming that we do, because the festival is our flagship event, but the organization is so much more than the two weeks in August," said Teresa. "We really wanted to focus on that. If there's any silver lining, it's that our pivot, with the cancellation of the festival, pushed us to really direct our attention to that."
But it wasn't easy when COVID first hit. There was a time Teresa and her team didn't think Folklorama would survive. The festival was cancelled, many of their larger in-person events throughout the year were no longer happening. It all started to become a reality.
"In March of last year, without any of the supports or the changes that we had to make, we would have closed our doors by the end of the year," said Teresa.
"Myself and the board of directors had a lot of painstaking conversations about what direction things had to go in. It was hard to believe that a 50 year institution could just be brought to its knees. We would be in a very different position right now without funding."
That's when it all began to shift. Teresa can remember the day she watched the federal government announce the Canada emergency wage and rent subsidy so vividly. She is emotional to this day thinking about the relief she felt. 
"I literally started crying and just thought we'll get through this somehow," said Teresa with a tear in her eye.
---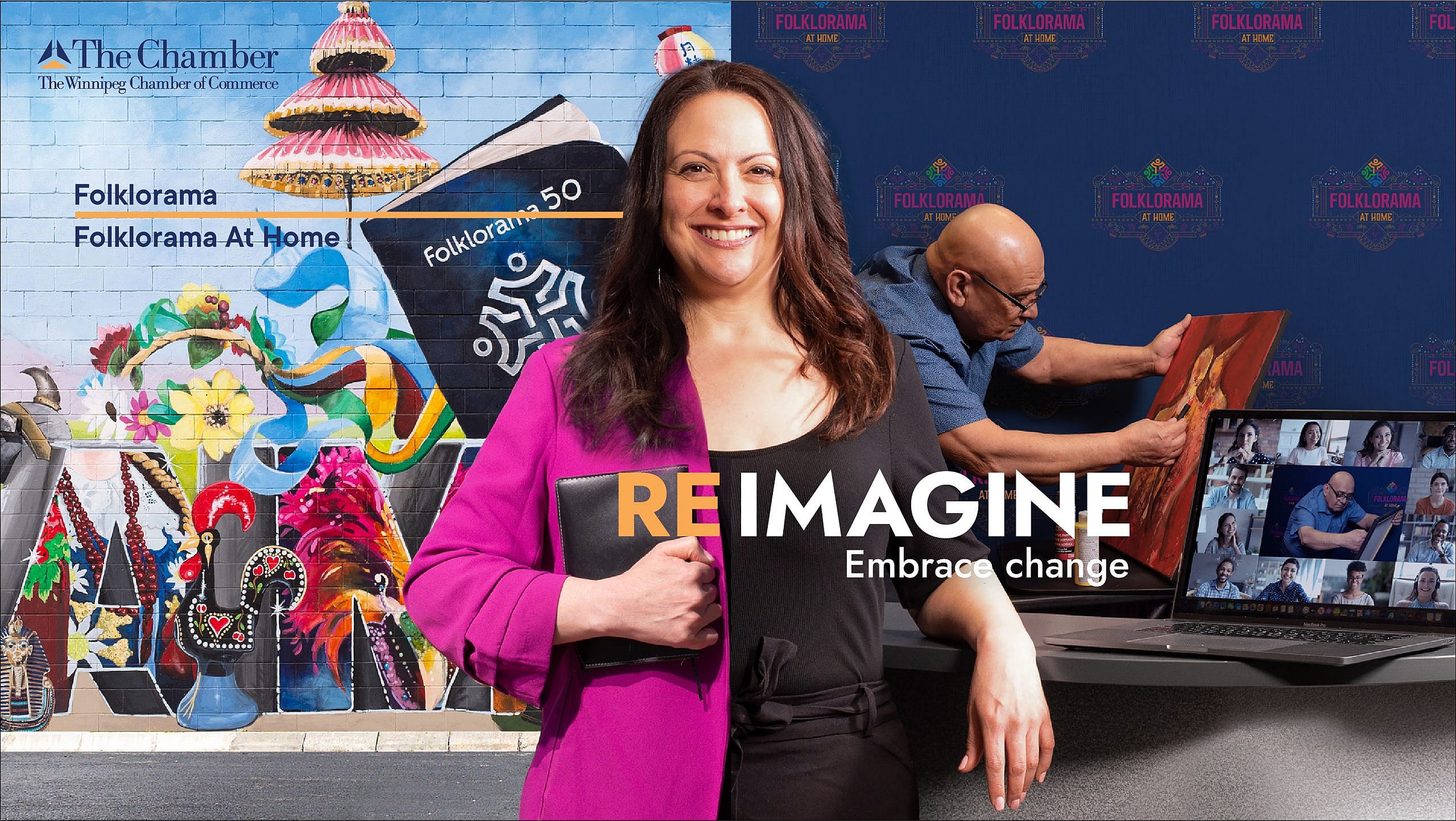 ---
Now present day, Folklorama has reimagined their organization not only to stay afloat but also to continue to celebrate diversity and promote cultural understanding during a time when we need it most. 
Teresa and the team launched many different programs over the past year, but the largest undertaking was launching, Folklorama at Home, Folklorama at School and Folklorama at Work– a way to bring elements people love about the Festival to backyards, schools, and workplaces. This was not only a way to celebrate diversity and keep culture alive and thriving but as a way to help local artists and businesses create an income.
This summer, Folklorama brought their festival to over 80 backyards, schools, daycares, seniors homes as well as workplace lunches and more. 
They also launched free online workshops and entertainment through their Folklorama Virtual Experience to help bring Folklorama to Manitobans and all over the world.
Upon completion of the 11-part online YouTube series, Teresa and the team created an Ethno-Cultural Arts division that includes Folklorama at Home, Folklorama at Work, Folklorama at School as well as live virtual workshops and classes. 
"Our Ethno-Cultural Arts division, now features hands-on online workshops," said Teresa. "The workshops themselves will be done live online until we can meet safely in person. As for our Folklorama event this summer? Stay tuned on that."
In our world's current landscape, it is important for organizations like Folklorama to give all cultures the platform they need to help share their story.
"At Folklorama our mission is celebrating diversity and promoting cultural understanding and we live that mission every single day. It's something I'm proud to be a part of," said Teresa.
"The coming together of our communities every year to learn about each other and to really embrace what our neighbours are doing, their traditions and why those things are important to them, really creates such a heightened sense of community."
Once things are back to normal and we can gather safely, Folklorama will welcome everyone back with open arms. Until then, we look to the incredible offerings Teresa and the team put together this past year. 
"For every dark cloud there definitely is sunshine behind it," smiled Teresa. "We have learned a lot this year. The passion of our staff, board of directors, volunteers and everyone involved helped get us through the most horrible time in our organization's history."
---
'Folklorama 50' Mural
We chatted with Teresa to learn more about the 'Folklorama 50' mural located at 847 Notre Dame Avenue.
Can you explain the process for the mural and what that was like?
We were approached by Take Pride Winnipeg who wanted to fund the production of a wall mural for Folklorama's 50th edition festival.  They selected Winnipeg muralist Mandy van Leeuwen who came to us with the idea of using block letters to spell out Folklorama, set on a Manitoba highway with the Winnipeg skyline in the background.  From that point, we categorized the cultures we wanted to capture based on our membership and then selected from festival photography to identify different elements to include.  An example would be "red beads" as worn by many of our eastern European cultures – not necessarily specific to one country but resonated with across a few.  Mandy presented two drafts before the final was approved.  Specific elements are identified from our 4 legacy pavilions (those that had never missed a year of participation) as well as icons such as a passport and the Llama mascot.  
Why is this project meaningful to you and the team at Folklorama?
One of the things that makes our organization and specifically the festival, so unique, is that the venues are scattered around the city and often, festival goers have an opportunity to explore areas they may not regularly visit.  The downside to this is that once the festival is over, the pavilions disappear and Folklorama didn't have a place in the city where we could come together that was inherently "ours".  It was important to us to be able to have a legacy piece in the community, where people could come and reflect on the impact the organization has had on the very fabric of Winnipeg.    
 What do you think it represents to those who don't know Folklorama?
Good question – I'm yet to meet someone who doesn't know Folklorama and I think that speaks to the strength of our brand.  I would imagine it could represent the sum of all our parts.  Though the eye is drawn to distinct elements that are representative of our unique cultural heritage or traditions, the familiarity of these elements to us, how they are easily recognized, from my perspective, represent how interconnected we really are.
What do you hope people feel when they see the mural?
My hope is that people feel pride and connection.  Whether that be to an element of the mural that represents their ethnicity or simply to the fact that as Winnipeggers, we have all contributed to the ongoing success of an organization that celebrates diversity and promotes cultural understanding.
---
#ReimagineWPG recognizes Winnipeg business owners who have embraced the change forced upon them by today's global pandemic to ultimately spark innovative business plans and achieve unexpected success.
It's time to reimagine what change can do. Visit our 
REIMAGINE
RESOURCE HUB
 where you'll find resources, real-life stories, and virtual events to help you embrace change and reimagine the future of your business.