Inspired by her history and training in criminology and sociology, lawyer Felicita Ovadje was determined to open her own community-oriented makeup emporium. Her goal: bring BIPOC-owned brands to the mainstream market. When the pandemic hit, her ideas for how she would deliver her service changed, but her initial goal and brand values never did.
By finding this balance, she safely and successfully launched Felicheeta Artistry in the middle of a global pandemic!
---
Felicita Ovadje always loved to paint as a child.
It wasn't until her final day of law school that she realized she felt the need to tap into her creative side. 
"There was a month between my last day of classes and convocation. I wanted to fill that time with something," said Felicita. "I started looking at beauty schools in London as I was living in the UK at the time, and decided to take a chance. I wasn't sure what I was going to do with both degrees, but something just kept telling me to do it."
Felicita was in beauty school classes six days a week for eight hours a day, sometimes more, all while beginning her career as a lawyer.
Felicita was struggling to make sense of her decision to take on both careers, but she knew at some point it would begin to make sense. That's when she heard about Tara Fela-Durotoye– a Nigerian beauty entrepreneur and lawyer.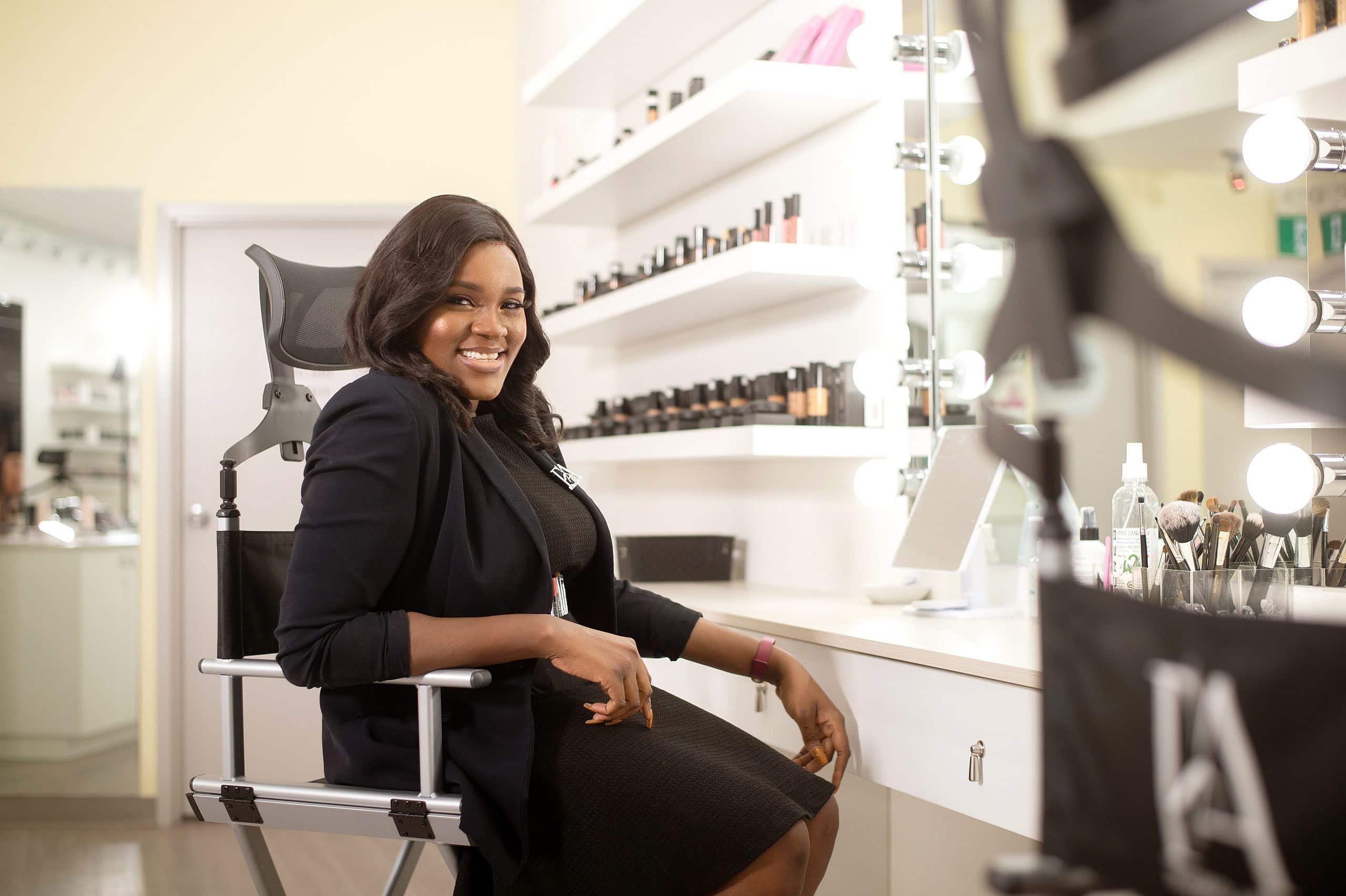 "I told my dad about Tara and how she was able to juggle being a lawyer and building an international makeup brand," smiled Felicita. "Anyone who knows me knows I'm very strong-willed and this was something I knew I had to do and I knew it would come together in the end."
Fast forward to 2020, and it's all making sense– Felicheeta Artistry (F.A.) was born.
Felicita, Chief Operating Officer of F.A.,  and her team had been freelancing since 2014, but have since launched a retail store in Grant Park Shopping Centre. Felicita noticed the lack of representation of African beauty entrepreneurs at the mainstream malls and shopping centres. This sparked the initiative to launch the F.A. retail store on September 5, 2020.
"We wanted to retail and publicize products owned by people of colour, and get them into the mainstream market," said Felicita. "One thing I always like to say is the store promotes brands that are owned by people of colour, but that doesn't mean a Caucasian lady cannot come in here to shop and get their makeup done here as we have shades for everyone."
"As a woman of colour, I understand how it feels to go into a space that doesn't carry your proper shade."
"I want people to feel at home and make people feel welcome."
Prior to the COVID-19 pandemic, Felicita and her team had plans to launch their retail store. A lot of their marketing business plan was face-to-face. Obviously, they had to shift. 
"Due to the pandemic, we're doing things more virtual. Pushing traffic to the online store, increasing the customer service experience online. We're doing online classes to teach people how to use products."
Reimagining is just something Felicita does– she embraces change. 
Since Felicita and her team weren't able to teach in person makeup classes, they had to adjust to online. The response from Winnipeg was incredible. 
"People have been excited," smiled Felicita.  "Regardless of whether we're able to be face-to-face with clients, we can achieve our mission and our vision through social media and web. We are trying to adapt. 
Felicita is always trying to find a way to balance her career as a lawyer, makeup artist and business owner. For Felicita, makeup has always been a release. 
"As a family and immigration lawyer, sometimes their issues are deflected on to you. It can be difficult to separate those issues from reality," said Felicita. "But that is why I continue to do makeup. It is my release, my calming place."
As she continues to Reimagine, Felicita is excited for the future of both her law practice and her business. She has continued to remain true to herself and continues to reflect on how she arrived to this point in her life and career. 
Felicheeta Artistry classes may be virtual for now, but that personal touch is still there. 
"Our core values have not changed, that personal touch, the educational component of things, product information. The only thing that has changed is the way we get to that destination. The destination is still the same."
---
February is Black History Month.
Felicheeta Artistry as well as other Black-Owned businesses in Manitoba can be found on the Black Owned Manitoba directory, which highlights, promotes and celebrates black-owned businesses, professionals, and creatives in Manitoba.
---
#ReimagineWPG recognizes Winnipeg business owners who have embraced the change forced upon them by today's global pandemic to ultimately spark innovative business plans and achieve unexpected success.
It's time to reimagine what change can do. Visit our 
REIMAGINE
RESOURCE HUB
 where you'll find resources, real-life stories, and virtual events to help you embrace change and reimagine the future of your business.