We connected with Amie Seier, founder of The Community Gym, about how she and her team embraced change this year. By launching Community365, a dynamic online workout platform, her clients can feel a sense of belonging and take part in any Community class– any time, anywhere.
---
As a child, Amie Seier, founder of The Community Gym, had no idea what she wanted to do with her life. 
"I wasn't outgoing at all as a kid," smiled Amie.  "I was quiet and super self-conscious and didn't really know what I wanted to do. Throughout high school I wanted to be a teacher, but then I had a horrible first year of university. One day my dad was watching that movie, Blood Diamond, and he said to me you should be a journalist." 
Though that career didn't pan out for Amie, it sparked a creativity inside of her that she knew she had to tap into somehow. Amie ended up going into marketing and held a number of positions before she truly found her passion.
"Community, connection, creativity and culture are my core values," said Amie. "I always search for those types of things in my day to day. I feel fortunate to find opportunities to be able to feed my soul in that way. I've been pretty lucky, but as a kid, I had no idea what I wanted to do."
Amie knew she wanted to continue to feed her soul with those core values, but what was her next step? How could she reimagine her next move?
When Amie lived in Calgary, she started working for a spin studio and fell in love with it. She connected with the beat, the music and the overall energy in the room. This was her next move, but she didn't feel like she fit the spin instructor mold.
"I would always say to myself, I am not a spin instructor. I don't fit the part," said Amie. "I don't look like it, who am I? But in my heart, I loved it so much, so I knew I had to do it."
Amie then moved back to Winnipeg, worked in a few studios until she found her legs and decided to take the leap. 
Enter, Community.
"I wanted to create a community that I could make friends and have the camaraderie you get on a sports team," said Amie. "As an adult, we don't get that as much. I asked myself what if I can create a space that people felt like they felt welcomed in and felt like they were part of something?"
Amie started Community through pop-up spin classes in the old Muddy Waters at The Forks. At first she didn't think anyone would come, but people showed up and felt that sense of community– togetherness.
Fast forward to 2020, Amie and her team had a successful first year of The Community, and they were ready to kick off their second year. Amie had so many plans and goals she wanted to accomplish, but that all came to a screeching halt in March.  
"Everything was planned out and then March hit," said Amie. "Being only in our second year, we already had to be strategic in what we were doing, how we were doing it and test things out to see what worked and what didn't. We had a method to our madness and to have all that taken away, it was tough."
Amie has continued to find ways to pivot in her life, this time wasn't any different. Her and The Community team took the next steps to create a dynamic online workout platform, where her clients can feel a sense of belonging and take part in any Community class– any time, anywhere. Community365. 
The Community Gym's four main class options are: spin (indoor spin), calm (yoga), camp (boot camp) and crush (boxing). 
"Having a diverse set of workout classes has been huge," said Amie. "We don't necessarily need to be reliant on a piece of equipment, which has allowed us to diversify."
Amie knew online workouts have always been a thing, so how could she bring this community she built to an online platform and create a sense of togetherness when we were all expected to be apart?
---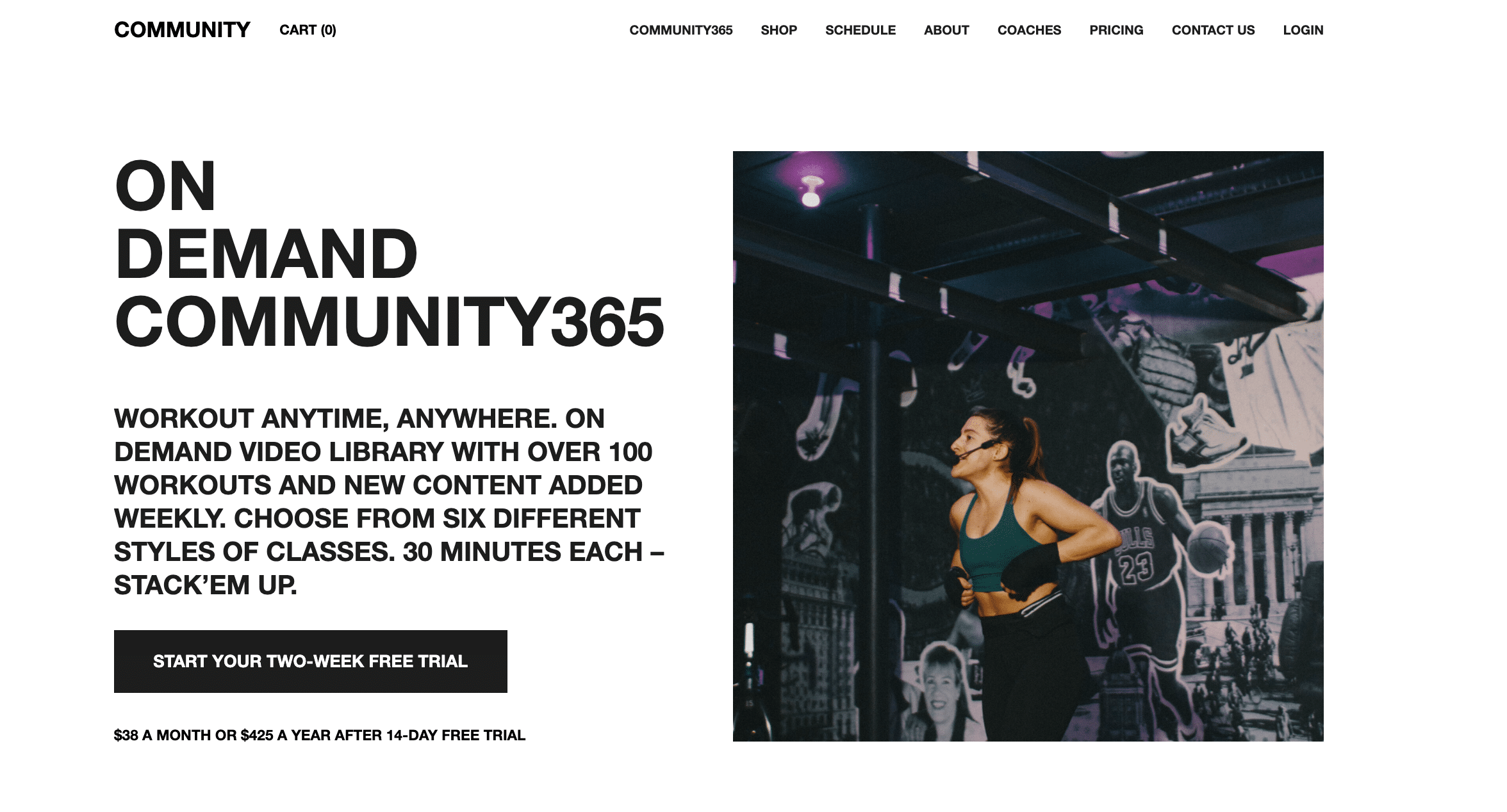 ---
"When you come into the studio, you experience that inclusion, you experience what it feels like to be part of a community and you experience something bigger," said Amie. "There is something to be said about an experience. I spent the better half of the summer figuring out how to bring that feeling online. With Community 365, I feel like we have found that."
"
We are named The Community for a reason. Community is so important."
Amie knew if things opened back up, like they did this summer, people would come back– and they did. 
"We reopened in June and July and we were sold out and had no space in class," smiled Amie. "People wanted the experience. They wanted to come back. But, we continued to push forward with Community365. 
By September, they were feeling really positive. They had diversified their revenue streams. They had a clothing line, online workouts, teacher training, in-studio classes and equipment sales. Then the second lockdown hit. But, Amie knew they could continue to pivot and push through. 
"Right now feels very reminiscent of when we first opened with our pop up classes," said Amie. "I knew that we were on the precipice of something great. But you can really feel that lull, but I think it's just the energy of the world right now. We've been able to pivot and look at things in a different lens. And so, I feel strong that we can now handle anything at this point."
Now, with the new Provincial reopening guidelines, Amie and her team have had to pivot again, now offering one-on-one training, scheduled open-gym workouts all while continuing to push forward with Community365.
"I may not be perfect. I may not have this really high tech technology, but there's enough there that we can create something that people can feel a part of. And so I hope that people in our community still feel part of The Community."
---
The Community just launched two new programs! Check them out below:
PERSONAL TRAINING
Take your training to the next level. Work 1-on-1 with a certified Community coach. Choose from CAMP or CRUSH for a 45-minute strength and conditioning workout built to meet where you're at in your fitness journey.
GYMSPOT // CYCLESPOT
Elevate your workout experience. Tired of training at home? Ya, we feel you. Book a GYMSPOT and take advantage of all the equipment Community has to offer.
View more information HERE.
Book your spot and check pricing HERE.
---
#ReimagineWPG recognizes Winnipeg business owners who have embraced the change forced upon them by today's global pandemic to ultimately spark innovative business plans and achieve unexpected success.
It's time to reimagine what change can do. Visit our 
REIMAGINE
RESOURCE HUB
 where you'll find resources, real-life stories, and virtual events to help you embrace change and reimagine the future of your business.