​Michael Denham understands the importance of having a mentor. For him, he didn't have to look far.
​
"One of my mentors has always been my dad," smiled Michael, President and CEO of BDC. "He's 90 years old and he still goes to the office every single day—even through COVID. He was a consultant, but for the past 30 or so years, he's been focused full time as a volunteer at Rotary International. His inspiration, energy and his commitment to the community have been incredible to watch.""As a kid I would always see how happy my Dad was and how helping others kept him going. That had a major impact on my life."
​Michael Denham was born and raised in Toronto and moved to Montreal 20 years ago. Early on in his career he worked for larger Canadian companies such as, Bombardier, McKinsey and Accenture, but it wasn't until sitting on the Board of Futurpreneur that he knew his career path was going to change.
"Futurpreneur focuses a lot on supporting young entrepreneurs through loans and mentorship. Working there was a bit of an epiphany for me around just the importance, of the excitement of entrepreneurship in Canada," said Denham. "It was that which really encouraged me to shift directions and join BDC and now spend this part of my career helping entrepreneurs grow their businesses.
​
Throughout his career, Michael has worked for many different leaders, but he knew that his leadership style was going to be one of empowerment and growth. He did just that."One thing I'm fortunate to have at BDC is a phenomenal leadership team," said Denham. "This gives me the opportunity to give them space to grow and do what they need to do to, to help us serve in the best interest of entrepreneurs.""With such a strong team I can focus on reinforcing our brand, discussions with various provinces and the federal government. I like to empower my staff, but I am only able to do that because of my team."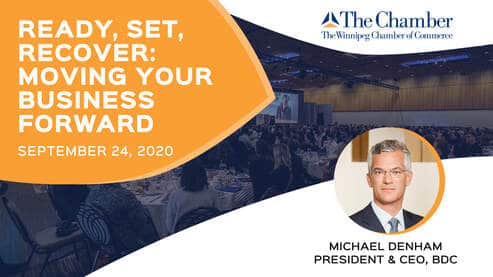 ​A lot of Michael's time in the past 6 months has been based on COVID relief and how BDC can continue to help businesses succeed. It hasn't been an easy road, but Michael and his team found a way to pivot.
"We look back to late March and the first, the first thing the government did as part of its response was inject more capital into BDC so we could lend more," said Denham. "As a result of that the flood gates opened. We had no choice but to pivot to allow us to deal with the unheard volumes. We had more requests for loans in the last three weeks of March than we typically get in a full year.
"So it was a massive pivot every aspect of what we do to deal with those volumes as quickly as we could, because our clients were in crisis mode and they needed loans very quickly."
Michael and his team at BDC – the bank for Canadian entrepreneurs – are continually pivoting and adjusting their business to find new ways to help these businesses come out of this on top.
"Join the luncheon on September 24 to hear about BDC's view of what to expect in the recovery. I will be sharing some examples of some inspiring stories of entrepreneurs who had to adjust their business model to survive," said Denham. "I will also be sure to share some of the resources available to entrepreneurs who have financial or advisory services needs, and the types of things we are doing to help."
Join us for free at our first ever Virtual Luncheon as we chat with Michael Denham, President & CEO of BDC as he shares insight into critical steps to sustain your business, business trends and shares top tools to leverage.
Our new virtual luncheon will allow you the ability to:
Network 1-1 with other members
Visit different virtual booths
Participate in roundtable discussions with a virtual table of 10
Debrief what you learned and share your thoughts 

Even though we can't share a meal together like a typical luncheon, we encourage you to order a lunch from a local restaurant of your choice! Whether you are in the office or working from home we hope you can find ways to connect with one another! Use buylocal.ly to find restaurants near you.