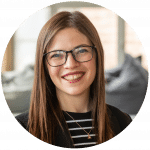 Post Contributed By: Vanesa Cotlar, Head of People, PolicyMe; Leadership Winnipeg Class of 2019-20
October 2021 marked the end of the longest running Leadership Winnipeg class!
Back in September 2019, our class kicked off with a fantastic session, where we got to know one another and learn about our leadership strengths. We never would have expected that in March 2020, our journey together would come to a pause, amidst the Covid-19 Pandemic. In October 2020, we were fortunate enough to have an outdoor session, however, when shut-downs began in the city, our journey was paused once more.
Fast forward to October 1, 2021, our class was finally able to gather for our last session. The day opened with us sharing personal and professional updates. A lot happened in the last two years. From new jobs, to new babies, to new puppies, to new homes. We shared how impactful it has been to have such a long experience together, which enabled us to bond in a somewhat unique way.
The theme of our last session was climate change and sustainability and what we can do as individuals and businesses to reduce our impact.
Our first presenter, Clare MacKay, Vice-President of Strategic Initiatives and Executive Director at The Forks Foundation, shared about The Forks North Portage Partnership, and their proactive perspectives on retrofitting The Forks to become energy efficient by implementing geothermal energy to heat and cool the building. She shared with us how The Forks continues to innovate and become a place that brings the Winnipeg community together. It is a personal favorite of mine and it was great to hear about all that The Forks is doing to continue to create an outstanding, centrally-located, gathering spot for Winnipeg.
Josep Seras Gubert, Robin Bryan and Beth McKechnie from the Green Action Centre followed, sharing with us ways that we can improve our impact on the environment as individuals and businesses. They offer green audits for companies looking to understand their impact on the planet with action plans for how to improve and move forward, which is a remarkable first step to get started towards a greener journey. They have also created a social enterprise, Compost Winnipeg, that to date has diverted 2.6M kg of organic waste, with clients ranging from Canada Goose to residents of our city.
Christey Allen and Brett Huson from the Prairie Climate Centre were next, and discussed the Climate Atlas they've developed (https://climateatlas.ca/) where you can see the impact of climate change where you live in an easy-to-understand approach. As well, they shared about their indigenous systems and knowledge project, focused on integrating indigenous knowledge into the climate change conversation.
We wrapped the day up with Robert Elms, President of the Manitoba Electric Vehicle Association, who shared about how we can move forward with increasing the uptake of electric vehicles in Manitoba. The biggest need: 26 more fast-charging stations, strategically placed throughout the province. We learned that in the next 3-4 years the cost may go down enough to offer electric economy vehicle options.
It was a phenomenal day to wrap up a great 2+ years together. I look forward to our graduation ceremony where we will celebrate our learnings and achievements!
---
Leadership Winnipeg is supported by:
Vision Partners:
Canada Life
IG Wealth Management
The Winnipeg Foundation
Johnston Group
Winnipeg Regional Health Authority
Proud Partner:
Assiniboine Credit Union
Proud Supporters:
Asper School of Business
Boston Pizza
Honest Agency
Wawanesa Insurance