Canadian Survey on Business Conditions Q2 Findings
The Canadian Chamber of Commerce Business Data Lab (BDL) and Statistics Canada have released the Q2 findings of the Canadian Survey on Business Conditions (CSBC). The Winnipeg Chamber of Commerce is collaborating with BDL to bring local and future-focused business insights to major cities across Canada to support economic recovery and growth.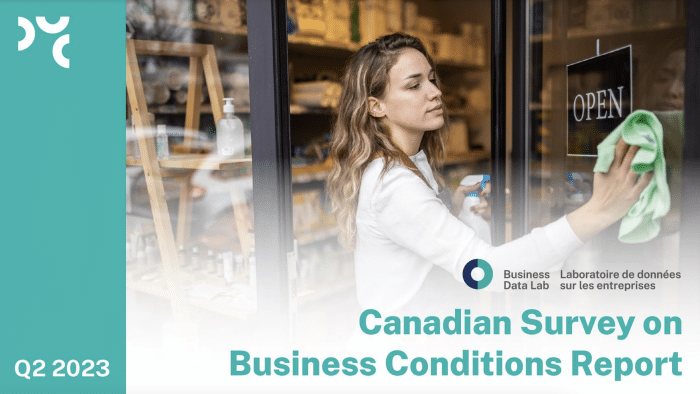 ---
Some noteworthy Winnipeg-based results from the latest quarterly CSBC survey include:
Persistent Challenges: Cost Pressures and Labour Shortages
Cost pressures and labour challenges persist as the primary near-term obstacles for Winnipeg Census Metropolitan Area (CMA) businesses. Manitoba's Consumer Price Index (CPI) rose by 3.4% year-over-year in May 2023, following a 5.5% increase in April. According to the latest survey, inflation (55.8%), rising costs of inputs (40.3%), and escalating interest rates and debt costs (34.3%) are the top three challenges expected to be faced by Winnipeg businesses over the next three months.
In May 2023, Manitoba's unemployment rate stood at 4.8%, which is the third lowest among provinces and below the national rate of 5.2%. Businesses in Winnipeg CMA are expected to encounter difficulties in recruiting (36%), labour shortages (31%), and retaining skilled workers (27%) in the next quarter. The impact of labour-related obstacles may lead to increased work hours for existing staff (43%) and management (38.4%), business growth (41.5%) and production delays (35.3%) among those businesses facing these challenges.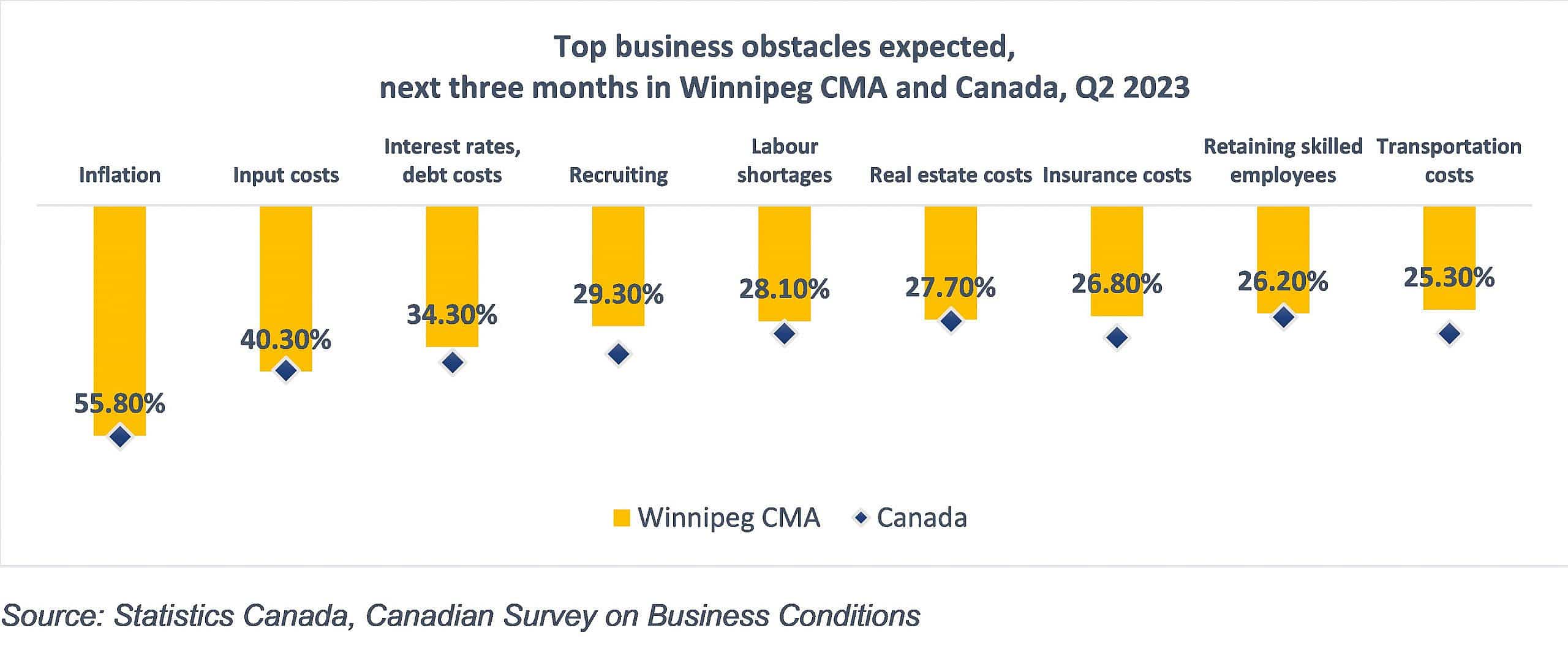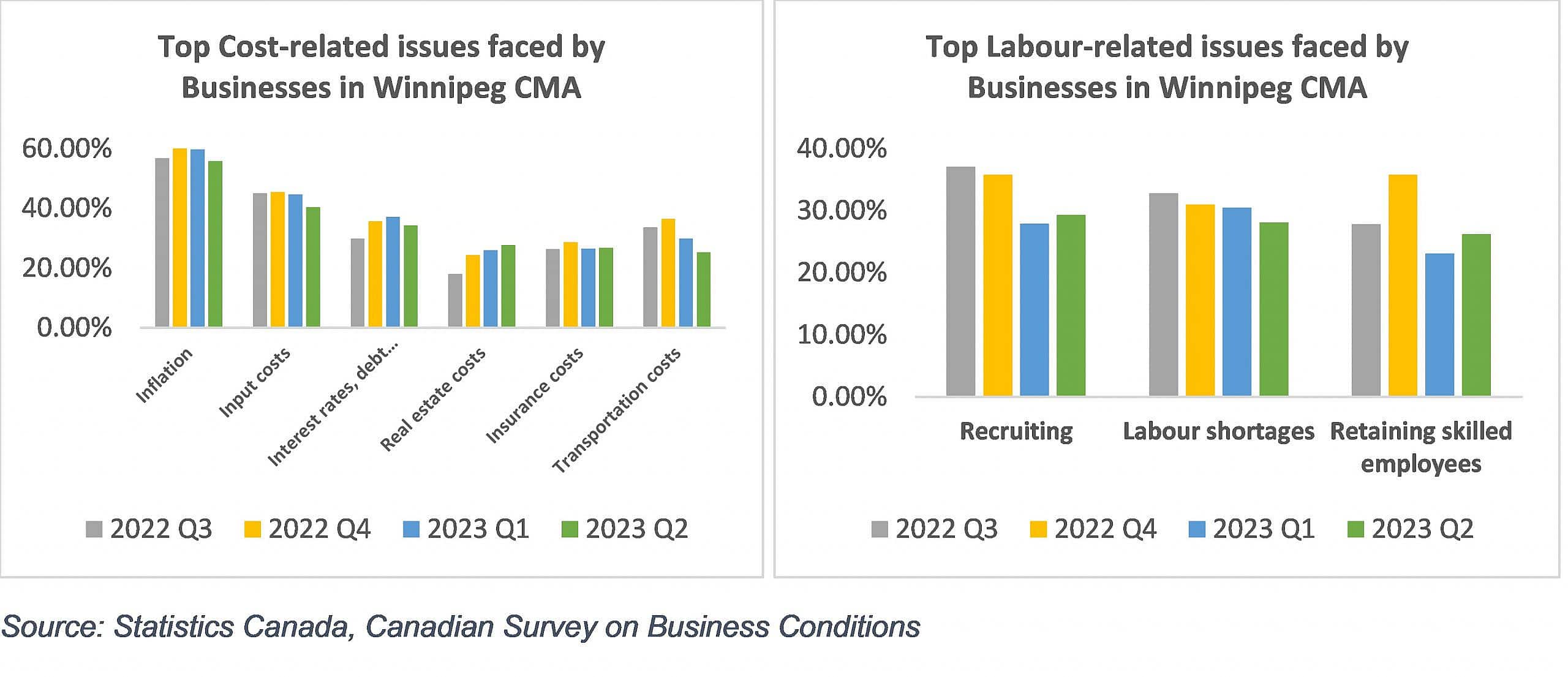 Profitability Concerns and Increasing Operating Expenses
The near-term business expectations for the Winnipeg CMA in the second quarter of 2023 indicate a mixed outlook. Businesses anticipate a 20.10% increase in sales, suggesting potential revenue growth. Selling prices are also expected to rise by 26.20%, demonstrating a pricing strategy aimed at improving profit margins.
However, it is noteworthy that one-third of businesses in Winnipeg expect a decline in profitability in the next quarter, indicating potential challenges in maintaining or improving profits. Nearly half of the respondents anticipate an increase in operating expenses, suggesting difficulty in efficient cost management. On a positive note, the number of employees is projected to increase by 12.70%, reflecting potential workforce expansion. Overall, businesses in the Winnipeg CMA face a mix of opportunities and challenges in the near term, requiring careful cost management, profitability monitoring, and pursuit of growth opportunitiesDebt Accessibility: Variances Based on Employment Size
In Winnipeg, about 21% of businesses reported that they cannot take more debt. An analysis of businesses with different employment sizes reveals variations in their ability to take on more debt. Larger businesses, particularly those with 20 to 99 employees, have a higher likelihood of acquiring additional debt, indicating greater financial stability or creditworthiness to support increased borrowing. In contrast, businesses with smaller employment sizes, such as 1 to 4 employees, have a lower probability of accessing additional financing, suggesting potential constraints in their ability to take on more debt.
Looking ahead to the next 12 months, businesses or organizations in the Winnipeg CMA have cited several reasons for their reluctance to take on more debt during the second quarter of 2023. Almost half of the businesses identified unfavourable interest rates as their primary concern, followed by cash flow constraints, uncertain future sales, unfavourable payment terms, and the expectation of loan rejections. These factors collectively contribute to businesses' cautious approach toward additional borrowing. High-interest rates and limited cash flow can make it challenging for businesses to afford debt payments. Uncertainty in future sales can also make businesses hesitant to take on more financial obligations. Unfavourable payment terms and the expectation of loan rejections further discourage businesses from pursuing additional debt. Understanding these reasons sheds light on the financial considerations and challenges faced by businesses when deciding on their debt capacity.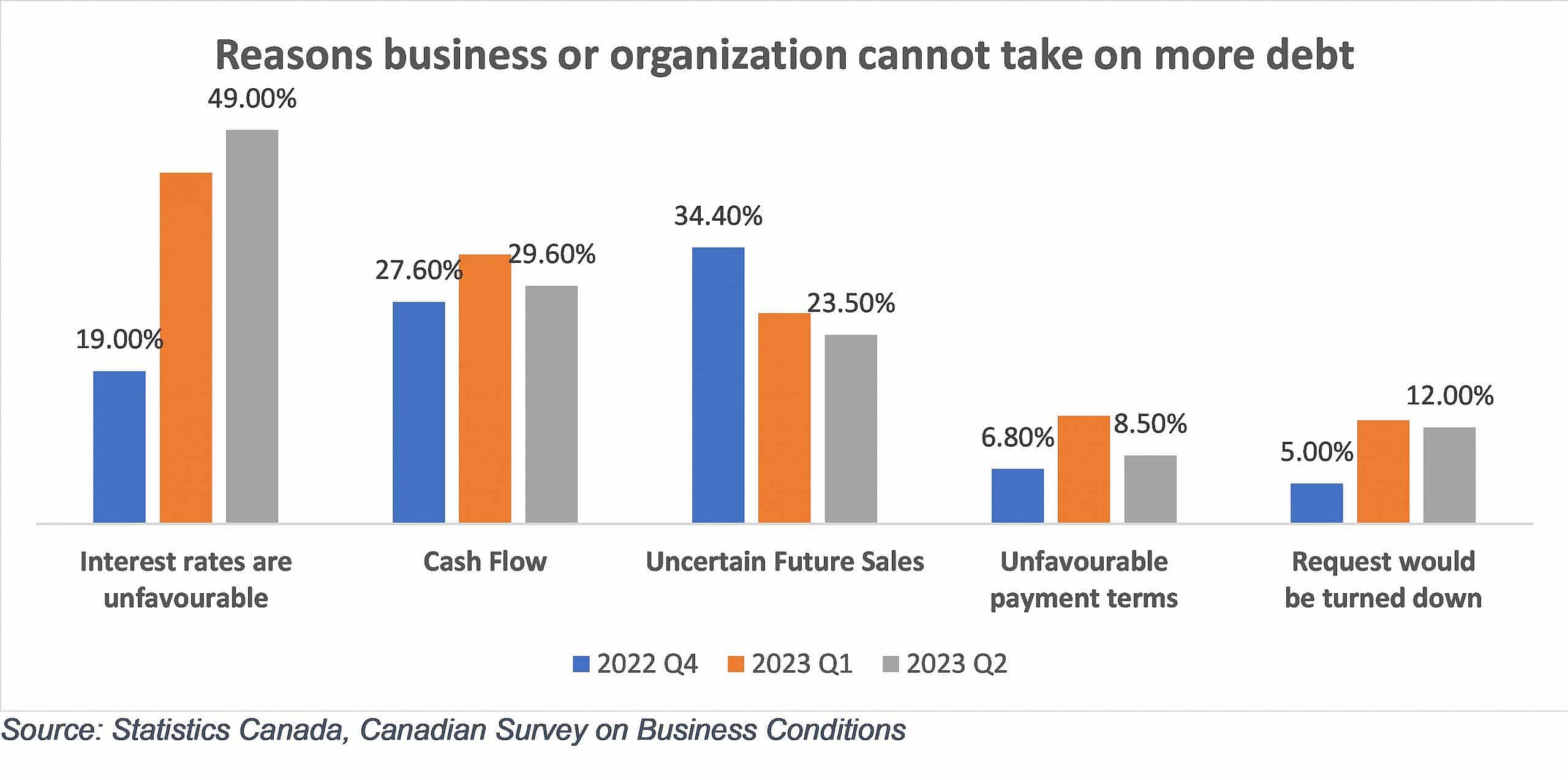 Resilient Outlook: Optimism Prevails among Businesses 
Despite an interest-sensitive environment and rising economic uncertainty, the majority of businesses in Winnipeg (69%) maintain an optimistic outlook for their future. Approximately 12.8% of businesses reported feeling somewhat or very pessimistic, down from the previous quarter's 18.5%. This overall positive outlook among businesses in Winnipeg signifies a resilient local business environment, even in the face of challenges.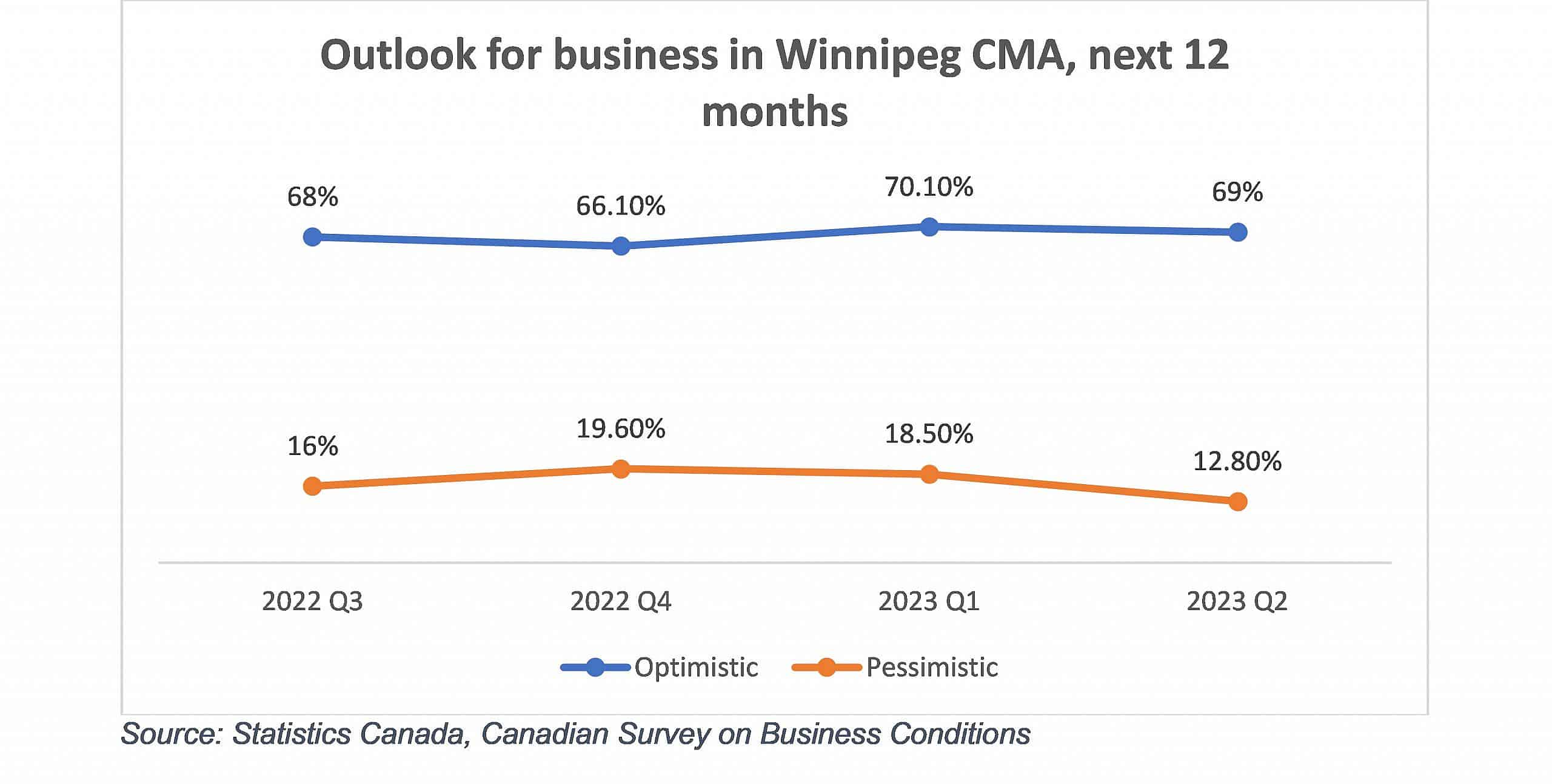 ---
About the Canadian Survey on Business Conditions Report
The Canadian Survey on Business Conditions (CSBC) was created in spring 2020 by Statistics Canada in partnership with the Canadian Chamber of Commerce to monitor evolving Canadian business conditions and trends. The Q2 2023 CSBC was collected from April 3 to May 8, 2023. The survey was conducted by Statistics Canada via electronic questionnaire, using a stratified random sample of establishments with employees. The Q2 2023 CSBC survey is based on responses from 15,401 Canadian employers, including 782 responses from Winnipeg CMA.
The Canadian Survey on Business Conditions Report presents an in-depth quarterly analysis of the CSBC conducted by the Canadian Chamber's Business Data Lab. The Business Data Lab collaborates with the Canadian Chamber Network to distribute and amplify CSBC insights at the local level.