Healthy Workplaces September 2023 Feature
Article provided by Robertson College
---
#LevelUpWithRobertson: Unlocking Success in Today's Workplace
In today's fast-paced world, continuous learning has become vital to staying on top of a competitive job market and achieving personal and professional goals. Robertson College's micro-courses are emerging as a valuable resource, providing numerous benefits for individuals seeking to enhance their knowledge and learn new in-demand skills.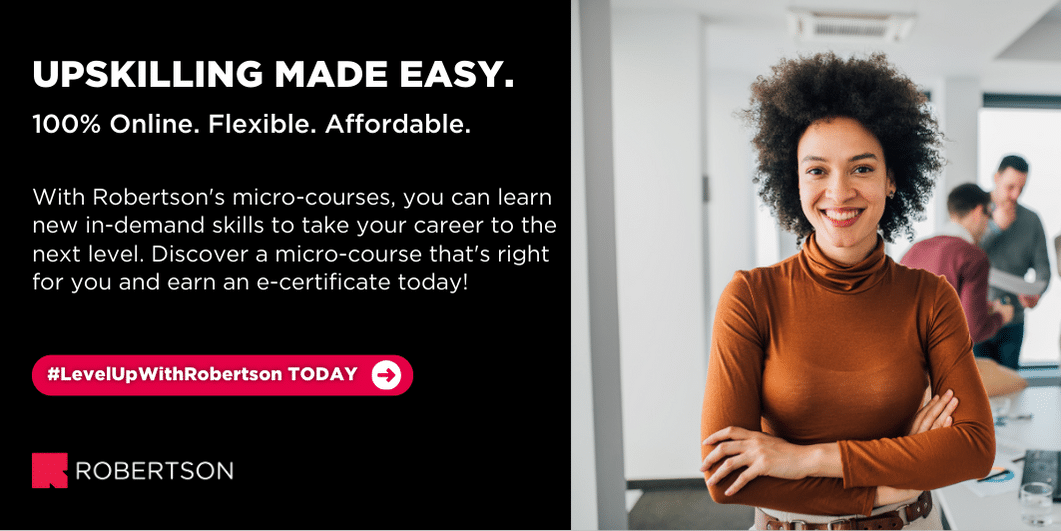 "Our micro-courses offer a convenient and flexible way to acquire new expertise and advance in your career," says Tiffany Wnuk, Lead, Online Business Specialist at Robertson College. "The short duration of micro-courses allows professionals to gain specific skills and knowledge without committing themselves to a lengthy program. Micro-courses can be accessed at any time and completed at the learner's own pace, providing greater flexibility and convenience." 
Some of the compelling advantages of enrolling in Robertson College's micro-courses include:  
Flexibility and Accessibility: One of the standout features of Robertson micro-courses is their flexibility. They are designed to fit seamlessly into your busy schedule, allowing you to learn at your own pace. Whether you're a working professional, a stay-at-home parent, or a full-time student, you can easily integrate these courses into your daily routine. With 24/7 access to course materials, you can learn whenever and wherever it's most convenient for you. 
Targeted Learning: Micro-courses are laser-focused on specific topics, ensuring that you acquire the precise knowledge and skills you need. Instead of committing to lengthy programs, you can select courses that directly address your areas of interest or career aspirations. This targeted approach saves you time and resources while delivering immediate value. 
Cost-Effective Learning: Traditional education can be expensive, with tuition fees, textbooks, and other associated costs. Micro-courses offer an affordable alternative. You pay only for the courses you choose, avoiding the financial burden of a full-degree program.  
​​Career Advancement: Acquiring new skills and knowledge through micro-courses can significantly enhance your career prospects. Employers value candidates who demonstrate a commitment to self-improvement and a willingness to adapt to changing industry trends. Completing micro-courses from a reputable institution like Robertson College can set you apart in the job market.  
If you're looking to upskill and advance your career, some of our most popular and in-demand micro-courses include:   
 To view Robertson's full micro-course offering, please visit bit.ly/3EpJrqS.  
For more information, please contact our micro-course team at [email protected].