3- minute read
Written by Kerry Harris, Director of Policy and Engagement
---
The Chamber is committed to ensuring the provincial government understands the issues impacting businesses in this province. The Collective Voice: Collective Impact Survey, powered by Probe Research, will help inform provincial candidates on the most critical issues to our business community.
The insights gleaned from this survey will help us create The Winnipeg Chamber's 2023 provincial election platform, which will be shared with members, the public and all provincial candidates before Manitobans head to the polls on October 3.
"You – our community's job creators – need pro-growth leaders able and willing to develop policy solutions that are good for our economy," Loren Remillard, CEO of The Winnipeg Chamber, said of the platform. "The Chamber will continue to emphasize the need for bold vision, robust leadership, decisive action, and the foresight to plan ahead to meet our rapidly growing community's needs."
The Chamber will once again host its highly anticipated Provincial Leaders Debate on September 20th at the RBC Convention Centre. Moderated by CTV News Winnipeg anchor Maralee Caruso, the debate will feature confirmed participants Heather Stefanson, Wab Kinew, and Dougald Lamont, speaking directly to your priorities and recommendations. As one of the final major debates before election day, the stakes will indeed be high. More details and ticket sales will be available in the coming weeks. 
"We're not doing a 'meet and greet forum,' Remillard said of the debate. "We intend to put the hard questions to the leaders on your priorities, to go beyond the 30-second sound bite and prepared speaking points, to the heart of the matter."
---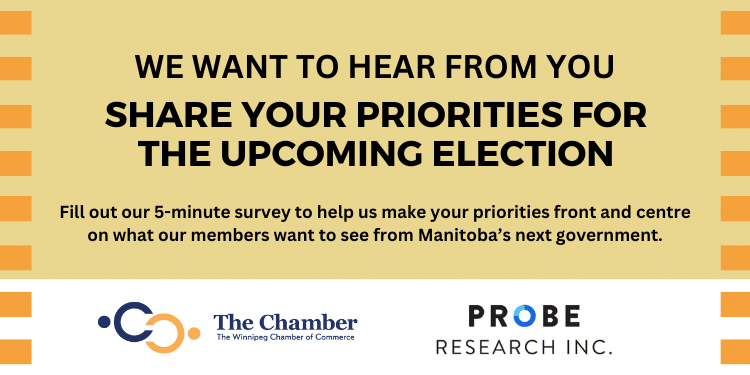 ---
The survey is live, and we are very grateful to all our members who have completed it. To our members who still need to fill it out, please share your views and tell provincial candidates what you want to see our city and province become. Follow this link and tell the government what's important to you in five minutes.