The COVID-19 pandemic has taken a major toll on small businesses around our world and in our city. Many local businesses have and are facing significant challenges and are struggling to find ways to continue to do the work they love. With the new restrictions in place in our province, many small businesses are wondering where to turn to next. That is why we have put together a blog that showcases some of the supports in place to help you navigate these difficult times. 
The Manitoba Bridge Grant will provide an immediate non-repayable one-time grant of $5,000 to small and medium-sized businesses, not-for-profit and charitable organizations that were forced to temporarily cease operations or close their publicly-accessible physical locations by Manitoba COVID-19 public-health orders in effect on Nov. 12. 
The new Manitoba Bridge Grant application will be available on Monday November 16th.
The Canada Life Business Boost program supports small businesses across Canada with 12 one-time grants of $10,000. The program is designed to help small businesses keep your workforce employed and strong, help cover operational costs and connect you with more customers and opportunities. 
The CEBA provides interest-free loans up to $60,000 to small businesses and not-for-profits. CEBA is intended to support businesses by providing financing for their expenses that cannot be avoided or deferred as they take steps to safely close their doors during the shutdown period.
The Canada Emergency Wage Subsidy is available for employers who have seen a drop in revenue due to the COVID-19 pandemic. As a business owner you may be eligible for a subsidy to cover 75% of your employee wages, retroactive to March 15. This program allows you to re-hire your workers, help prevent future lay offs and ease you back into your operations. 
The new Canada Emergency Rent Subsidy will provide direct relief to businesses, non-profits, and charities that continue to be economically impacted by the COVID-19 pandemic. The new rent subsidy would be available retroactive to September 27, 2020, until June 2021.
Innovation Canada provides an easy-to-navigate and fully customizable directory which businesses can search through to find all the grants and supports in place for their business. This is a great and easy-to-use resource for all businesses!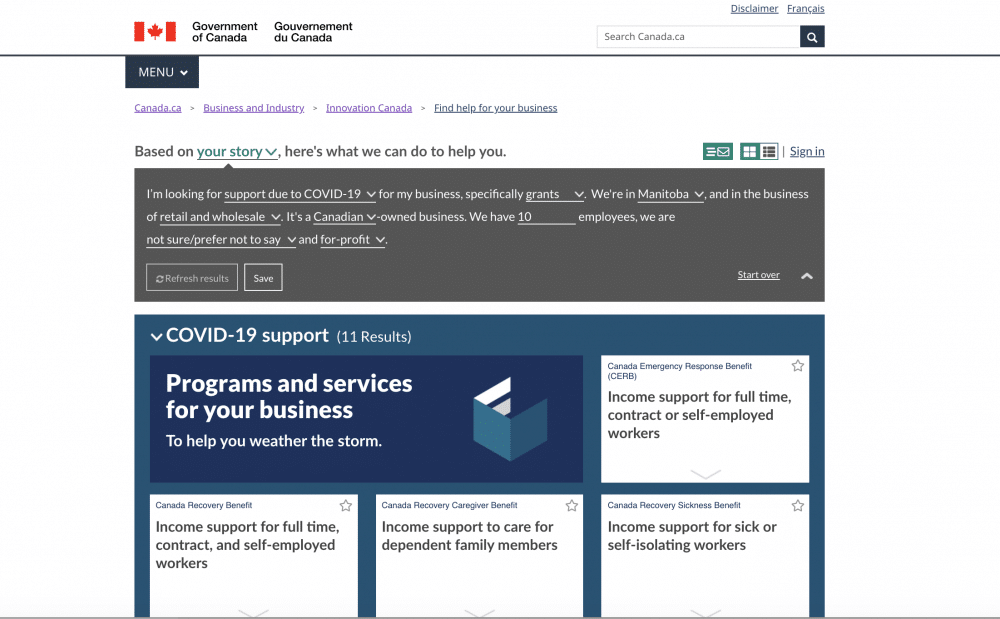 ICTC's WIL Digital is an innovative Work Integrated Learning program that helps employers grow their businesses by providing financial assistance for hiring post-secondary students. WIL Digital is funded by the Government of Canada's Student Work Placement Program (SWPP). Subsidies of 75% of wages paid to a maximum of $7500 to provide students with meaningful WIL opportunities that develop foundational and entrepreneurship/business skills. 
The Back to Work Manitoba initiative is a hiring program designed to support Manitoba's economic recovery by encouraging Manitoba employers to bring back their employees or take on new hires. The program covers 50% of wage costs between July 16 and December 31, 2020. Employers can be supported to hire up to 20 employees.
Additional Financial Resources