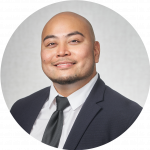 3 minute read
Post Contributed by Sonny Primolo, The Winnipeg Foundation
Leadership Winnipeg Class of 2022-2023
---
As business professionals cemented in the perpetual motion of our day to day, many of us can only reminisce of 'the good old days'. Fortunately, our Leadership cohort had the opportunity to relive our past with a visit to the University of Manitoba (UM for short). Although not my alma mater, the visit certainly had me interested in taking a course or two!
The day began with an intro by Myrrhanda Novak, Executive Director of Strategic Communications and Government Relations, followed by an engaging panel discussion about cultivating leaders of innovation. Through this engagement, we learned of the amazing individuals who have walked through these doors, now making an impact all over the globe. What's even more incredible is the 70 per cent that chose to keep their talents, skills and knowledge in our community.
Our three panelists, Randy Herrmann (Director of the Engineering Access Program ENGAP), Meycee Kalaw-Crevier (President's Student leadership Program Alum) and Tracy Bowman (Executive Director of Alumni Relations), shared their experiences and provided a diverse perspective on cultivating our future leaders and their contributions to community.
Our day at UM consisted of a full day of learning with tours of the Engineering and Information Technology Complex. We were treated to a lunch and learn with Nusraat Masood, Director of WISE Kid-Netic and their work in increasing girl-identifying individuals in STEM; A presentation from Tim Papakyrlakou, CEOS, Interim Scientific Director of the Centre for Earth Observation Science about the importance of our waterways; a visit to the Hydraulics Research & testing facility; and a popular visit to the Human Computer interaction lab (which had many of our cohort looking into purchasing pet robot puppies on Amazon).
As a second-generation Canadian, a key takeaway was the importance placed on Diversity, Equity, and Inclusion. There is an immeasurable value to diversity in co-curricular learning and groupwork as students can learn through multiple perspectives.
Another key element is UM's commitment to Truth and Reconciliation. We learned that some students were the first of their families and sometimes community, to attend a university, and many return to make an impact on their communities through their skills, but even more so as a beacon of potential for others to do the same. It is quite fitting to learn that the future permanent home of the National Centre for Truth and Reconciliation will be located here in Winnipeg and on the UM Campus.
As a proud Winnipegger, born and raised, it is amazing to see the support our city has for the growth and success of our future leaders and our community. Kudos UM!