On Tuesday, June 13, 2023 we hosted our Party on the Plaza for our 150th Birthday at True North Square. The day was filled with local performances, entertainment, giveaways and more.
Not only did the community come together to celebrate such a major milestone, but we also got to celebrate the work we have been doing to get us to where we are today.
The rundown:
We welcomed over 500+ people throughout the day
Gave away over 40 prizes donated by Winnipeg Chamber members
Featured performances by:

Little Monsters Dance

Dr. Henry Jazz Band

Jérémie & The Delicious Hounds

Red Moon Road

Stanley County Cut Ups

DJ Mama Cutsworth

Live artist from Pink Panda Creative and a number of rovers throughout True North
Not to mention the day was beautiful!
Hosted by two of our 150 Chairs, Jessica Dumas, Jessica Dumas Coaching and Training and Ryan Klassen, Juno Growth Canada Inc, we welcomed both Honourable Jeff Wharton, Minister of Economic Development, Immigration and Trade and Mayor Scott Gillingham to bring remarks opening.
"What a wonderful way to celebrate the Winnipeg Chamber's historic milestone.  It was great to see the vibrancy downtown, and I feel honoured to have been part of it." – Ryan Klassen
To kick off the day, Little Monsters Dance took the stage to teach the crowd some dance moves and the first 150 people to show up got a birthday cupcake and a 15% coupon for Made Here.
Plus– anyone who attended Party on the Plaza was able to visit The Chamber booth to enter to win one of our many prizes which featured local products, gift cards and tickets to major events like Folk Festival.
Huge shoutout to our event supporters, CPA Manitoba, Downtown Winnipeg Biz and the City of Winnipeg.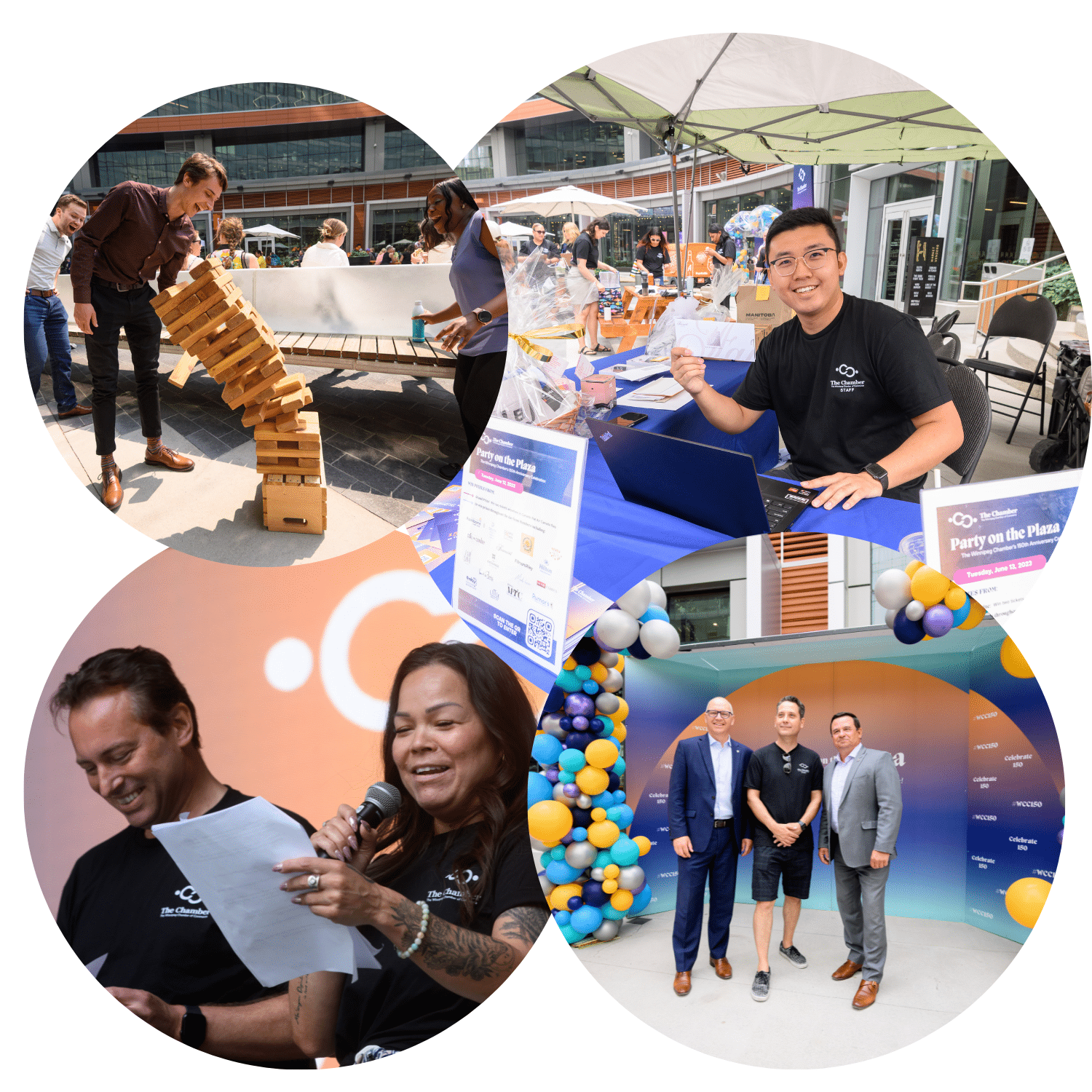 And to those who donated prizes:
ACU
Aroma Bistro
Coal & Canary
Delta Hotel
Downtown Winnipeg Biz
Exchange District Biz
Fairmont Hotel
Fillmore Riley
Folk Fest
Heyru
Hilton Hotel Winnipeg
IAmLove Project
Inn at the Forks
Kendrick's Outdoor Adventures
Little Brown Jug
Made Here
Mook Fabrics
Peezy
Royal MTC
Rumour's Comedy Club
Miss the day? Check out our Instagram Reel to see more behind the scenes!
As we continue to embark on our year-long celebration, we will continue to tell the stories of our members, give back to our community and more importantly share our vision of how we can help you lead, connect and grow.