3- minute read
---
Rising inflation, supply chain issues, labour shortages, and growing expenses are still problems for Canadian businesses according to survey of 17K businesses
The Canadian Chamber of Commerce Business Data Lab (BDL) and Statistics Canada have released the Q3 findings of the Canadian Survey on Business Conditions (CSBC). The Winnipeg Chamber of Commerce is collaborating with BDL to bring local and future-focused business insights to major cities across Canada to support economic recovery and growth.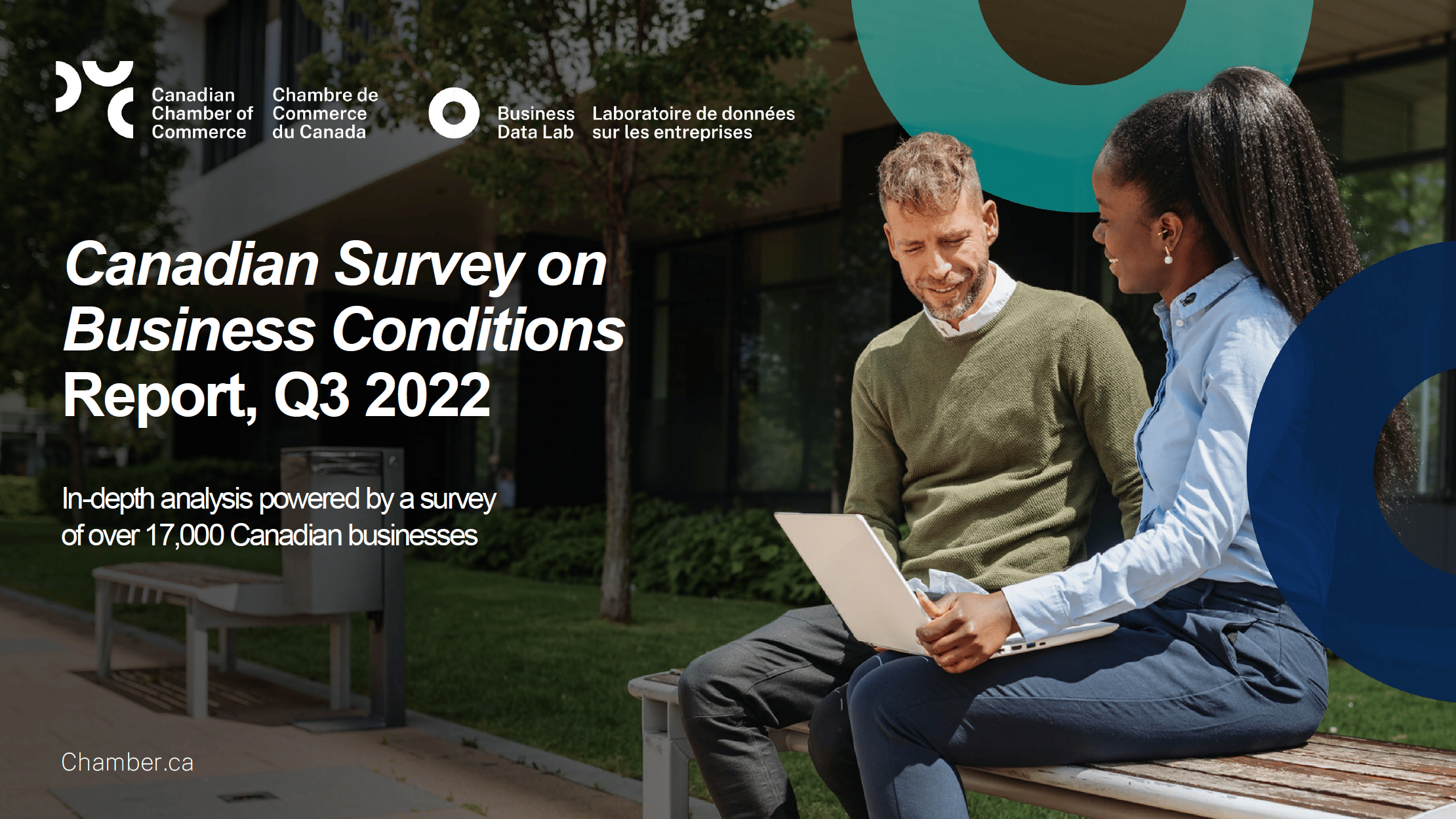 The 2022 Q3 CSBC was collected from July 4 to August 8, 2022. The survey was conducted by Statistics Canada via electronic questionnaire, using a stratified random sample of establishments with employees. The survey is based on responses from 17,013 Canadian employers, including 772 responses from Winnipeg CMA.
"Concern about inflation is at historically high levels – 60 per cent of businesses are pointing to this as a major issue, more than any other since the survey began," said Loren Remillard, President and CEO of The Winnipeg Chamber of Commerce.
"Rising input costs and persistent supply chain issues, difficulty in recruiting skilled workers and an inability to take on any additional debt are also adding pressure. Despite this, businesses in Winnipeg are optimistic about modest positive growth over the next year and most are planning to do more for the environment, including reducing waste, energy and water use."
Some noteworthy Winnipeg-based results from the latest quarterly CSBC survey include:
Winnipeg businesses anticipate slower growth in sales, employment, and investment over the course of the second half of the year, as well as narrowing profit margins. Around 68% of businesses in Winnipeg are optimistic or somewhat optimistic about the future and anticipate modest, positive growth.
Over half of businesses (55%) reported they either could not take on more debt or do not know if they could, up by 3% from last quarter.
Businesses have been impacted in several ways by the convergence of inflationary pressures, labour challenges, and supply chain problems. The most significant Winnipeg business obstacles involve rising inflation, rising input costs and labour supply-driven difficulties, including those related to hiring and retaining the workforce. About 56% of businesses in Winnipeg expect rising inflation to be an obstacle in the next three months. Over one-third (32%) of the businesses in Winnipeg expect to raise prices over the next quarter, slightly down from the last quarter (39%), which is consistent with decelerating inflation in the year's second half.
Recruiting skilled employees is expected to be the second biggest obstacle over the next three months for around 37% of all businesses in Winnipeg, led by those in construction (59%) and administration (49%). In addition, one out of three firms in Winnipeg anticipates a labour force shortage to be an obstacle, while retaining skilled employees is likely to be an obstacle for about 27%.
More than half (55%) of the Winnipeg businesses have or plan to implement environmental practices over the net year; reducing waste, reducing energy and water consumption and encouraging employees to adopt environment-friendly practices are top priorities. However, the top barriers faced by the business green efforts are customers' unwillingness to pay higher prices (30%), lack of financial resources (27%) and time constraints or labour limitations (20%).
About 6 out of 10 businesses reported that supply chain challenges to worsen in Winnipeg in the last three months. Businesses foresaw supply chain issues – increased input, product, or supply delivery delays (78%), higher input, product, or supply pricing (77%), and supply shortages that made fewer inputs, products, or supplies accessible were the main contributors to the worsening of supply chain difficulties. About two-fifths of the Businesses in Winnipeg conducting interprovincial trade faced obstacles last year, such as differing licencing requirements for goods and services, labour, and geographical location.
Long-term business plans include health and safety regulations and procedures, maintaining hybrid working arrangements, and the possibility of online buying and online training being put in place due to the pandemic.