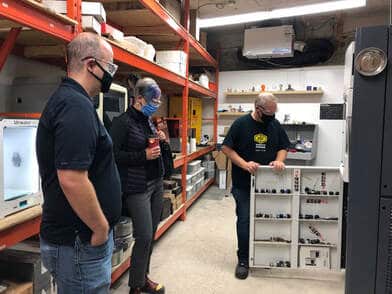 The Winnipeg Chamber of Commerce did an incredible job in bringing back Leadership Winnipeg, in an adapted way: smaller groups and shorter site visits, split up throughout the day, with masks and lots of hand sanitizer. This session provided us incredible exposure to the tech community that exists in Winnipeg and the opportunities to get involved in new and innovative initiatives in our city.
My group started the morning early at Callia Inc, where we heard from Catherine Metrycki and Marcus Joerissen-Ward about the business. We learned about their focus on the customer journey, and how they've built a new experience for buying flowers. Most flower shops have 100+ kinds of flowers available at once, but they have closer to 15 in-season flowers. They leverage these to build 3 bouquet types at any point in time, which leads to much more effective inventory management and flowers that last longer. As well, their limited bouquet options makes it easier for the consumer to select what to buy, limiting the choice-paralysis that can come from the vast options other vendors offer. Being selective in their inventory also leads to a lower price, that they pass on to consumers. All this together, translates into happy consumers – they have over 100 5-star reviews.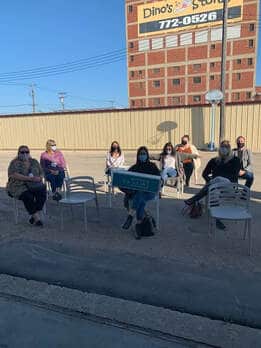 Our next stop was the North Forge Technology Exchange fabrication lab. Marney Stapley showed us around and told us the history. It was incredible to see everything from 3D printing, to lasers, to woodworking and seeing some of it in action. As we walked through, we were amazed by the diversity of individuals that use the space. Everything from individuals using lasers, and wood-working instruments to build made-in-Manitoba signs and coasters, to large companies having representatives based there to leverage 3D printing and modeling technologies to conduct rapeid prototyping. If you are looking to build out your next project, no matter how big or small, check them out. They do tours for the community on Tuesday evenings.
Lastly, we heard from Marshall Ring from Manitoba Technology Accelerator, where he shared all about what it takes to commercialize a business and their strategy for attracting new business and growth in our city. Callia Inc. is a graduate of the accelerator, which made our group really see the value of the incredible resources offered by MTA. It was a great way to end the day!
This was a special session for all of us, as it was our first one back since Covid-19 hit Canada. Although our entire class was not present, it was a great opportunity to see others (from afar) and catch-up with our cohort. A big thank you to Doneta and Ellen, who had to take extra care to make this day possible – you both did an excellent job!