4- minute read
---
What does the spirit of Winnipeg mean? Community? Celebration? Giving back? Innovation?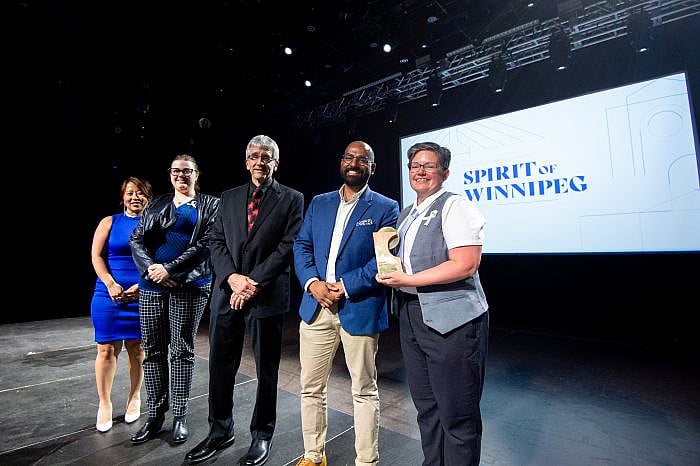 For Chamber member, LITE (Local Investment Towards Employment), it means all of that and more. 
At our 2022 Spirit of Winnipeg Awards Tyler Pearce, Executive Director of LITE, was shocked and excited when they heard their organization's name called as the recipient of the Non-Profit and Social Enterprise Award. 
"Honoured barely covers it. We are so excited and humbled by this recognition," said Tyler.
"Having the opportunity to sit with our fellow nominees at the Spirit Awards and hear more about what they do made for a fantastic evening." 
But the 2022 Spirit of Winnipeg Awards wasn't the first time Tyler and the team at LITE had connected with their fellow nominees, Fireweed Food Co-op and Immigration Partnership Winnipeg (IPW). 
The three Non-Profit and Social Enterprise finalists joined forces to bring create the Spirit of Community water bottle.
---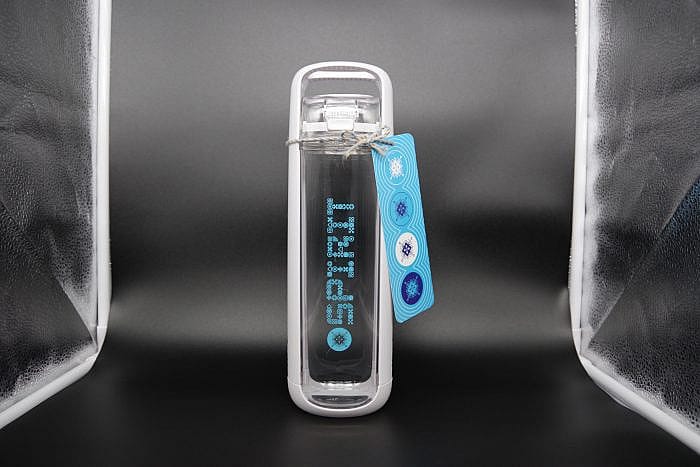 ---
"Here at LITE we have a partnership mindset," said Tyler. "So when it came to the Spirit of Winnipeg Awards instead of competing with our fellow nominees, we thought how can we partner with them?"
Every purchase of a Spirit of Community water bottle supports the three Non-Profit and Social Enterprise nominees. You can purchase for yourself, or purchase the donation bundle to have a second water bottle donated on your behalf to the Main Street Project.
The Spirit of Community logo, designed by local designer Tamiko Chase, is made up of a collection of decorative and dynamic icons intended to convey a unified sense of joy. Individual icons representing forward motion, stability and connection create a mosaic that oscillates playfully as it is read by the viewer. The circular icon's joyous floral motif repeated in the text was designed to be both whimsical and steadfast– like the communities we want to build, are building.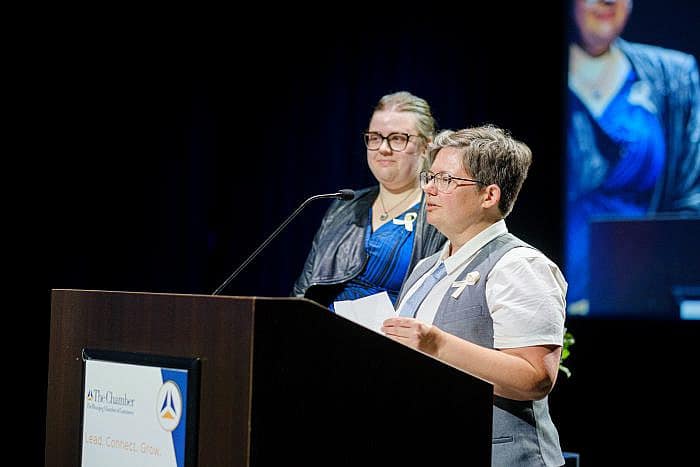 This initiative is the first of its kind at our Spirit of Winnipeg Awards.
"LITE is all about building communities, and that's what the Chamber does for business. As we work to build our social enterprise, we've found the Chamber's expertise important to understanding Winnipeg's business landscape."
Loren Remillard, Winnipeg Chamber of Commerce President and CEO, is hopeful we will see more initiatives like this in the future.
"This initiative truly embodies the entrepreneurial and community-minded spirit that defines our Chamber, and why each of these organizations are deserving Spirit Award finalists," said Loren.