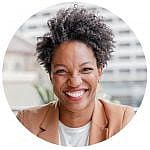 4 minute read
Contributed by Natalie Bell, People & Culture Consultant at Natalie Bell Consulting
Leadership Winnipeg Class of 2022-2023
---
Winnipeg, where cultures intertwine, and diversity thrives. As part of the Leadership Winnipeg group, we had the incredible opportunity to visit three remarkable non-profit organizations that champion the cause of supporting newcomers in their journey towards building a new life. The Immigrant Centre, IRCOM (Immigrant and Refugee Community Organization of Manitoba), and Holy Names House of Peace each hold a unique place in Winnipeg's vibrant multicultural landscape.
Grab a beverage, sit back, and join me as I shine a spotlight on the work, stories, and initiatives of these incredible organizations. From empowering newcomers with essential skills to providing a warm and welcoming community, the Immigrant Centre, IRCOM, and Holy Names House of Peace are pillars of support for those new to Peg City.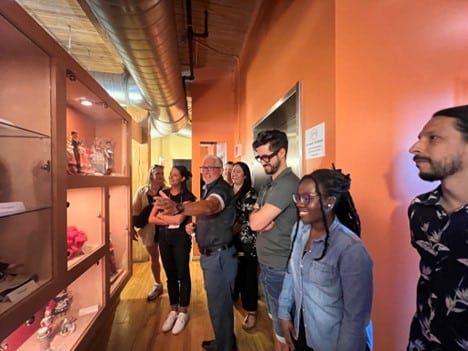 Immigrant Centre – Nurturing Dreams and Inspiring Success
Located in the heart of Winnipeg, the Immigrant Centre acts as a beacon of hope for newcomers, offering a wide range of programs and services tailored to their unique needs.
We met Jorge, known as the happiest CEO ever, who started with the organization 38 years ago. He shared stories of international students, provincial nominees and permanent residents, all of whom received assistance at the Centre. From challenging and confusing immigration forms to sharing resources with partners in mental health, finance and family services. When people go to their doors, they are not refused.  Their ultimate goal is to make sure newcomers have the right information.
Did you know that our very own Folklorama started at the Immigrant Centre 44 years ago?
Maria, Programs/Executive Assistant and a 30-year employee shared the process and services available to newcomers. It starts with an initial assessment where a personalized plan is made, including an orientation with info about benefits and immigration. The Immigrant Centre could not exist without its large range of volunteers (retirees, teachers, students and former clients). People from all areas and segments of society assist with paying it forward in the community.
Did you know that they employee 50 staff from 22 countries and 60 languages are spoken?
The Immigrant Centre is not without its challenges. The volume of newcomers has tripled while the funding levels remain the same. Changes to immigration policy and processes increase the need for service, and unfortunately necessary programs like Nutrition are the first to be cut.
We also heard about a few success stories including one involving a Leadership Winnipeg classmate whose family members accessed the services years ago and a family member came back to work there!
What's next for Immigrant Centre?
The need for more space
Increases to minimum wage
Access to more interpreters
Support for their capital campaign as they head into their 75th anniversary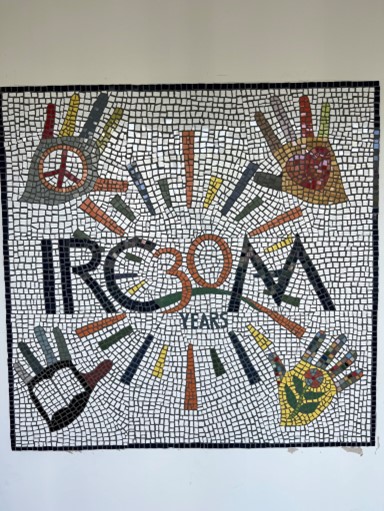 Embracing Diversity: IRCOM's Triumph of Togetherness
IRCOM, a true gem nestled in Winnipeg's vibrant North End, stands as a testament to the power of community and unity. This non-profit organization goes beyond providing housing to newcomers/refugees; it creates a nurturing environment where individuals can thrive and find their place within the local community.
We met with Shereen and Fitsum who shared an in-depth presentation of the grassroots work that IRCOM is achieving in the community. We heard about how the organization started with a Vietnamese family and has moved past negative stereotypes to provide housing and supports to newcomers/refugees over 30 years ago!
Did you know that 12-16% of families who have participated in IRCOM's housing have transitioned into homes they own?
The programs and services offered consist of settlement plan implementation, life skills support, ESL classes, after school programs and for higher needs cases, families are assigned a social worker. IRCOM hosts over 100 families (approx. 500 people).
From a multigenerational interactive Greening program to an integral Asset & Capacity program, IRCOM offers several programs to create a holistic settlement support system.
IRCOM is very active in their Truth & Reconciliation commitment as well. They have Indigenous-developed and led programs to initiate discussion about shared histories and the understandings of colonization.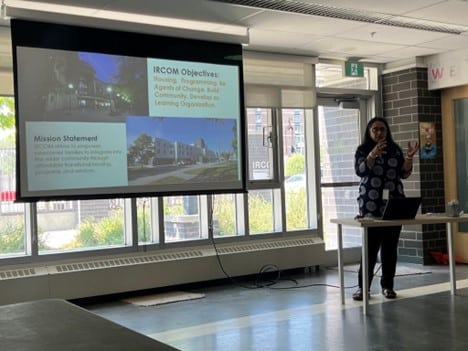 What's next for IRCOM?
How to combat the housing crisis – not available or affordable
Continue to share the story of IRCOM, its origins in a positive perspective
Increase capacity and buildings (partner with Manitoba Housing)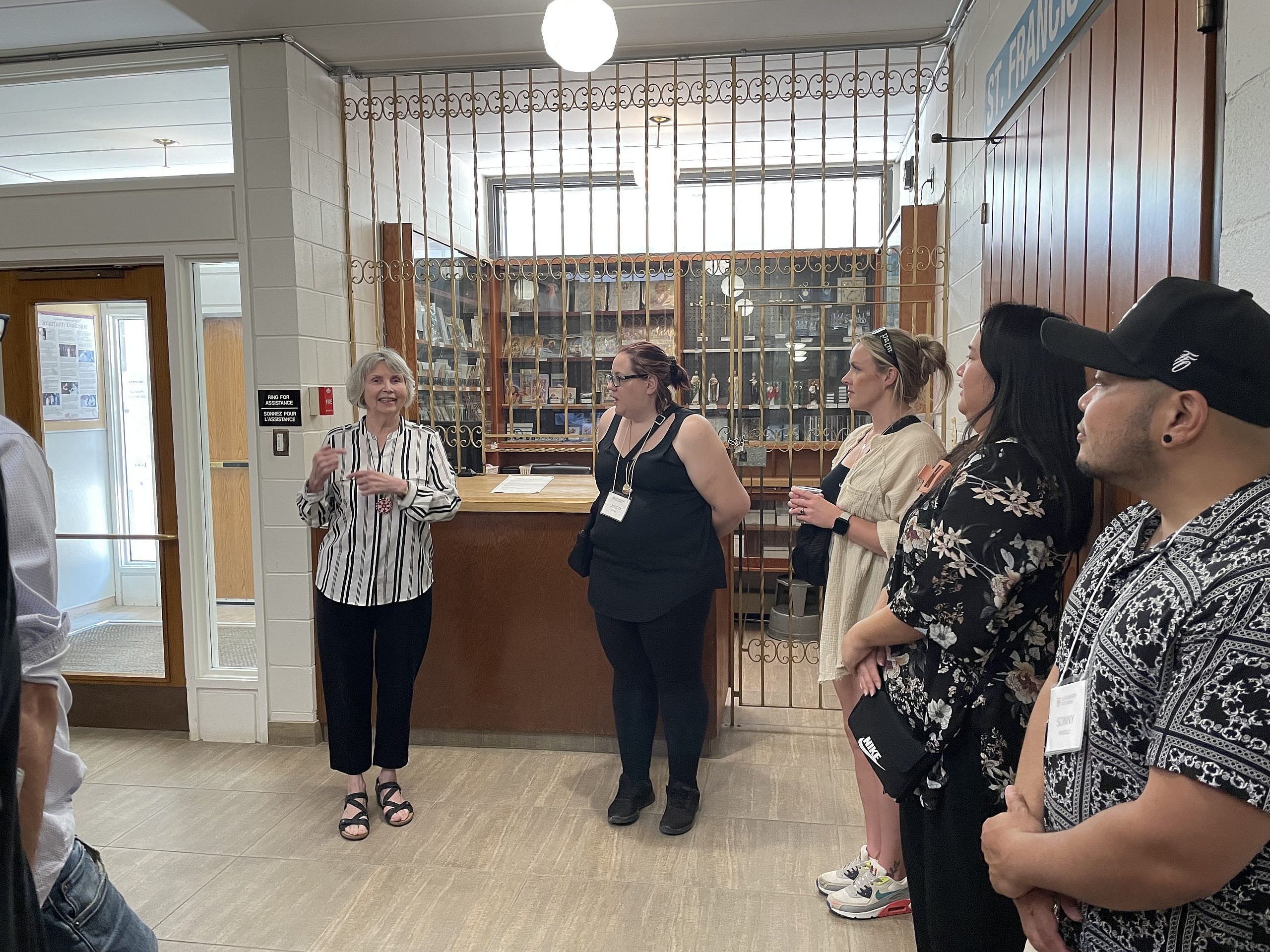 Holy Names House of Peace: A Haven of Warmth and Belonging
Tucked away in the downtown core, Holy Names House of Peace (HNHOP) is a sanctuary that envelops newcomers in a warm embrace. By offering a supportive and inclusive community, this organization plays an essential role in helping newcomers overcome challenges and forge meaningful connections.
Holy Names House of Peace opened in 2004, is open 350 days a year, 13 hours a day and has been home to over 180 women who stay on average for 2 years at a time.
The main program "Neighbours" offers 21 newcomer women a space to feel safe, supportive, and independent as they establish healthy relationships and reclaim their lives from past traumas (domestic, legal, financial etc).
Did you know that the women who find haven at HNHOP are from various countries and multiple religions?
HHNOP has a strong reputation in Winnipeg and beyond, they are champions of women's rights, and almost 100% of the women return to visit, connect and volunteer.
With a small staff of 7 (3 who reside in the building) they live the heart and purpose of what they do, and consider themselves beacons of light and strength, embodying faith, grace, and dignity.
We heard from current resident Yorsalem who fled her country of Eritrea where human rights violations were the norm.  She endured several dangerous treks and escaped to a refugee camp where she was ultimately connected with a human rights organization in Canada that connected her to HHNOP. She arrived just before the pandemic and told us she is very blessed, and feels safe physically, mentally, emotionally, and spiritually.
What's next for Holy Names House of Peace?
Continue with fundraising efforts (2 times a year)
Increase capacity.
HOW TO GET INVOLVED
If you're inspired by the transformative work of these organizations and eager to make a difference in the lives of newcomers, there are several ways you can get involved. Whether through volunteering your time and skills, making a donation, or spreading the word about their initiatives, your contribution can have a lasting impact on the journey of newcomers in Winnipeg.
It was an impactful day and a great wat to conclude my Leadership Winnipeg experience.