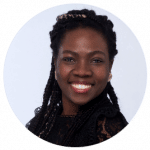 3-minute read
Post Contributed By: Gloria Makafui Dovoh, Community Relations Coordinator, Volunteer Manitoba
Leadership Winnipeg Class of 2022-2023
---
The North End of Winnipeg is made up of insightfully beautiful sceneries. Most of the organizations located in the North End are community-led which makes the work done personable and hands-on.
The Leadership Winnipeg group visited the Social Enterprise Centre located at 765 Main Street. At this centre, we had the opportunity of hearing some of the work each of the following organizations does here in Winnipeg, Local Investment Towards Employment (LITE), Aki Energy and Foods, Purpose Construction, Red Rebel Armour and Vincent Designs.
We then went to Mother Earth Recycling at 771 Main Street, North End Women's Centre at 394 Selkirk Avenue and Urban Circle Training Centre at 519 Selkirk Avenue. All these organizations have a mandate that has the community at the heart of it. Job creation is an underlying theme that these organizations seek to address. Job creation for persons who would typically not be employed by the job market ie. persons in the justice system.
We heard from very interesting speakers on that day. The most outstanding conversation in my opinion was that with Haven Stumpf at Urban Circle Training Centre Inc. This conversation started as a story. Storytelling is a great way to view where we as people are coming from and it also gives hope to where we are heading to. We had the privileged of hearing about real-life challenges that not only built resilience but hope for better days ahead. We also listened to three amazing students from the High School education program at the centre play for us an Ojibway song they had been practicing for their music class. We also had a tour at the centre and were told about the architectural design of building which is shaped like a turtle.
Throughout the tour, we had with us, the Executive Director of the Local Investment Towards Employment (LITE)- Jewel-affectionately called the "Jewel of the North End." A huge thanks to Jewel and all the amazing organizations doing great things in the community! To show support to any of these organizations, you are welcome to contact them!