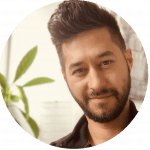 3-minute read
Post Contributed By: Chris Turyk, RWB
Leadership Winnipeg Class of 2022-2023
---
Winnipeg is an amazing place with a flavour all its own. It's filled with incredible culture, sport, and many unique and wonderful local businesses, but just like any other city, it's not without its challenges; ours perhaps just seem more obvious.
Our third session in the Leadership Winnipeg program, on November 25, was jam-packed with presentations and conversation about the state of our downtown; its highlights but also its challenges.
One message I heard consistently throughout the day, in one form or another, was that in order for our downtown to thrive, it needs people. This idea resonated with me all the more after having just visited Ottawa and Montreal in recent weeks. One of the first things that struck me as I took evening walks through the downtowns of each of those cities wasn't the shopping centres, parks or restaurants (which there certainly were), but it was the fact that these places were filled with people. These spaces and places felt instantly vibrant, safe, and welcoming.
Upon my return to Winnipeg, and throughout our conversations last week, it was reiterated to me that all we really need to have the same vibrancy and energy as a place like Montreal are people consistently living, working, and enjoying our downtown.  Over the course of the day, we heard from engaging leaders from many sectors including social services, business development, sport and entertainment, and Indigenous-led organizations. These presentations and conversations were educational, insightful, and inspiring… and they all had one common theme… any guesses on what it was?
I think I can speak on behalf of our entire LW cohort when I say that we learned so much more about the work going on to revitalize our downtown than we knew when our day began. I had no idea that on top of being the largest childcare provider in the province, the YMCA-YMCA offers many social programs at the downtown location specifically geared to assisting the many new immigrant families that live in the neighbourhood.
Another exciting initiative that we learned about was the Downtown Community Safety Partnership. This relatively new non-emergency response unit was created to be a proactive presence in the downtown; helping workers, businesses, residents, students, visitors, and tourists have a positive experience in our city!
Our day ended with Jennifer Rattray, COO, Southern Chiefs Organization, who gave us a preview of some of their plans for the future of the Bay building. The concepts that were shared were filled with excitement and optimism, and as someone who has worked downtown for many years, I can't wait for that beautiful building to be reimagined and bring new life to downtown.
As we wrapped our day, I felt inspired by all the amazing work happening in our downtown and am looking forward to seeing it grow. I hope to see you all there too!