*POSTPONED*
February Luncheon: The Business Case of Inclusion
Thursday, February 24, 2022  |  11:00 a.m. – 1:30 p.m.
Delta Winnipeg
---
Discounted Member Rate: $60 +GST
Regular Rate: $120 +GST

To learn more about the benefits of a Chamber membership, including discounted ticket rates click here.
Please note, refunds will only be issued with a minimum of 72 hours of notice before the event. Should you require a change of your ticket after that time, we kindly ask that you find a replacement for your ticket. If you have further questions, please direct them to [email protected].
---
ABOUT EVENT:
Globalization, technological disruption and shifting demographics is rapidly changing our workforce. How do we futureproof our business now and attract, engage and retain high-quality and diverse candidates? Keeping in mind, yes, hiring diverse teams is important but inclusive and equitable workplaces that support them is key. Join us during Black History Month to hear from Rosemary Sadlier, a key influencer in bringing Black History Month to Canada in 1995.
PROGRAM
11:00 a.m. – Registration, networking and exhibitor booths
12:00 p.m. – Program starts
12:15 p.m. – Lunch service
12:40 p.m. – Keynote
1:30 p.m. – Program ends
Title Sponsors
---
ABOUT OUR KEYNOTE: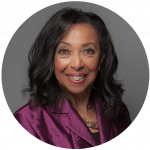 Rosemary Sadlier

Rosemary Sadlier OOnt (Order of Ontario) is a social justice advocate, researcher, writer, consultant, and, international speaker on Black History, anti-racism and women's issues. She is the past President, serving for 22 years as the unpaid leader of the Ontario Black History Society. She was the driving force of the secured commemoration of February as Black History Month at all levels of government; she secured August 1st as Emancipation Day municipally in 1995 and provincially in 2008 with a national declaration recently passed now making this a national commemoration in Canada. She saw to the creation of the national day for the Hon. Lincoln Alexander. She has given deputations to the UN Rapporteur on Race Relations, the Federal and Provincial Governments and on consultative work with the Royal Ontario Museum, the CMHR, The Ward Heritage Interpretative Group, the Bi-National Study of the Underground Railroad and heritage conferences Previously she served on the final selection committee of the national Mathieu Da Costa Challenge for Canadian Heritage and the Canada Post Stamp Advisory Committee. An educator, she has developed or contributed to African Canadian curriculum, national exhibits and publications. She was an appointed member of the College of Early Childhood Educators. An author, Sadlier has written 7 books on African Canadian history. A consultant, she effects diversity, equity and inclusion projects, and, recently was appointed Equality Lead for the Americas and the Caribbean with the Royal Commonwealth Society. Sadlier is dedicated to social justice and using the frame of Black History, seeks to educate and empower others.