ABOUT EVENT:
CODE Coalition Forum
Tuesday, January 16, 2024 | 9:00 a.m. – 12:00 p.m.
Delta Hotel Winnipeg, 350 St. Mary Ave.
Speaker: Lionel Laroche, President, MultiCultural Business Solutions Inc. 
Winnipeg has become home for many people coming from all over the world. Immigrants don't just look different or speak a different language; they think and communicate differently. When they join Canadian organizations, these differences are both challenges and opportunities. 
For our third year, our Coalition Forum will help participant realize that cultural differences go much deeper and impact everyday interactions in the workplace. We'll provides concrete, practical suggestions on how to effectively and appropriately interact with people from diverse cultural backgrounds so that organizations can benefit from their diverse workforce. 
Three reasons to attend: 
Learn the importance of separating impact from intention

 

Learn how to give people the benefit of the doubt concretely (with emphasis on the word "concretely")

 

Recognize that effective communication is not just about sending messages – we need to ensure that messages are understood the way they were originally meant to be understood

 
---
Free for CODE Coalition Members
Find out if your organization is a member of the CODE Coalition here or sign up today! 
Chamber Members: $100 +GST
Future Members: $200 +GST
To learn more about the benefits of a Chamber membership, including discounted ticket rates click here.
---
WHAT YOU SHOULD KNOW
Accessibility: We strive to host inclusive, accessible events that enable all individuals to engage fully. If you require accommodation please let us know when purchasing tickets.
Refund Policy: Refunds will only be issued with a minimum of 72 hours of notice before the event. Should you require a change of your ticket after that time, we kindly ask that you find a replacement for your ticket. If you have further questions, please direct them to [email protected]
ABOUT THE KEYNOTE: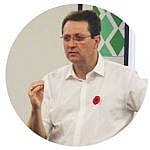 Over the past 25 years, Lionel Laroche has provided cross-cultural training, coaching and consulting services to over 200,000 people in 21 countries. Lionel specializes in helping organizations and their leaders turn the initial challenges often associated with cultural diversity into a source of creativity and innovation. He works with the leaders, managers and HR professionals of many Fortune 500 organizations, as well as many municipal, provincial and federal governments and academic institutions. Lionel is a very dynamic, entertaining and educational speaker/facilitator who has presented at over 250 conferences and venues, organized by a wide range of business, government, academic, professional and non-profit organizations. He has taught courses in many business schools, including regular courses facilitated on behalf of the Alberta / DeGroote / Rotman / Schulich / Smith Schools of Business and the Faculty of Management of the University of Lethbridge. He is the author of over 100 publications examining the impact of cultural differences on organizations in general and HR topics in particular. His publications have appeared in over 30 trade magazines published in eight countries. He has written three books: Danger and Opportunity: Bridging Cultural Diversity for Competitive Advantage, which has sold over 5,000 copies (2013). Recruiting, Retaining and Promoting Culturally Diverse Employees, which has sold over 7,000 copies (2007). Managing Cultural Diversity in Technical Professions, which has sold over 7,000 copies (2002). Throughout his training, coaching and consulting practice, Lionel makes use of his 35+ years of international experience, working with people from over 80 countries. He has worked in eight different countries for several multinational companies, including Xerox, Procter & Gamble, British Petroleum, and Jeumont-Schneider. Born in France, Lionel obtained his "Diplôme d'Ingénieur Polytechnicien" from the Ecole Polytechnique de Paris, France and his Ph. D. in Chemical Engineering from the California Institute of Technology in Pasadena, California, USA. 
350 St. Mary Ave.
Winnipeg, MB