How does a journey of truth and reconciliation begin? What are the first steps? Why do you need to begin this process?
These are questions many business owners and individuals are asking themselves today. Red River College (RRC) is well on the way of their journey and hopes to model the way for the Winnipeg business community. 
As part of RRC's commitment to advancing Indigenous achievement while strengthening ties between Indigenous and non-Indigenous communities, in 2019 they appointed their first Manager of Truth and Reconciliation and Community Engagement– Carla Kematch. 
Carla joined the RRC team in February of 2019 with 30 years' experience working within Indigenous communities in a variety of capacities as well as the development and launch of Art City– a not-for-profit community art studio dedicated to providing people of all ages with innovative and professional art programming, free of charge. Carla leads the College in its commitment to Indigenous education in the province and their truth and reconciliation journey. 
"I took a break from my career when my husband got ill, but when I came back I knew I wanted to do something that I could utilize my unique skill set working with Indigenous communities and in community engagement," said Carla.
Carla began applying for jobs and RRC had two positions come up. One of them being her current role of, Manager of Truth and Reconciliation and Community Engagement. 
"This position was the final piece of the pie for me," smiled Carla. "It allows me to use a piece of everything that I've done in the past. I also enjoy the fact that it was a new initiative and position at the college so it gave me a lot of ability to be creative in implementation. It brings everything full circle."
During Carla's first year with RRC, she focused on getting to know the college, the staff and students to try to figure out what the college's collective knowledge was around truth and reconciliation and Indigenous culture. She began to realize it was a wide range. 
"I knew I needed to build a common language and knowledge within the college to ensure everyone was on the same baseline of understanding," said Carla. "I started looking at different training programs that I could bring into the college, and I settled on the 4 Seasons of Reconciliation."
The 4 Seasons training program creates an understanding on the history of colonization in Canada and how it impacts current issues and Indigenous Peoples. It provides the knowledge required for informed, respectful and effective engagement in the classroom and workplace. 
---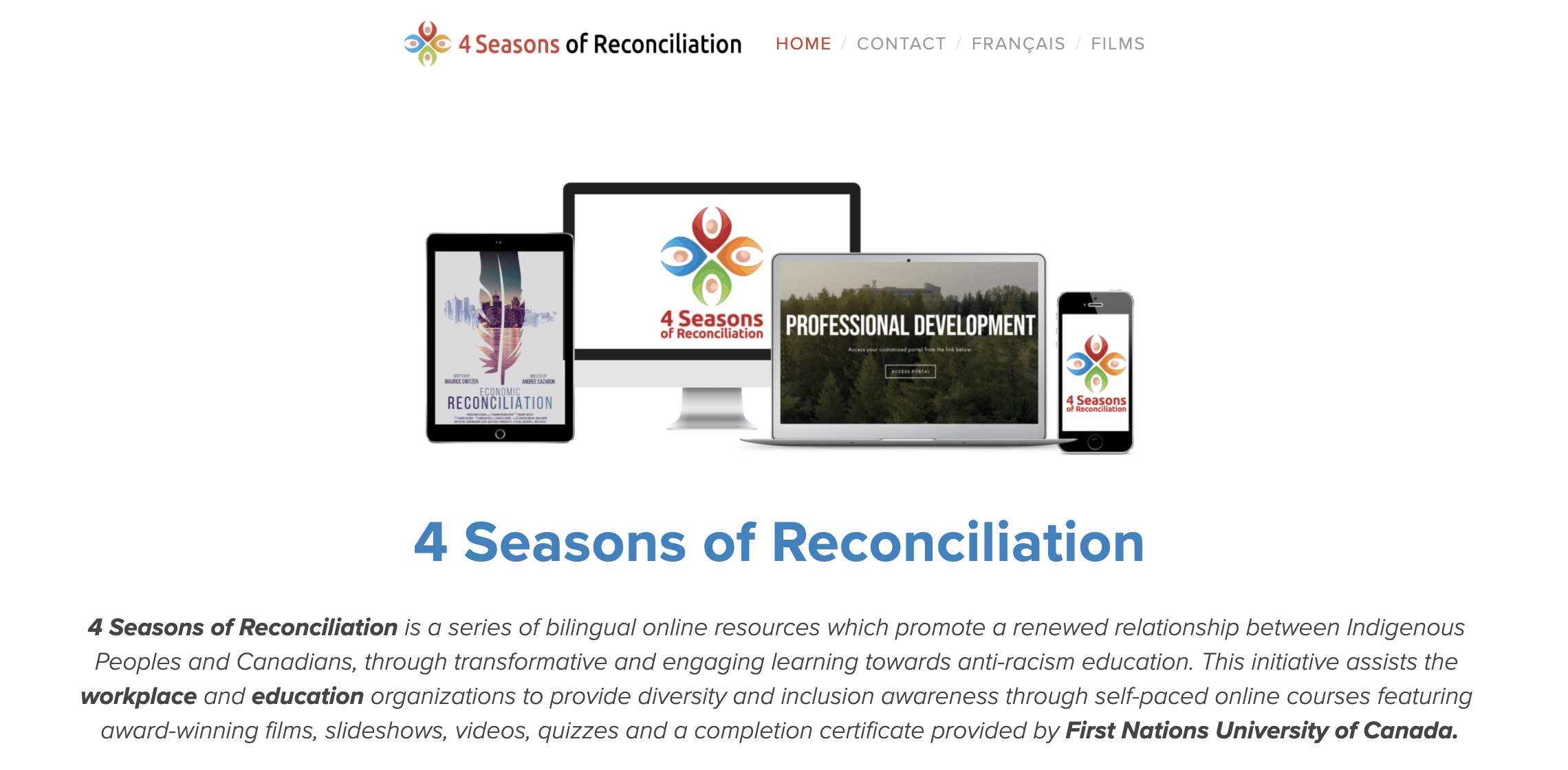 ---
The college began a pilot series in March and was ready to launch a training program for all staff, but then COVID hit. Carla and her team still moved forward with the launch and since March have had over 460 staff complete the training.
"We have been getting such great feedback from faculty. The instructors at the college are the ones who teach the students and they have to feel comfortable doing so. Once they actually take that course, they get it. They realize what a valuable resource it is because it provides them with the knowledge they need to help educate the students as well as answer any questions."
"Before we had this program sometimes a student would ask a question around Indigenous culture and the faculty would find themselves in a vulnerable position if they didn't know the answer. But what I tell the staff is you have to be comfortable in that vulnerability and accept that you are learning along with their students and that's ok."
Back in 2019, The Chamber welcomed Carol-Anne Hilton, the founder of the Indigenomics Institute, for a special keynote presentation and fireside chat all about Indigenomics. Sarah Panas, Indigenous Education Communications Officer at RRC, was in attendance along with other faculty and students. 
"I came back from the event and told Carla we have to have her speak here at RRC in some capacity," said Sarah. "She really opened up everybody's mind which was incredible."
In March of 2021, the College brought in Carol-Anne Hilton for a virtual event with faculty and staff. 
Over the last year, RRC found a way to deliver training, hold workshops and host different exercises to help continue the learning of Indigenous culture virtually. 
"I recently looked at our viewership stats and we have had over 19,000 views this past year," smiled Carla.
"It was for me heartwarming because the work that I do is emotional. I'm trying to change people's mindsets. I sometimes feel like I'm saying the same things over and over again, but then these moments happen and I realize I am making an impact and a difference. It tells me people are thirsty for knowledge."
Red River College offers a wide range of resources, programming, events and more on Truth and Reconciliation HERE.
---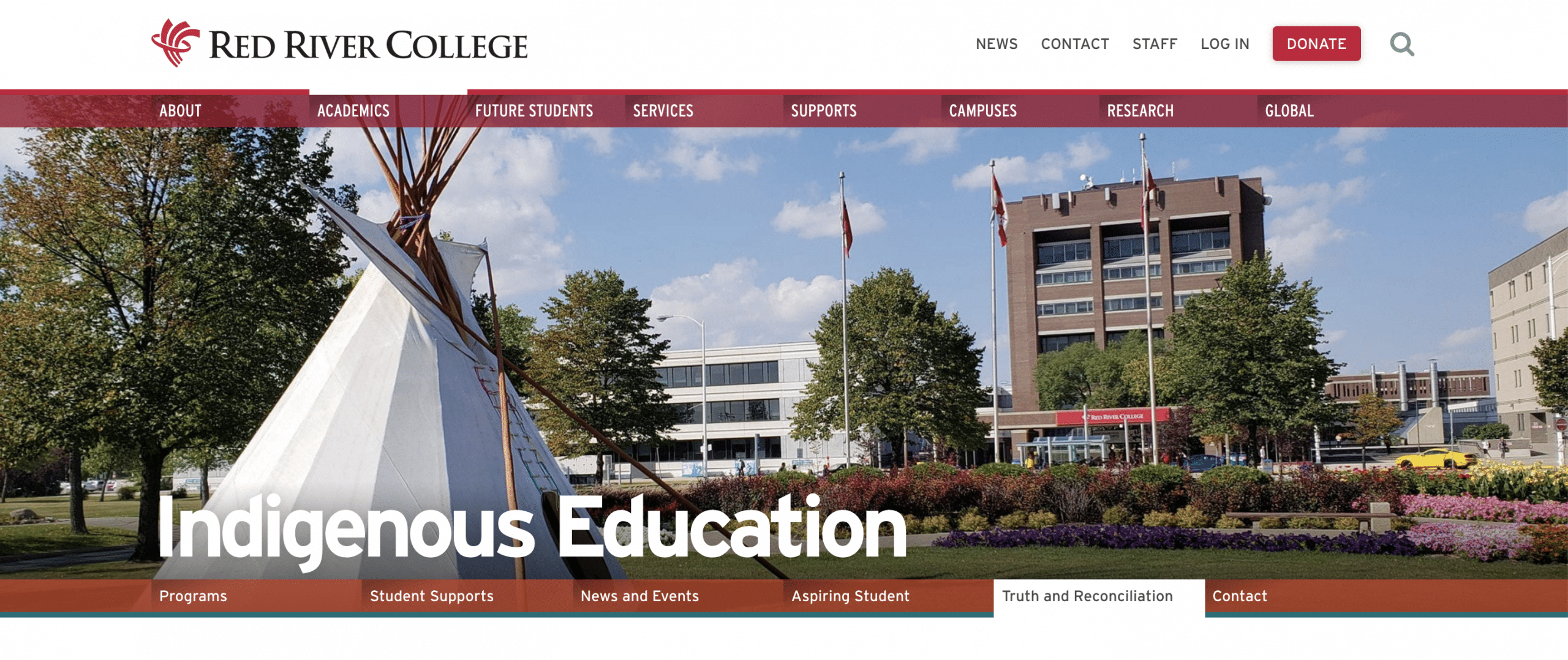 ---
So now we return to the question– how do we businesses start? How can businesses become more inclusive and equitable?
"I think the journey begins with being as inclusive as possible. Taking a look at hiring practices can be a first step," said Carla. "As a business owner, try to create those opportunities for Indigenous people to come into your business and look at some of the barriers that may be there during the hiring process. Look at where you're placing your job ads, how you're asking your questions etc. The second step would be looking at how you create an environment that's inclusive for those staff and ensuring they feel safe and included."
---
You can read our Truth and Reconciliation Roadmap HERE. The document provides access to a wide variety of resources and professional experienced training, individuals or teams, that can support the needs of your organization, and help you access a balanced approach to understanding why the TRC started their work in the first place, and why the Calls to Action requires an immediate response.