Consider this document your invitation to participate!
A SPECIAL MESSAGE FROM JESSICA DUMAS
CHAIR OF THE WINNIPEG CHAMBER OF COMMERCE 2019-2020
We hope you will review and revisit this guide throughout your journey and that it allows you to access a wide variety of resources and professional experienced training, individuals or teams, that can support the needs of your organization, and help you access a balanced approach to understanding why the TRC started their work in the first place, and why the Calls to Action requires an immediate response.
We know there is more than one way to develop the appropriate knowledge, skills, attitude, and changed behaviour that is required to be successful on this journey. The truth and reconciliation journey can be an emotional one, but our hope is that the discussion becomes part of regular dialogue and that Indigenous knowledge and inclusion becomes part of a regular ongoing way of being.
Meegwetch,
Jessica Dumas
Member of Keeseekoowenin Ojibway First Nation, Treaty 2
Chair, The Winnipeg Chamber of Commerce Truth and Reconciliation Advisory Council
Chair, The Winnipeg Chamber of Commerce Board of Directors 2019-2020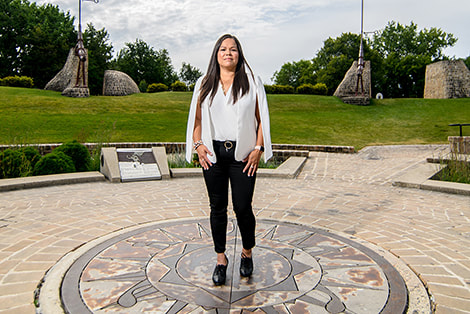 Jessica Dumas Chair, Winnipeg Chamber of Commerce 2019-2020
Photo Credit: Oodena Celebration Circle at the Forks – Juncatta International