3-minute read
Ahead of our Mayoral Debate– The Future of Our City– on October 21, we will be sharing our conversations with mayoral candidates in the order of which we met with those who accepted our meeting request to help you make the most informed decision on voting day.
---
Winnipeg Chamber President and CEO, Loren Remillard, met with Rick Shone in August of this year in the Hargrave Market, above True North Square. Rick Shone is a businessperson (he owns and operates a chain of outdoor-oriented supply stores) and he brings a hard work ethic, energy and focus to his campaign for mayor. Rick has a good grasp of the issues facing Winnipeg businesses.
Rick's platform identifies his priorities, which include:
economic growth and innovation,
transportation for everyone,
a clean and livable city,
urban and downtown development,
a responsive government, and
public safety
When asked about his vision for Winnipeg, Rick talked in practical terms about building a city that we can all be proud of and a city that works for everyone. He spoke about the importance of safe neighborhoods and accessible community facilities.
Responding to the Playbook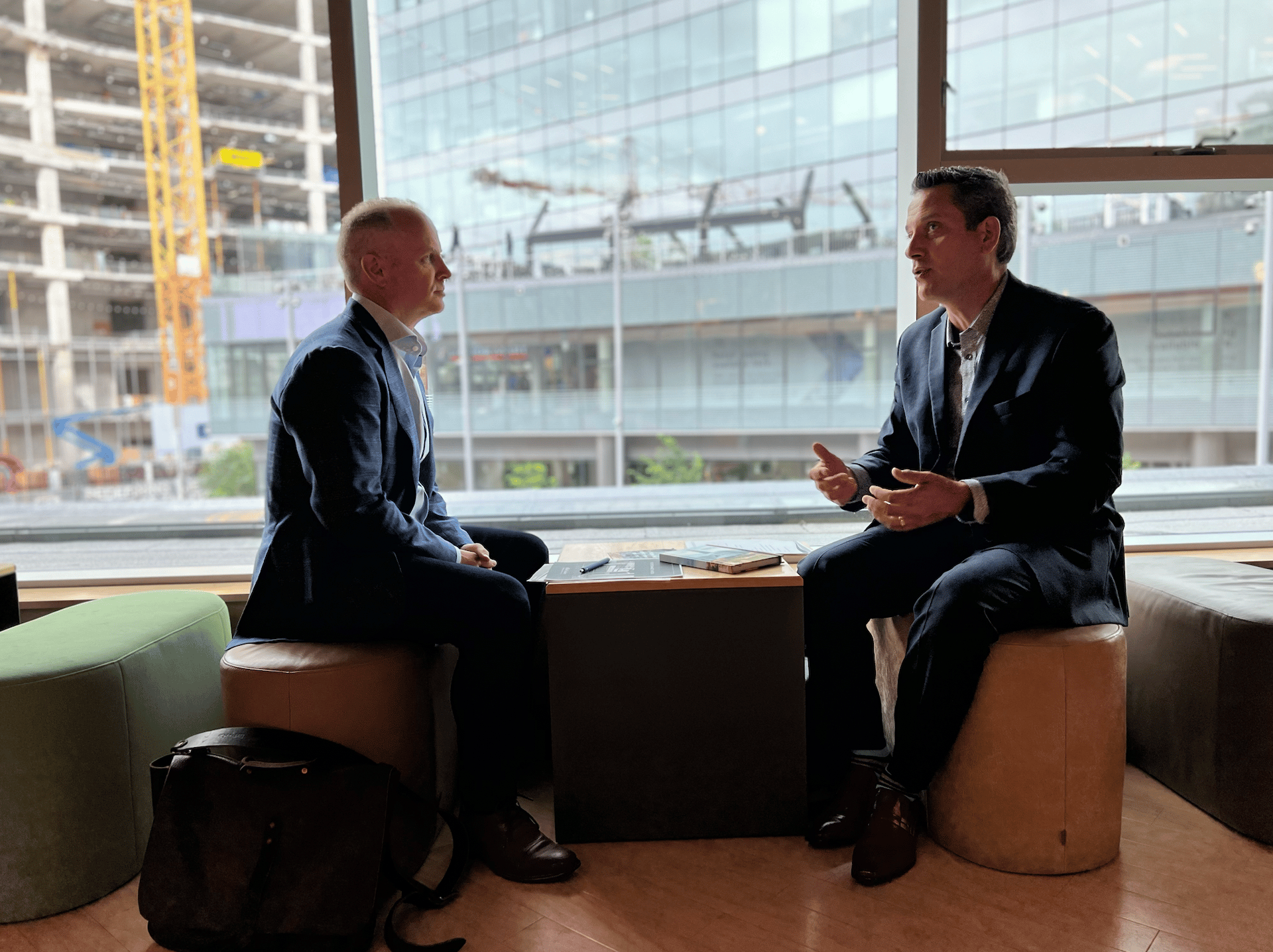 When asked about the Winnipeg Chamber's Playbook and what stood out to him, Rick said that the business community is a huge part of our city and that all five goals resonated with him. He would focus on making Winnipeg the "easiest city to do business" and he favours the idea of appointing navigators, whose job it would be to help entrepreneurs start a business and get the right approvals.
As a business owner, he said that he has experienced firsthand some of the challenges in dealing with the City and that he would empower staff to do what is necessary to address problems. He pointed to the current culture, which in his view, is focused on enforcing the rules.
Downtown
In responding to the question about what he would do for downtown if elected Mayor, Risk noted that people – especially young people – want to live where the energy is and that people feel safer when there are lots of other people around. Rick said that one of his main priorities would be to recapture some of the momentum Winnipeg had before the pandemic and that he would support new development and new business. Rick said that he would look at incentives to develop affordable housing for different populations – young people who are getting started, seniors, and people who are homeless. Rick also spoke about issues, such as mental health and addictions, and that when services are lacking, calls to police and emergency services increase.
Building relationships
Rick spoke at length about the importance of building productive working relationships. In dealing with the provincial and federal governments, Rick's focus would be on communicating Winnipeg's priorities and explaining how Winnipeg's goals are aligned with provincial and federal goals. With respect to City Council, Rick said the Executive Policy Committee structure creates unnecessary conflict and opposition. Rick's approach would be to identify shared interests and a common set of priorities.
Revenue and competitiveness
When asked about Winnipeg's current revenue model, Rick noted that the way Winnipeg collects revenue is not aligned with what we want to see – more housing, more business, more green spaces, and better services and amenities that families depend on. Rick spoke about the need for constant evaluation of where our money goes and exploring a new model of collecting revenue that makes sense. Rick supports the idea of priority-based budgeting (as called for in the Playbook) and said it will help Winnipeggers to see how their money is being spent and have more of a voice in the budgeting process.
Conclusion
Rick would bring business experience to the job of Mayor. Rick has experience dealing with the City, which provides him with a valuable perspective. His focus on ensuring "value for money" is welcome and his policies are aligned with the ideas in our Playbook.