Virtual: Local Lunch Break with Tandem Collaborative
Wednesday, October 27, 2021
12:00 p.m. – 1:00 p.m.
FREE TO ATTEND (MEMBERS ONLY)
ABOUT EVENT
Explore the role your values play in your marketing and business strategy and learn the VALUE of engaging customers by leading with your values.
3 to 5 key points attendees will learn
Identify your business values
Integrate your business values into your marketing initiatives
Reach more customers with values-based business & marketing strategy
PROGRAM
12:00 p.m. – Intros
12:10 p.m. – Facilitator Presentation
12:25 p.m. – Audience Discussion
12:55 p.m.– Closing Remarks 
*instructions to access the webinar will be emailed to you 24-hours before the event.
​ABOUT LOCAL LUNCH BREAK
When the COVID-19 pandemic hit and our members transitioned to working from home, the staff lunches and water-cooler chat were missing from our everyday lives. Local Lunch Break's started as a casual, weekly get-together where attendees were encouraged to order from a local restaurant and over the course of the pandemic, have transitioned to a monthly casual learning lunch where we bring in a local expert to speak on the months theme and have a discussion over lunch. 
---
​ABOUT OUR SPEAKERS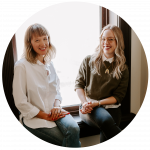 AMELIA LAIDLAW is an experienced entrepreneur, business strategist, project manager, and the co-founder of Tandem Collaborative. She works alongside her clients to prioritize goals for growth, define their brands, and identify solutions so they can engage more effectively with their customers. She is passionate about strategy and big thinking, but she understands the process of implementing those big ideas and the planning that makes it real.
Amelia is a skilled communicator and problem solver and has honed these skills with nearly six years' hands-on experience owning and operating her own cafe in Toronto, co-founding and operating a not-for-profit music festival for six consecutive years, and working with the businesses of The Forks Market. In her most recent position as the leasing and building manager of The Forks Market, she was known for her ability to find collaborative solutions and take a project from start to finish. She was heavily involved in the development of a market-wide dishwashing solution for 15 tenants that reduced waste in The Forks Market by nearly 50%, the opening of a 400-seat patio at The Forks which quickly became a hot spot for both locals and tourists, and overseeing the ongoing Forks Market Refresh projects.
Whether running a 40-seat restaurant or managing a 70,000 square-foot tourist destination with over 4 million visitors a year, Amelia has a passion for connecting with people and building community.
LARISSA PECK is a marketing and communications professional with over six years' experience — and the co-founder of Tandem Collaborative. She works closely with clients to lay out a clear path to reach their goals through built-in support, problem-solving, celebrating wins, and check-ins along the way.
Most recently, Larissa worked at The Forks North Portage Development Corporation for three years; managing the overall marketing communications strategy, handling media relations, internal communications, digital and social media marketing, and managing the several brands that make up the corporation, including a rebrand of The Forks in 2018.
Larissa is driven by community-building and creating remarkable experiences for people through helping entrepreneurs and organizations bring big ideas to life and strategically engaging their ideal audiences. She's upped the engagement with The Forks North Portage annual report from about 100 views to over 15,000 by updating the format from a multi-page PDF to a 5-minute shareable video, worked on two campaigns that have been nominated for Tourism Winnipeg Awards of Distinction (#FindItDowntown, 2016, The Forks Festive Fox holiday campaign, 2019), and landed The Forks media coverage in such notable publications as the LA Times, Lonely Planet, and Azure Magazine.
She is motivated by sustainability and thriftiness across the board, including showing clients how to get better use out of their investments in marketing and communications.