ABOUT EVENT:
VIP Luncheon: State of the City Address
Friday, February 9, 2024 | 11:30 a.m. – 1:30 p.m.
RBC Convention Centre, South Building, York Ballroom
Keynote Speaker: Mayor Scott Gillingham
The Chamber's highly anticipated annual State of the City Address draws one of The Chamber's largest audiences, ready to network and engage with community leaders. As Mayor Gillingham heads into his second year, his State of the City Address will address promises, give a comprehensive progress report on his first year in office, and share his visionary plans for the future.
---
Discounted Member Rate: $110 +GST
Regular Rate: $220 +GST
Tables of 8 and 10 also available for purchase
To learn more about the benefits of a Chamber membership, including discounted ticket rates click here.
---
PRESENTING SPONSOR

TITLE SPONSORS
---
PROGRAM
11:30 a.m. – Registration, networking and exhibitor booths
12:00 p.m. – Program starts
12:15 p.m. – Lunch service
12:40 p.m. – Keynote Address
1:30 p.m. – Program ends

WHAT YOU SHOULD KNOW
Accessibility: We strive to host inclusive, accessible events that enable all individuals to engage fully. If you require accommodation please let us know when purchasing tickets.
Refund Policy: Refunds will only be issued with a minimum of 72 hours of notice before the event. Should you require a change of your ticket after that time, we kindly ask that you find a replacement for your ticket. If you have further questions, please direct them to [email protected]

ABOUT THE KEYNOTE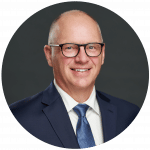 Scott Gillingham was elected as Winnipeg's 44th mayor in October 2022 with a mandate to improve city services, invest in infrastructure projects that enhance economic development, and to tackle the city's social challenges like homelessness and crime.
Scott was first elected to Winnipeg City Council in 2014 and was re-elected to represent the St. James ward in 2018. His collaborative, responsible approach has been the hallmark of his time on City Council.
Scott believes council needs to take a longer-term view of financial issues, and focus on capital projects or investments in services that increase Winnipeg's attractiveness as a place to live, play, work and invest.
During his five-and-a-half years as Finance Committee Chair, he acted as lead on the budget process and developed Winnipeg's first multi-year balanced budget. Adopted in the early days of the pandemic, the multi-year budget helped the city weather the $220 million pandemic-related revenue loss.
Scott has also been the chair of the Winnipeg Police Board, Council Liaison for Labour Relations and the Council Liaison – Veteran & Military Affairs, a position he helped create. He has served as co-chair of the Winnipeg Metropolitan Region Board and as the City of Winnipeg's representative on the board of the North American Strategy of Competitiveness.
Scott was born in Brandon, Manitoba, and raised on a mixed farm near Carman. A lifelong hockey player, he played for four seasons in the Manitoba Junior Hockey League for the Steinbach Hawks, Dauphin Kings and the Winkler Flyers.
He holds a Diploma in Theology from Horizon College and Seminary in Saskatoon, and has done graduate studies for a Masters in Theology at Canadian Mennonite University.
Prior to serving on city council, Scott was as a pastor for more than twenty years, most recently at Grace Community Church in Headingley. He and his wife Marla have been married for more than 25 years and live in Silver Heights. Together, they have raised two adult children, daughter Hannah and son Andrew.
375 York Ave.
Winnipeg, MB