US Ambassador to Canada – VIP Lunch Reception
Thursday, October 20, 2022  |  11:15 a.m. – 1:15 p.m.
RBC Convention Centre Winnipeg, 375 York Avenue
Main Floor, North Building
Speaker: David L. Cohen, U.S. Ambassador to Canada
---
Discounted Member Rate: $100 +GST
Regular Rate: $200 +GST

To learn more about the benefits of a Chamber membership, including discounted ticket rates click here.

The Winnipeg Chamber encourages attendees to wear masks and practice social distancing. Please stay home if you are sick. COVID-19 Screening Tool
Please note, refunds will only be issued with a minimum of 72 hours of notice before the event. Should you require a change of your ticket after that time, we kindly ask that you find a replacement for your ticket. If you have further questions, please direct them to [email protected]
---
ABOUT EVENT:
​​Have you ever wondered what goes into trade development and supply chain between the US and Canada? Interested in hearing some of the biggest issues affecting US and Canada borders right now?
Join us on October 20, for our VIP Lunch Reception as we welcome the US Ambassador to Canada, David Cohen.
While the last few decades have been marked by increasing globalization and the development of trans-national supply-chains, we are now seeing different trends emerging driven by various geo-political disruptions and the new post-pandemic reality. Where does the US see the direction and future of our North American continental trade block heading, especially regarding three key areas:
Economic integration and the continental supply chain

Climate change and adaptation

Security – food and water security, defense and cybersecurity and continental energy security beyond oil and gas.
Register today for a discussion on these and other core issues to the Canada – US relationship.
PROGRAM
11:15 a.m. – Registration Opens
11:30 a.m. – Appetizers Served
12:00 p.m. – Formal Program Begins
12:30 p.m. – Q+A with the Ambassador
12:45 p.m. – Formal program concludes, lunch service resumes with more networking
1:15 p.m. – Event concludes
---
ABOUT OUR KEYNOTE: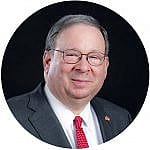 Before his appointment by President Biden and unanimous confirmation by the U.S. Senate as U.S. Ambassador to Canada, David L. Cohen served as Senior Advisor to the CEO at Comcast Corporation as of January 1, 2020. He was previously Senior Executive Vice President at Comcast, where his portfolio included corporate communications, legal affairs, government and regulatory affairs, public affairs, corporate administration, corporate real estate and security, and community impact. Cohen also served as the company's first chief diversity officer.
Before starting with Comcast in July 2002, Cohen served as a partner in and Chairman of Ballard Spahr Andrews & Ingersoll, LLP, one of the 100 largest law firms in the country. From January 1992 to April 1997, Cohen served as Chief of Staff to the Honorable Edward G. Rendell, the Mayor of the City of Philadelphia.
Cohen served on many nonprofit boards, including as chair of the Trustees of the University of Pennsylvania and its Executive Committee; as a member of the trustee board and the executive committee of Penn Medicine; as a member of the board of directors and the executive committee of the Greater Philadelphia Chamber of Commerce; as chair of the Philadelphia Theatre Company; as a member of the Board of the National Urban League; and as chair of the corporate board of advisors of UnidosUS. Cohen also serves as a member of the U.S. Semiquincentennial Commission. He also served on the board of directors of the PNC Financial Services Group, Inc. and PNC Bank, National Association. A native of New York, Cohen graduated with a B.A. from Swarthmore College in 1977 and with a J.D. from the University of Pennsylvania Law School summa cum laude in 1981. Cohen has received numerous honors and recognitions, including Honorary Doctor of Laws degrees from the University of Pennsylvania and Drexel University. Prior to his appointment to Ottawa, he lived in Philadelphia with his wife.
375 York Ave.
Main Floor, North Building
Winnipeg, MB